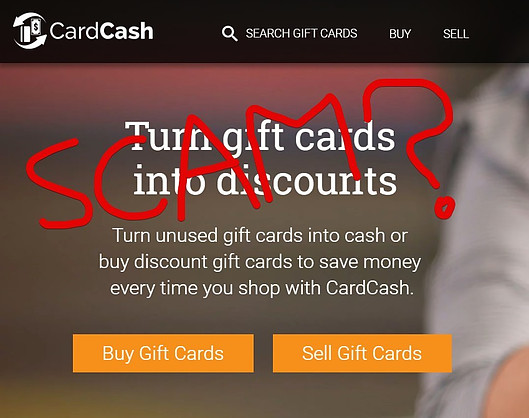 Card Cash buys and sells used gift cards at discounted prices, which is great if you are looking to save some money on your next shopping trip or get rid of old gift cards you have laying around. However… Can you actually trust this place or will you just end up getting ripped off? Is Card Cash a scam that you should be avoiding?
These are important questions that should be answered before using a site like this. There are definitely some concerns when it comes to buying/selling used gift cards. In this review I'll be going over how Card Cash works, their protection plan, complaints and more.
Card Cash Review
Card Cash is an online secondary gift card marketplace that was founded back in 2009. They buy unwanted gift cards from anyone looking to sell theirs and they do so at a discounted price. Then they turn around and sell them for a bit more, yet still at a discounted price.
Most people reading my review here are probably looking to buy gift cards rather can sell. The purpose of doing this would be to save money of course. You will be able to buy a gift card for a lower price than it is actually worth. For example… You could find a $20 gift card for Burger King that only costs $16 for example.
They have gift cards for over 1300 different brands, so there really is no reason that anyone should be able to find one that they could use.
Overall I love the idea behind this secondary gift card marketplace. It is a great idea… But the problem is that it is very difficult to make it work out, which is why you hear so many stories about people getting scams. Card Cash does have a protection plan to protect buyers, but as you will see in the complaint section of my review here, you have to be careful.
How It Works
The gift cards that you find on this site may be completely unused or they may have been used and still have a remaining balance. You find it all here.
Many of the gift cards are what you call "e-gift cards" and the transfer process can be done completely online, whereas others may require the cards be shipped to you physically, which happens via USPS.
It's pretty simple how it works. You search through gift cards and find something that you want, you buy it, they either supply you with the card numbers or ship the physical hard to you.
Selling Gift Cards
As I mentioned, most people reading this probably aren't looking to sell gift cards but I will touch upon this briefly anyhow.
If you are looking to sell you will be able to get paid up to 92% of its value, although usually much less.
Once you go to the sell area, you will be able to select what type of gift card you have, enter the remaining balance, and click on the "get an offer" button. This will automatically spit out an offer at you. Below I was just messing around and was looking at the offers they would give me for gift cards of $100 value at multiple different brands. As you can see most of the offers were between $60 and $70, while the offer for a Walmart gift card was $89.

So it just all depends on the gift card.
How Big Are The Discounts?
Just like the amount you will be able to get paid varies when you sell a gift card, the discounts vary a lot as well.
Generally speaking, you can get much better discounts for gift cards that are in less of a demand. A Walmart gift card, for example, isn't going to be sold at much of a discount because it is one of the most demanded gift cards there is.
If you buy a Walmart gift card you will probably only get it at a discount of around 1% or less. If you buy gift card for a place like CVS or Walgreens, you might be able to get at a discount of 5 to 15%. That if you buy some lesser-known brand name gift card you might be able to get a discount of up to 35% or so. It all really depends.
Is CardCash Safe?
Are so many concerns when it comes to a place like this. You hear stories about sellers scamming people… Selling gift cards and then using the numbers after they get their payment, and so on.
That said, Card Cash does have a 45 day protection plan which is put in place to protect the buyers from being scams. Basically this 45 day protection plan allows you to get a refund on any gift card you purchase within 45 days if the gift card does not work, does not have the amount of money that was stated when you bought it, and so on. It just protects you against fraud within the first 45 days.
After the 45 days are up you are on your own. So if you are looking to buy gift card I would definitely only buy one you are planning on using in the near future, before the 45 days are up.
Compliants
If you go on independent review sites, like SiteJabber for example, you will find a plus store I of complaints about Card Cash. While many of the complaints may be undue and premature, there are a lot that you should be aware of. Some of the more common complaints I've come across include…
Getting Scammed
The amount of people have gone scammed on CardCash is many, which is very concerning. There are all sorts of different complaints about being a scam, such as buying gift cards that been denied by the merchant at the counter for being fraudulent, buying gift cards that turned out to have a $0 balance, with some people even claiming to have bought multiple like this, and so on.
There are some buyers claiming that CardCash is actually in on the whole scam. They claim that CardCash will drain your gift cards to $0 after the 45 day protection plan is up. This way they get to steal the money and are no longer obligated to protect you. Now I am not sure how true able to claim like this is, but it is still worth mentioning because I have heard it more than once.
Won't Give Refund
Now many of these complaints shouldn't be all that big of a deal. I mean if you buy a gift card and it turns out to have a zero dollars balance you should be able to receive a refund within 45 days… No big deal.
However… There are a lot of people claiming that this place does not honor their refund policy. They claim that their 45 day protection plan is a joke and they will deny you your refund for some stupid reason.
Now this is a problem.
Horrible Customer Service
Another complaint worth mentioning is their horrible customer service. Apparently this is just atrocious. Many people have complained about trying to resolve some sort of issue with the customer service team and just end up getting automated messages that did not help someone bit.
Where this becomes a big problem is when you're 45 days of protection are about to run out and you are trying to get your refund but they aren't responding. Then next thing you know the 45 days have passed and is because the customer service was absolutely horrible and would not get back to you. Now you are screwed.
Final Thoughts – Scam?
When I first came across Card Cash I was really excited to have found the site. I was only disappointed that I hadn't found it earlier. I mean, buying gift cards at a discounted price in getting more for your money… Who wouldn't want that? It's an incredible idea.
That said… Now I am very hesitant to use the site and do not recommend it to everyone. I would not call Card Cash a scam but I would say that there is a good possibility you could be scammed one using the site. For this reason I would only recommend that the people who are risk takers. If you are willing to take the risk and know that you could potentially be scams, then go for it. I'm definitely not saying that you will be scammed for sure. There are also good reviews out there from people who have bought gift cards that have worked. These positive reviews often get drowned out by all the negative reviews though.
So if you are going to use the site just know what you're getting yourself into.
I hope you enjoyed my review and found it helpful in one way or another. Please leave any questions, comments, or concerns below and I'll get back to you as soon as I can 🙂