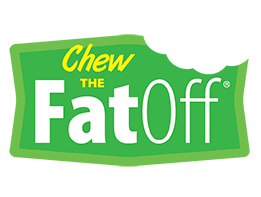 Welcome to my review of Chew The Fat Off.
If you are looking into this opportunity but are a little suspicious of the claims made then you are in the right place. Maybe you think it sounds too good to be true, maybe you are wondering is Chew The Fat Off a scam?…. whatever the case may be. In this review I'll be going over a few important things you should know as well as one thing that you probably haven't heard.
Chew The Fat Off Review
Chew The Fat Off (aka CTFO) is a weight loss company based in California that was founded by a man named Stuart Finger. They sell all sorts of products dealing with weight loss including meal replacement powders, appetite suppressants, immune support supplements and more.
One thing that is really nice about the company is that Stuart, the founder, was a "fat guy" that walked the walk and has lost the weight. He practiced what he preaches and that is always a good sign.
Overall the products are good and they seem to work. They won't perform miracles but they are good products.
Besides the products another reason many people are interested in CTFO is because it is network marketing company which means that anyone can join as an associate and make money selling CTFO products to other people. It is also what you call a mlm (multi-level marketing) opportunity which means that associates can also make money by recruiting in other associates. But I'll get into all of this later. First I want to go over the products a bit.
Related MLM's that are involved in the weight-loss industry include Valentus, Sisel International, and Ariix.
The Products
Chew Off
These are chew-able appetite control supplements. Some of the active ingredients in them include raspberry ketones, cranberry juice powder, Sunfiber®, and vitamins + minerals.
Shake Off
Here you have your meal replacement shakes. They consist of a protein blend, Sunfiber®, and vitamins + minerals… all of which make a decently well-rounded meal.
Drink Off
This is a filtered water bottle that ensures you are drinking clean and pure water. Water is important if you want to lose weight so this is a good product.
Super 7
Super 7 is an immune support supplement that consists of 7 "superfruits" that are contain a lot of nutrients. These include Amla or Amalaki, Acai, Goji, Mangosteen, Pomegranate, Blueberry, and Cranberry.
Like I said, the products are good from what I see. They definitely aren't miracle workers though. There are no magical ingredients in them. But many people joining seem to be joining more for the business opportunity side of it.
The Business Opportunity
As I mentioned earlier, anyone can join as an associate and make money by selling products themselves as well as by recruiting others into the business.
But before you can make money doing this you first need to qualify as an associate. This is easy to do because you just need to purchase 1 of the CTFO products per month to stay active. You must also recruit in 3 other associates to get access to the compensation plan that I'm about to go over…
The real money with this compensation plan is made from recruitment. They have a matrix in place that has multiplies by 3x with each level and goes down infinity number of levels.
You are at the top of your own matrix, beneath you there are 3 positions (level 1), beneath them are 9 positions (level 2), beneath them are 27 positions (level 3) and so on. Each level down multiplies by 3x. You will earn commissions from each person beneath you. The percentage you will earn will decrease as you go down the levels but the amount of associates on the levels as you go down will increase.
In an official promo video I watched for CTFO they gave an example of all 7 levels being completely filled and each person buying 1 bottle of Super7 per month, which costs $49.97 by the way. In this example you would be making $14,433 per month just by each person buying a single bottle of this product as you can see here…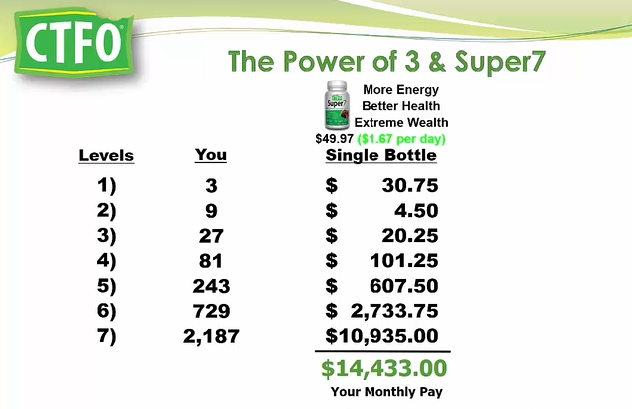 HOWEVER…. things aren't as simple as they may seem, which I'm guessing you were probably expecting.
Why This Isn't as Easy as It Sounds
MLM's like this are notoriously difficult to make money with. If you want a good shot at making money then it is an absolute necessity to recruit continuously. Opportunities like this have extremely high turnover rates because of how difficult they are so you have to be constantly recruiting.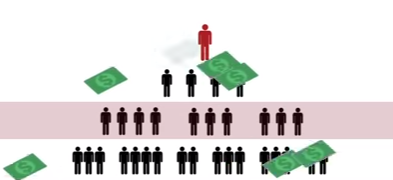 There is a lot of potential to make a lot of money here but it is not easy. When you first start out the mlm structure of this business actually makes it more difficult to make money, which is why so many people quit. The reason for this is because money that you could potentially be making gets taken away and paid to the people above you in the form of commissions. The people at the top make more while those at the bottom make less, which accounts for the majority of associates.
Conclusion on Chew The Fat Off – Good Opportunity or Not?
Well first off.. Chew The Fat Off is not a scam just to give you a straight answer to that question. It is a legit business opportunity and the products are legitimate. You can potentially make good money with it but the difficulty of a mlm business opportunity like this should not be underestimated.
I would suggest that you only join if you actually like the products. That way if the business opportunity side of it doesn't work out for you then at least you got to benefit from the products.
Something else that you might want to look into if you are looking for a work-from-home job is how I make money online. I make a living online and enjoy what I do. Here is the program that got me started and got me to where I currently am, which I am still a member of.
==> My no. 1 recommended program here
Questions, comments, concerns? Leave them below in the comment section and I'll get back to you soon ?