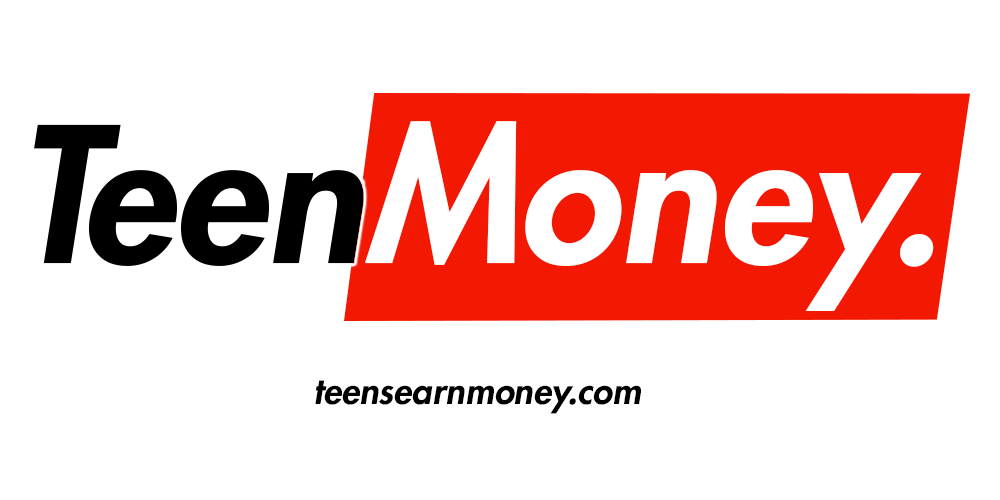 Teens Earn Money claims that you can earn up to $500 the day you sign up but this isn't true at all. I have looked into this site and what they tell you is very misleading. They lure people in with big dreams and high hopes but if you actually sign up you will just end up being disappointed.
I know there are a lot of people out there that are going to be looking for information on this place because of the bold claims that they make. This is the reason I decided to take a seat and write this review. I'll be going over the truth here and what you really need to know… which is that you will absolutely not make $500/day.
Teens Earn Money Review
Teens Earn Money (teensearnmoney.com) is a site that claims you can earn up to $500 in a single day. The way that they tell you that you can make money is by referring other people to join their site, by downloading apps, and by completing online surveys. But this isn't entirely true and I'll go over this in a minute.
Teens Earn Money is also a duplicate site of Teens Earn Cash, which I have already reviewed. As you can see from the screenshots below the sites are exactly the same…
How They Say You Will Make Money
They tell you that you can make money by referring others to join, by downloading apps, and by taking surveys, as I mentioned.
When you sign up you will also get $25 for free. But this isn't money that you can actually cash out and get right away. It is just deposited into your account at Teens Earn Money and in order to withdrawal that money you will need to get up to the threshold of $125 first.
They tell you that you will be able to make $10 for every referral you bring in. And this seems to be something that they really push on you. To do this you will get your own unique referral link that you can post and share online. When someone clicks that link and joins you will get credited for the referral and get paid.
However, I don't know if I even believe this because of the lies that they tell you, which I'll go over now.
The Lies Told
#1
First off, they say that this site has been around for 9 years. This is a lie and it is easy to prove this. Below is a screenshot of what they tell you…
And after doing a quick WHOIS search I found that the website was just created in 2017…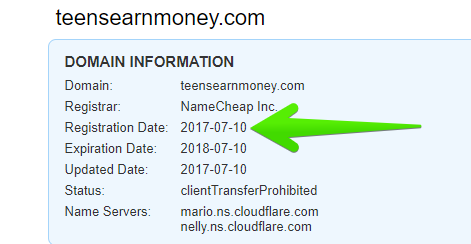 #2
Next on the list of lies is how they tell you that you can make money taking surveys online. When you actually go to take surveys you will see a list of offers… none of them are surveys. They are all scam offers for scam sites.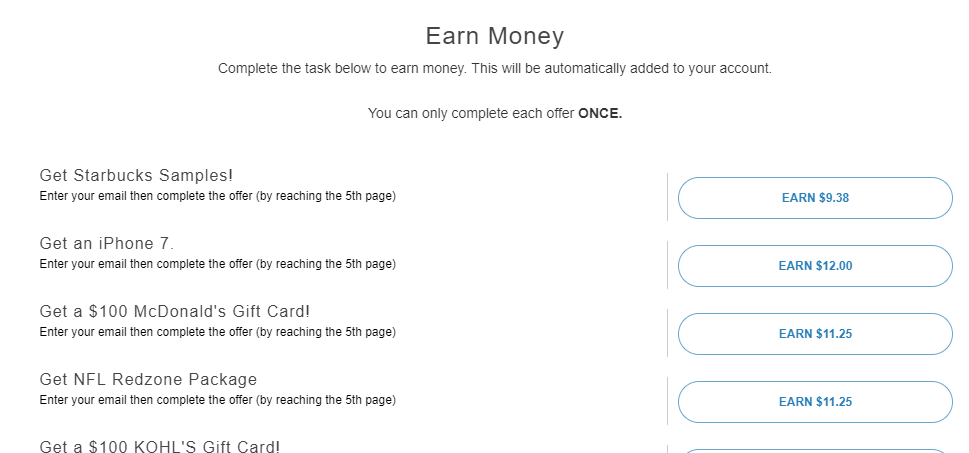 They tell you that you can earn a certain amount of money from signing up for offers, gift cards, to get free samples, and sorts of things. But when you click on these offers you will get directed to fake sites that are just there to collect your email address and other information.
#3
There are a bunch of lies but the last thing I want to touch upon is the fact that there are no apps to download and get paid for. I couldn't find anything on apps.
The Truth of This Site
They tell you that they make money from their "network partners". This is true but these network partners are nothing more than the scam sites that they refer you to when you click on the offers I just went over above.
This place is nothing more than a scam that refers you to other scams. And they keep bringing in more people with false income claims and by getting other members to refer more people.
Conclusion on Teens Earn Money
The bottom line here is that you just can't trust this place. They lie over and over, not to mention the ridiculous income claims of being able to make $500/day, which I see absolutely no proof of.
Even if you do refer friends in and make up to the $125 cash out threshold I wouldn't count on getting your money. You just cannot trust this place.
If you are looking for a legitimate way to make good money online then I would suggest checking out this program. This is the same program I got started with back in 2015 and I am still a member today…. which is a testament to how good I think it is.
I'm making a living online right now and I owe pretty much everything to what I learned here.
==> My No. 1 Recommended Program Here
Questions, comments, concerns? Leave them below in the comment section and I'll get back to you soon ?