Thinking about buying Jamie Lewis' Wealthy Agency program?
Well don't into you read my review!
This Wealthy Agency program is advertised as a way to make 6 figures per month online… Which is over $100,000 a month! Now that is one heck of a lot of money and I'm sure you are probably sitting there thinking that this sounds way too good to be true, which was the first thought that came to my mind as well and is the reason I am writing this review.
Can his program really take you to over $100,000 a month? Or is this just another online scam that is going to get you excited for nothing?
Looks Like a Typical Get-Rich-Quick Scheme from the Start
I'm guessing you probably got some email talking about an opportunity to "get paid immediately". You probably thought it looked pretty spam he but decided to click on it anyhow, which then took you to the video presentation.
The video starts out with Jamie driving around in a Bently talking about how he is going to help you make 6 figures a month. He then proceeds to show you a bunch of account statements showing all the money he is making.
And he then proceeds to talk about how you will be able to drive your own Bently, live in exotic places and even have your own chefs to do the cooking in your mansion.
But this sounds a lot like your pretty typical get-rich-quick schemes, does it not?
Well… Anyways… Let's get into the review and see why I don't recommend any of my readers buy into this product.
Wealthy Agency Review
Website: wealthyagency.com
Founder: Jamie Lewis
Sold On: Clickbank
Cost: $29 upfront + a bunch of upsells
Recommended?: No
In the video presentation Jamie goes on and on about how this has nothing to do with affiliate marketing, selling digital products or MLM, and then he finally gets to the point of talking about how it is all about selling a service online.
In a nutshell, what you will be doing if you join Wealthy Agency is setting up your own virtual agency and selling some sort of online service.
He talks about how this program supplies you with everything you need and that "all you have to do is activate and you are good to go", but of course this statement is a bit misleading… just like much of the other things he says, such as when he tells you that he is going to show you proof that what he is telling you is 100% accurate and then shows some screenshots of all the money he has been making…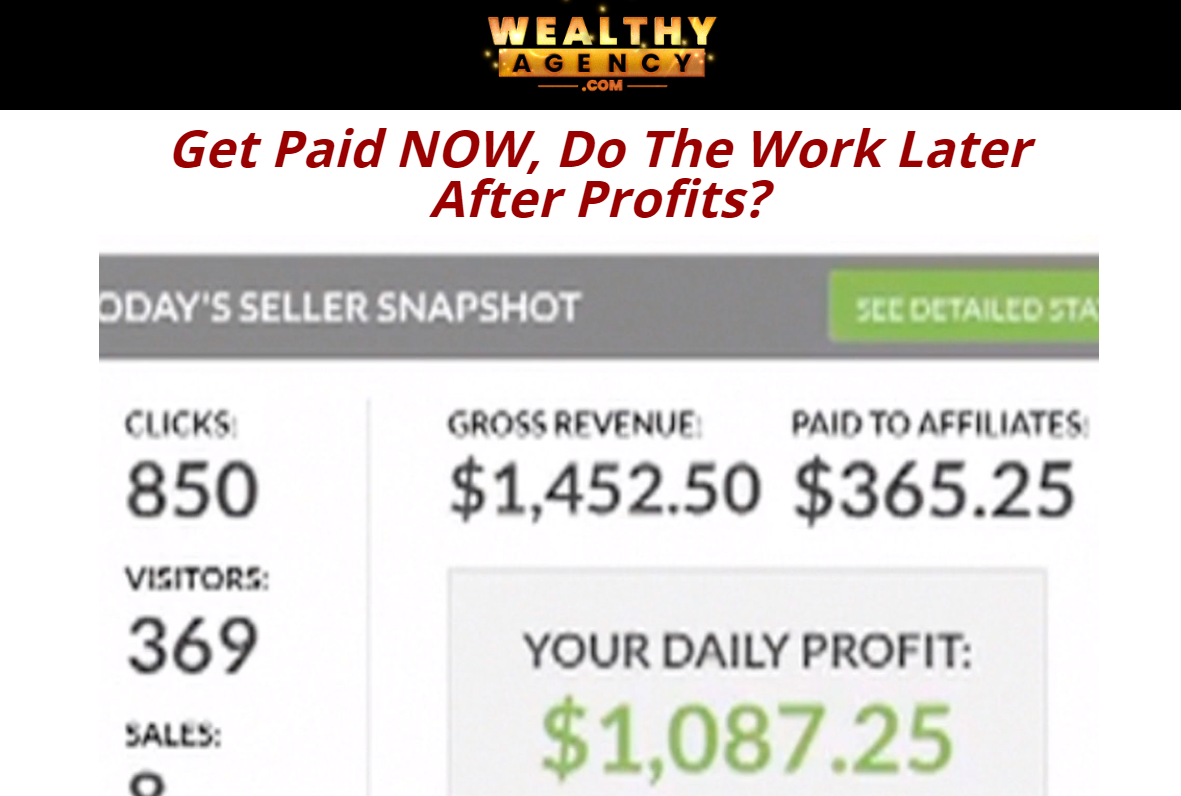 Well how the heck does him showing screenshots of money he has been making prove that this is 100% accurate information? It doesn't prove anything. We have no idea where this money is coming from and I have reason to believe it sure as heck isn't from using this Wealthy Agency system.
This is your focus now Jamie… Really??
Jamie promotes this opportunity as the greatest thing ever and says that since he has come across it this is how he makes most of his money, and that most of his focus is now on this Wealthy Agency.
However, I'm really hesitant to believe that this is the truth.
Why?
Well… Because I literally just reviewed another one of his newly released products called Profit Injector about 2 weeks ago. And this isn't unusual at all. He is always putting out new products that have to do with making money online and it seems he is always pushing them out as fast as possible to make as much money as possible off of them.
How Wealthy Agency Works
Basically what you will be doing is setting up a website that sells some sort of online service. These services could be things like…
Social media marketing
Facebook ads management
Graphic design
Article writing
SEO
Etc, etc
You will be set up your virtual agency website, advertise your service and drive traffic to your website, get people to pay for your service via PayPal, and then outsource all of the work to other people.
Wealthy Agency provide you with some video training and some pre-made resources that you can use to make things a little bit easier, such as advertising campaigns that Jamie has used, "swipes" you can use for advertising and for outsourcing, and so on.
You also can get access to live weekly webinars that Jamie holds and more, but these are not included in the initial price.
The Cost + Upsells
When you first buy into this you really have no idea what you are getting. I mean you have a basic idea, but that's about it.
The upfront cost is only $29 but after you buy into that you will also be pushed into buying…
Outsourcing Suite – $279
Weekly Training Classes – $149
Wealthy Agency Business in a Box – $249
Don't like it in upsells?
Ya… I don't think anybody does and this kind of stuff is what gives online marketing a really bad reputation.
Conclusion – Scam or Not?
I don't see this as being a complete scam because you definitely do get some value for your money, but it seems massively over-hyped without a doubt, which is typical of products created by Jamie Lewis.
Jamie Lewis is always putting out products that seem to be more focused on making him as much money as possible rather than providing great value to the customers… Which is the reason I don't buy any of his products and probably never will.
In my opinion there is absolutely no way in heck you're going to get to over $100,000 a month after buying into this, even if you do buy all of the upsells… Unless somehow you are very very lucky. He makes it seem like he does this stuff for a living and is a master at it, but I'm guessing he probably makes nearly all of his money selling these poorly constructed products that, as I said, seem to be mostly focused on him making as much money as possible.
And that is why I recommend avoiding this.
If you want some advice and would like to know what I do actually recommend, take a look at this guide to making money online that I put together which shows how I went from $0 to over $6000 a month online.
No upsells, no BS, and it is super affordable… literally free to get started with.
Comments or questions? Leave them below and I'll get back to you soon 🙂