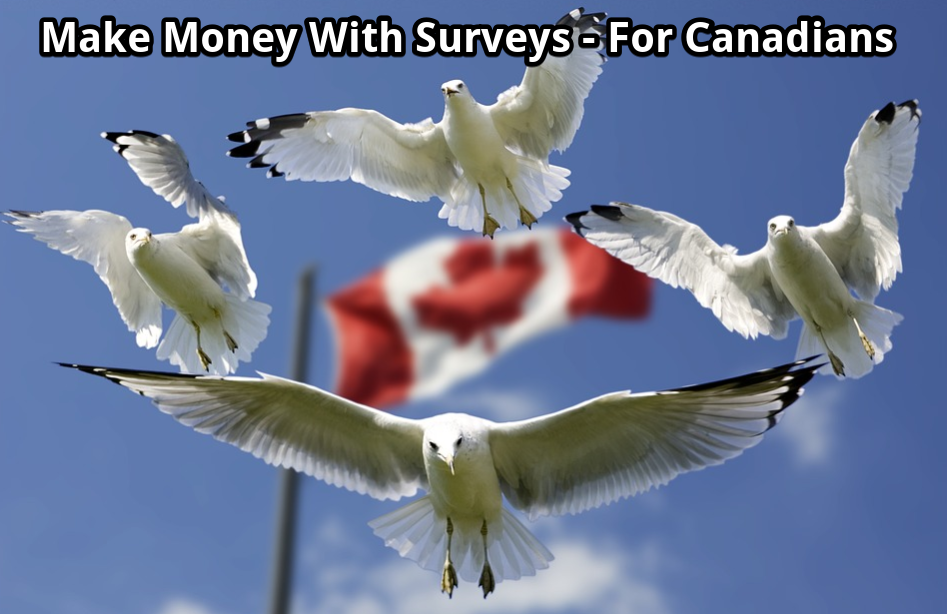 If you want to make money with surveys in Canada there are a lot of options out there. But what are your best choices? That is the real question. Well, I have looked into, tried, and/or reviewed dozens upon dozens of survey sites over the years and these are what I consider to be 5 of the best out there that are available in Canada.
These are all completely free to join and the process of doing so only takes about a minute or so. Some of them have age restriction that may differ but usually anyone over the age of 13 can join and make some extra money.
#1 – PaidViewPoint
As the name implies, you are paid for your viewpoint. They want to know your opinions on things and are willing to pay for this.
What makes this place different is that they focus more on short simple surveys that last only 3 minutes or so. They tell you that they do this to make the process as painless as possible. But as you can imagine the shorter surveys pay less money.
Another upside to this place is that you won't get "screened out" of surveys. This is common on survey sites and happens when you answer a question in a way they don't like and they kick you out because you are not what they are looking for.
When you get paid for surveys they pay in cash. There is no point system. You can cash out your money with PayPal or choose to receive gift cards.
When I say this is the best paid survey site out there I'm not the only one thinking this. On SurveyPolice.com they have a higher rating from members than ANY other survey site out there… It is only a 79/100 but this still ranks above the hundreds of others. 
It is also worth mentioning that PaidViewPoint is the number 1 rated survey site available in the US as well.
You Can Join PaidViewPoint Here
#2 – Swagbucks
Swagbucks is my second recommendation. They were #1 on my list for a while until I came across PaidViewPoint.
They are one of the most well known survey sites around and there is a reason they are so popular. The reason is because they are good. They have been in business since 2008 and that says a lot.
The main reason that I like Swagbucks more than most places isn't because they pay more. You won't really find any survey site out there that pays good. The norm has become to pay extremely little. But anyways, the reason is because SB offers so many ways for you to earn money besides just taking surveys.
Other ways you can earn include watching videos, searching the web, playing games, and shopping online.
They also have a lot of opportunity. And what I mean by this is they are such a big company that they have lots of surveys that you can take, games you can play, videos you can watch. The problem with many survey sites is that they only have a couple surveys available per week. You don't have this problem with Swagbucks.
You Can Join SwagBucks Here or Read My Full Review Here
Opinion Outpost
Opinion Outpost is another popular survey site that is legitimate and that you can trust. Like pretty much every survey site, you will begin with them by entering some basic information followed by more detailed info on your particular demographic. Your first survey will be another way for them to learn more about you and your demographic.
They will use this information to send you relevant surveys via email which you can complete to earn points. These points can then be redeemed for PayPal cash or a variety of gift cards.
One upside of this site is that they have a quarterly draw where you can win as much as $10,000. Of course your chances of winning this are slim to none but its still exciting and there is always that chance.
The downside of Opinion Outpost is that they only offer surveys as a way to earn.
Global Test Market
Global Test Market is another big survey site that has been around for a bit. They brag about how they paid out over $30 million to online survey takers in 2016.
Here you will be taking surveys dealing with products/ services in one way or another. The purpose is to help big companies improve the customer experience. Additionally you also may get the chance to receive sample products which you an review and get paid for it.
They have a mobile app that makes it more simple and easy to take surveys on the go which I think is nice.
The downside for this place is the same for that above, they don't offer much opportunity. You might be able to get product samples but the main method of earning is taking surveys. They don't offer money for playing games and so on.
MySurvey Canada
MySurvey claims to be "the world's no. 1 paid survey site" but I don't know if that is true. And I don't know how they could prove that even if it were. But anyways… they all claim they are the best.
This place is very similar to Global Test Market which I went over above. Your opinion is used to influence future products as well as existing products. This means that they offer not only surveys but also the chance to receive sample products and review them to earn money.
Well, you don't earn money right away. You first earn points which can then be redeemed for PayPal cash, gift cards or e-certificates.
How Much Can You Make Taking Surveys?
The unfortunate answer to this is not very much. I remember when survey sites first started becoming popular they would generally pay a lot more than they do now. But it has become the norm to pay very little.
Making money with survey sites like this is best looked at as a way to make some extra pocket change in your spare time. Its nice because its easy, you can do it whenever, and you don't really have to use your brain… but it just doesn't pay much.
Generally you are looking to make about $0.50 to $3 per 10 – 25 minute survey with sites like this.
Should You Join?
That all depends on what you are looking for. If you are looking for just a few extra bucks every once in a while then this is for you, if you are looking to be compensated more for your time then this is not.
PaidViewPoint is definitely my recommendation if you do want to get paid for taking surveys. But if you are looking for a better online income opportunity I suggest taking a look at how I make money online. I make a living working online for myself and enjoy what I do. You can learn more about it and how you can do the same here.
How I Make a Living Online Here
Questions, comments, concerns? Leave them below in the comment section and I'll get back to you soon ?