[This Is By Far My No 1 Recommend Program For Beginners Looking To Make Money Online]
If you are familiar with me and have been on my blog often you probably know that I am a member of Wealthy Affiliate. This is where I got my start in online business and I can pretty much attribute nearly all of my success online to this particular program.
And if you don't know me then here you go: My name is Kyle, hence… "Kyles-Blog.com", and I make money online. And enough of it to live off of.
But I don't consider myself a guru by any means, I don't consider myself to be a genius or anything special really. I'm just a guy that came across a good opportunity and put in the work that it takes to become successful. You can read my "about me" page if you want to learn more about me. But basically basically back in 2015 I was desperate to make money online because my girlfriend was applying to med-schools all across the country and didn't know where she would end up. I need geographical freedom so that I could go where she would go and an online income was the solution.
Fast forward a bit and here I am now making $6,000+ a month online doing this stuff. I never would have believed it back then but I guess hard work pays off.
But I'm probably getting a little ahead of myself here. I didn't even introduce Wealthy Affiliate yet so you have no idea what it is, what its all about, or anything.
What Is Wealthy Affiliate?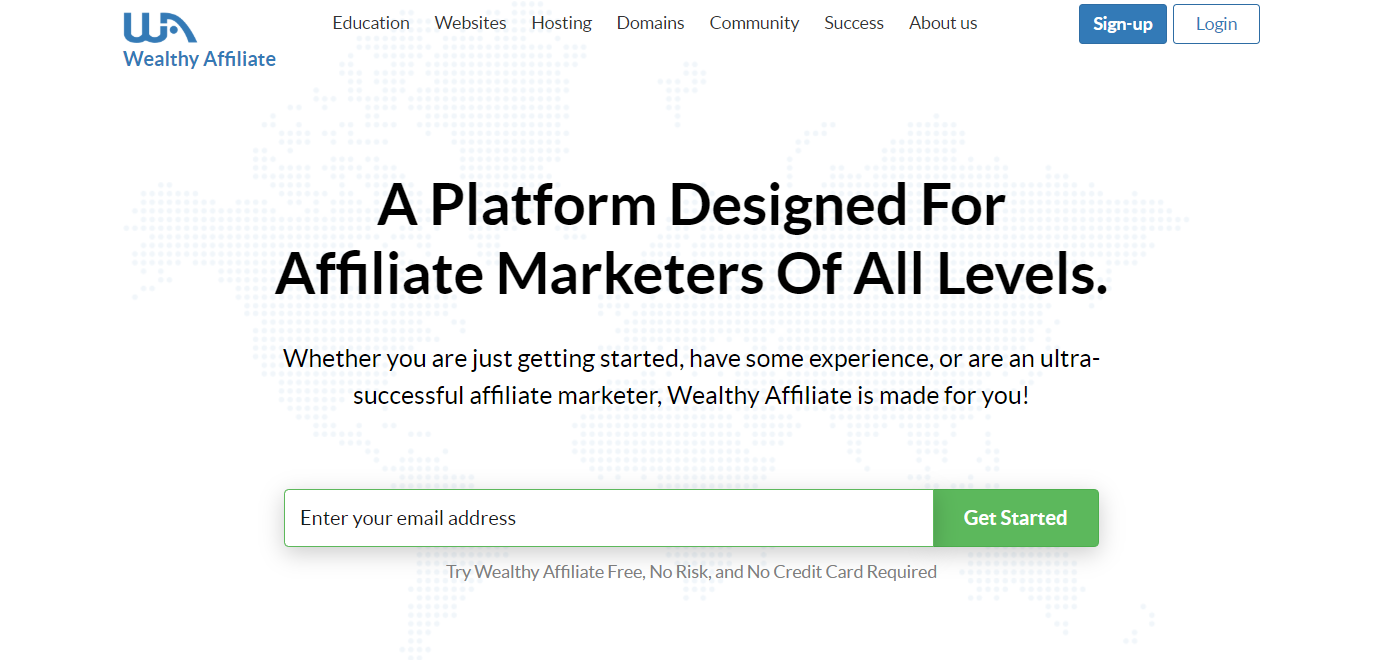 Wealthy Affiliate is an online business training platform. You could kind of think of it as an "all inclusive" type of deal. As a member you get the training you need to build an online business; you get the tools that are required to do so; and you get the support that everyone needs every once in a while when you get confused or stuck on something.
When you sign up at Wealthy Affiliate you have access to a step by step training course that will take you from nothing at all to having your own online business up and running.
The way they teach you to make money online is by promoting products. Its called affiliate marketing and this is when you promote products online for companies. Amazon, Walmart, Best Buy, Apple, Nike, Macy's… every big retailer has an affiliate program that anyone can sign up to for free and make money doing this. And when you do this you are not an employee, you are simply an independent contractor that can work as much or as little as you want to.
To summarize how this business model all works here you go: you promote a product, someone clicks your promotion, they are directed to the online store (Amazon for example) to buy it, they purchase the product, you get paid a commission.
Its a great business model that I still make 95% of my online income from.
What Makes Wealthy Affiliate So Great?
Whenever a beginner or newbie comes to me and is looking for a legitimate way to make money online I always point them over to Wealthy Affiliate. The reason is that I know it works because I am living proof.
But there are many reasons for this. Wealthy Affiliate is a great way particularly for beginners to get started because it is simple, it is affordable, and support that is available is great.
Its Simple
The training provided here really could not get any better as far as I see it. It is laid out in a step-by-step manner and guides you along each part of the process. There are video tutorials for all the lessons and these make it very easy to follow along with because they show and explain to you what to do and how to do it.
On top of the training being very simple and easy to follow, the business model here also makes this great for beginners. Affiliate marketing is an excellent choice for beginners looking to make money online and is often the path many big time online marketers took when they got their start in the online world.
The reason it is so great for beginners is because all you have to worry about is promoting products. You don't have to develop your own product. You just choose a product that is already a good seller and promote it, earning commissions from each sale you help make. You don't have to deal with customer service or any of the complications that come with selling your own products either.
Its Affordable
Wealthy Affiliate offers a free membership which is almost unheard of in this industry. You hear about free trials all the time but WA's free Starter Membership is something you can keep for life. This membership is a way for newcomers to "test out the system" without risking a penny.
It provides training, access to tools, and 2 free websites + hosting along with some other things I probably can't think of at the moment.
Wealthy Affiliate also has a paid membership but this is something you can do after you already get your online business up and running. Even the paid membership is very affordable and well worth the price considering what you get with it.
When I started I was a scam victim and if the free membership wasn't offered I might have never joined in the first place. I'm glad things turned out the way they did though.
The Support Is Great
Support is a must when it comes to online programs. Online courses and programs are notorious for lack of support. You don't get that "in-class" guidance with most of them.
Wealthy Affiliate is very good in this area. There are numerous ways that you can get support as a member so getting stuck on something is really not a problem. When I started out I had no problem getting through the training. Sure I would get confused at times but I made it through without hassle.
One of the best ways to get instant support is through the live chat feature inside WA. You can literally get help within minutes here.
A Look Inside Wealthy Affiliate
Just to give you an idea of what all Wealthy Affiliate offers I'll give you a look at some of the training along with some tools that you will have access to.
The training
When you join you can immediately start training. There are 5 core courses with 10 lessons in each. These will walk you through the process of getting your online business up and running. They are very well laid out and are easy to follow.
Just to give you an idea of what to expect, here are what the 10 lessons in course 1 will be about…
Now I know this may seem a bit overwhelming at first but what you have to realize is that it is broken down step by step. This training is seriously not hard to get through at all. And I honestly mean that.
One nice feature within the training is a checklist where you can check of each task as you move along. This makes it so that you follow along better and don't get lost.
The Tools
It seems that the website building part of this all is what really makes people nervous. The reality is that no one should be nervous about this. You don't need any tech skills or anything like that. The days of coding and building a website on your own are in the past.
Wealthy Affiliate has one of the easiest to use website builders that I know of. Building a site can be done in 4 simple steps and here is a screenshot inside WA to show you this…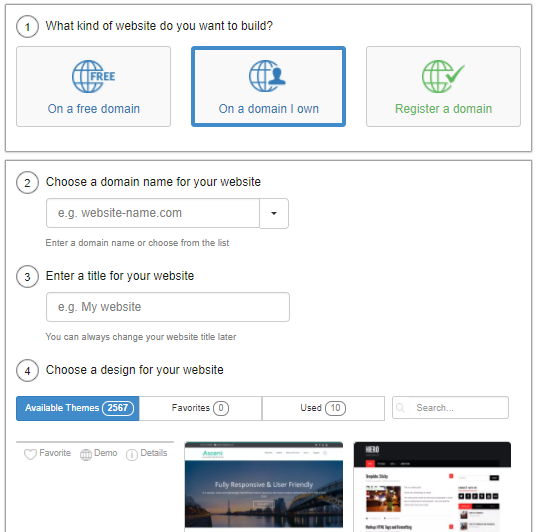 There are other tools that WA provides, such as the Keyword Research Tool, but these are things you will learn how to use in the training.
What Other People Think About WA
As with anything no matter how good it is, there are always going to be people that complain and don't like it. But overall the general consensus about WA is very good. People like it because it gives value and doesn't lead you on into thinking you are going to make it rich in the next week.
By the way, I should have mentioned that if I haven't already…. you won't "get rich quick"! This takes time and hard work, which is what anything in life worth having takes.
Anyway… here are a few screenshots of reviews from WA members, two of them which have been members for many years…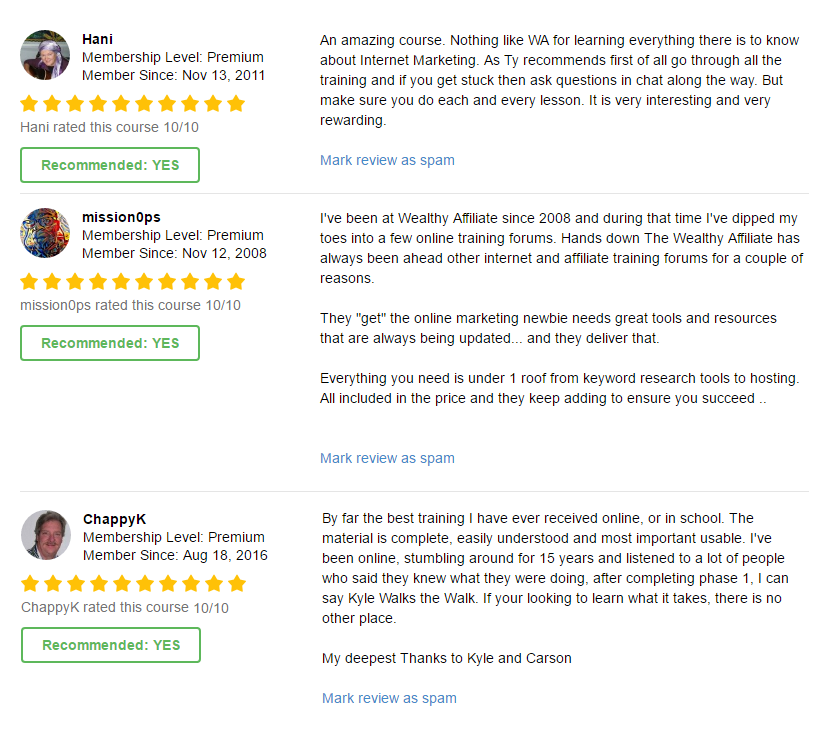 The Cost
Wealthy Affiliate has 2 memberships that they offer. They have the free Starter Membership that I mentioned earlier and then they have a paid Premium Membership, which is how they make money and stay in business.
The free Starter Membership is something that you would probably expect to not be all that great because it is free but it actually is pretty darn awesome. With this membership you get access to Course 1 that includes 10 lesson, Phase 1 of Affiliate Bootcamp with another 10 lessons, and you will get access to 2 classrooms of training. You will also get limited access to the keyword research tool and you will get 2 free websites plus website hosting.
The Premium Membership gives you everything that WA has to offer. You get all 5 training courses and all 5 Phases of Affiliate Bootcamp, access to all 13 training classrooms, unlimited use of the keyword research tool, unlimited website hosting, and a bunch bunch more.
The Premium Membership is absolutely amazing. It give you everything you need and there are no hidden costs or upsells after that. However, I still always recommend that beginners start out with the free Starter Membership. It is just a better choice because its completely risk free and you never know if you really are going to like something until you try it. So my advice would be to sign up for your free Starter Membership here.
This same free Starter Membership is how I started out back in 2015. Its changed some with updated information but the membership is just as good as it was back then. It gives you a free start and if its something that you can see yourself doing for the long-run you can always upgrade your membership to premium later on if you wish.
If you want to get started for free with the Starter Membership you can CLICK HERE to create your free account or you can click the link I provided below. This will take you to the page at Wealthy Affiliate where you can easily create your account.
==> You can create your free Starter Membership account here
Some Personal Proof That This Works
The method of making money online that Wealthy Affiliate teaches you takes time and real work. But one of the nice things about it is that you can continually build upon your income more and more. This business is very cumulative in nature and you will start out earning nothing. Then you can build that up to earn $10 a day, then $20 a day, then $30, and $40, and $50, and on and on.
It is not uncommon for me to have a day where I make over $200, as you can see with my Wealthy Affiliate account screenshot below…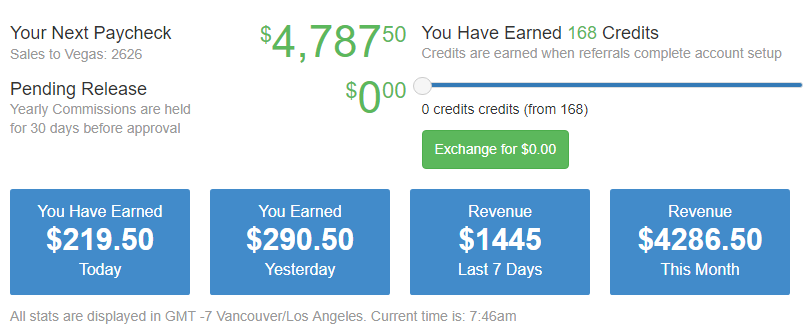 I have actually had several days where I have made close to $400. Unfortunately I forgot to take a screenshot of my account for those days and I can't go back in time and take one.
There is definitely a lot of potential here.
And to show you the cumulative nature of this business and how you can increase your income more and more here is a screenshot of my earnings over a 12 month period. As you can see I was really able to grow my business. I started out with nothing, went on to earning a little, and now am making a living doing this.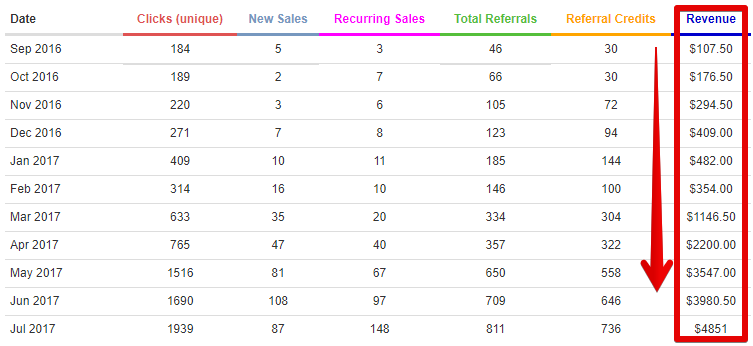 UPDATE (11/2017): I'm making consistently over $6,000 a month now. This is a testament to the cumulative nature of this. Pretty awesome stuff…

UPDATE (10/2018): It's been a while since I posted an update but things are still going strong and steady!
My Best Advice
Wealthy Affiliate is a great training program that anyone looking to make money online should try out. What they teach is not overly complicated and there is really no good reason why you shouldn't be able to be successful if you are smart enough to follow along with what I am writing here. I'm serious when I say there is nothing really that hard to do. It just takes time and hard work.
So if you are willing to put in the time and work then why not go for it? You have nothing to lose by joining as a Starter Member for free.
Just go for it. Sign up here for free and see what you think. Put in the work and you could be making a living like me soon enough.
==> Sign up for free at Wealthy Affiliate here
Oh ya, and I know this can be very confusing and you probably have all sorts of questions. Just leave your questions, comments, or concerns in the comment section below and I'll get back to you soon. I will usually reply within a day 🙂