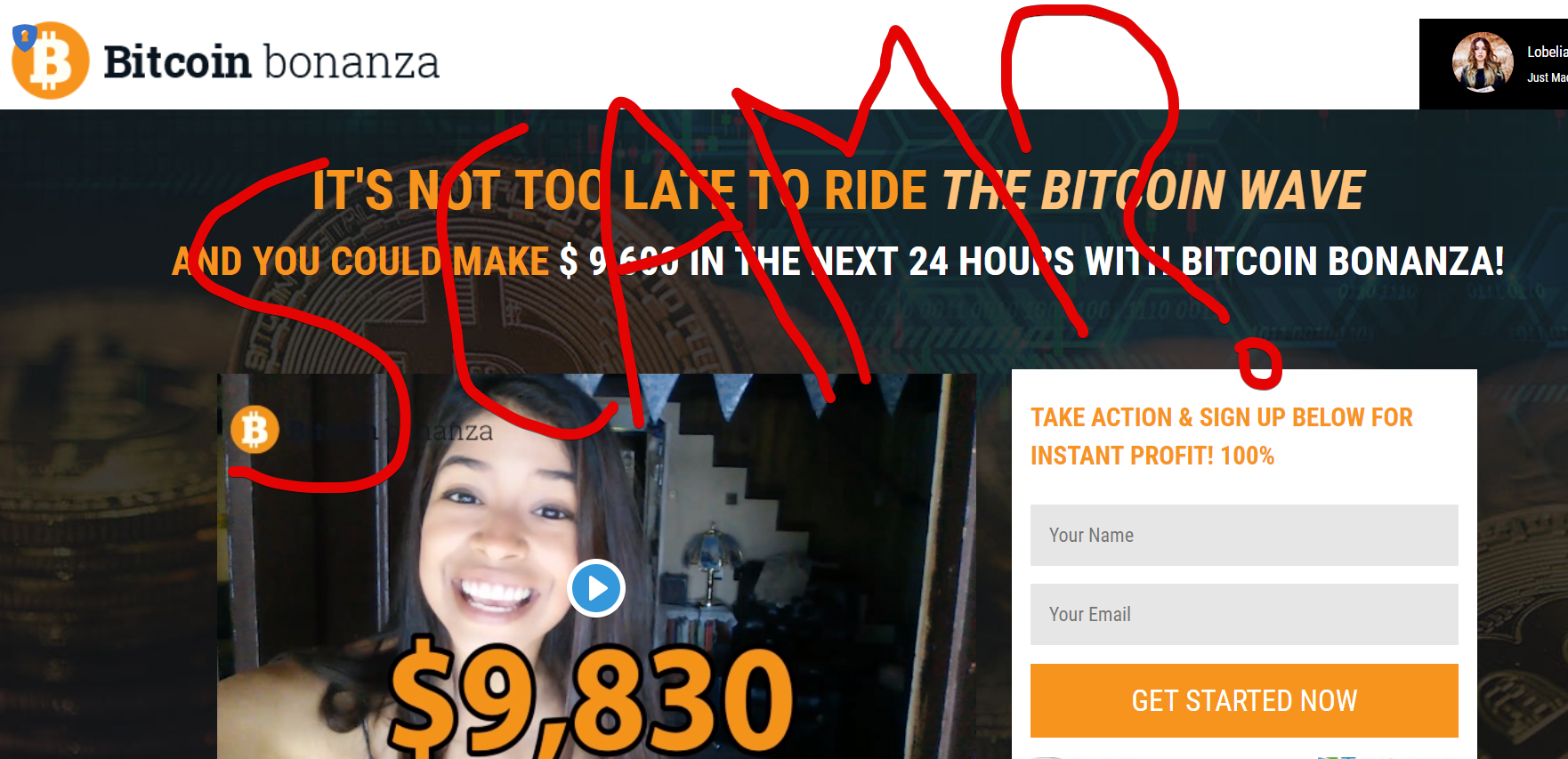 Bitcoin Bonanza is a cryptocurrency trading software that is supposedly making people over $10,000 per day. But we all know that you can't trust everything you hear online and this does sound a bit excessive.
So is this true? Or is Bitcoin Bonanza a scam that you need to avoid? I'll get straight to the point of this review here and warn you that this is a scam. I see scams like this all the time and in this review I'll be going over why it is one.
Bitcoin Bonanza Trading Software Review
Upon landing on the sales page I was fairly certain it was a scam right off the bat. Because of this I went in with the mindset that they have to prove to me that it isn't a scam. But after digging around and looking for information my suspicious was just further confirmed.
Whenever you come across a system like this that claims it is super easy and that you can make $9,600 in just 24 hours you need to be very cautious because its more than likely a scam.
In the ridiculous sales video I watched for this they were saying that every person in the beta group that tested this software out made over $11,000 in just a single day. Are you kidding me?
How Does It Work?
Well of course there is just about no information at all on how any of it actually works. You are just supposed to trust that it can make you thousands of dollars per day without knowing how on earth it even does it.
They tell you that the trading software runs on an "unmatched trading algorithm that breaks market laws". This is great and all but it doesn't tell me anything about how it actually works. How does it break market laws. What does the algorithm look for and how does it find such profitable trades?
There is no information on how it actually works and this is one of the most common characteristics you will see with scams.
Red Flag! – Limited Availability Scam Tactic
When you try to exit the page you will see a popup that comes up in your face stating there are only a few spots left and that you must reserve your spot now. This is a common scam tactic used to create a false sense of scarcity to try to get people to buy in right away.
This makes viewers think that it is urgent that they get in and often leads to people buying in without doing the extra research and coming across reviews like this one that I'm writing now.
I know that this limited availability popup is completely fake because you can exit the site and come back to it in a week or even a month and it will say the same darn thing.
Another Red Flag! – Fake Testimonials
Down below the sales video on the sales page you will see testimonials from people who are supposedly members of this system and have been making tons of money. I like to read over testimonials and reviews before I buy into things like this but the problem with these testimonials in particular is that they are completely fake and made-up.
How do I know? Well I ran a reverse Google image search for the one lady's picture that is in one of these testimonials and as you can see below this same picture is being used all over the internet. The creators of this scam just took the image and threw it in here.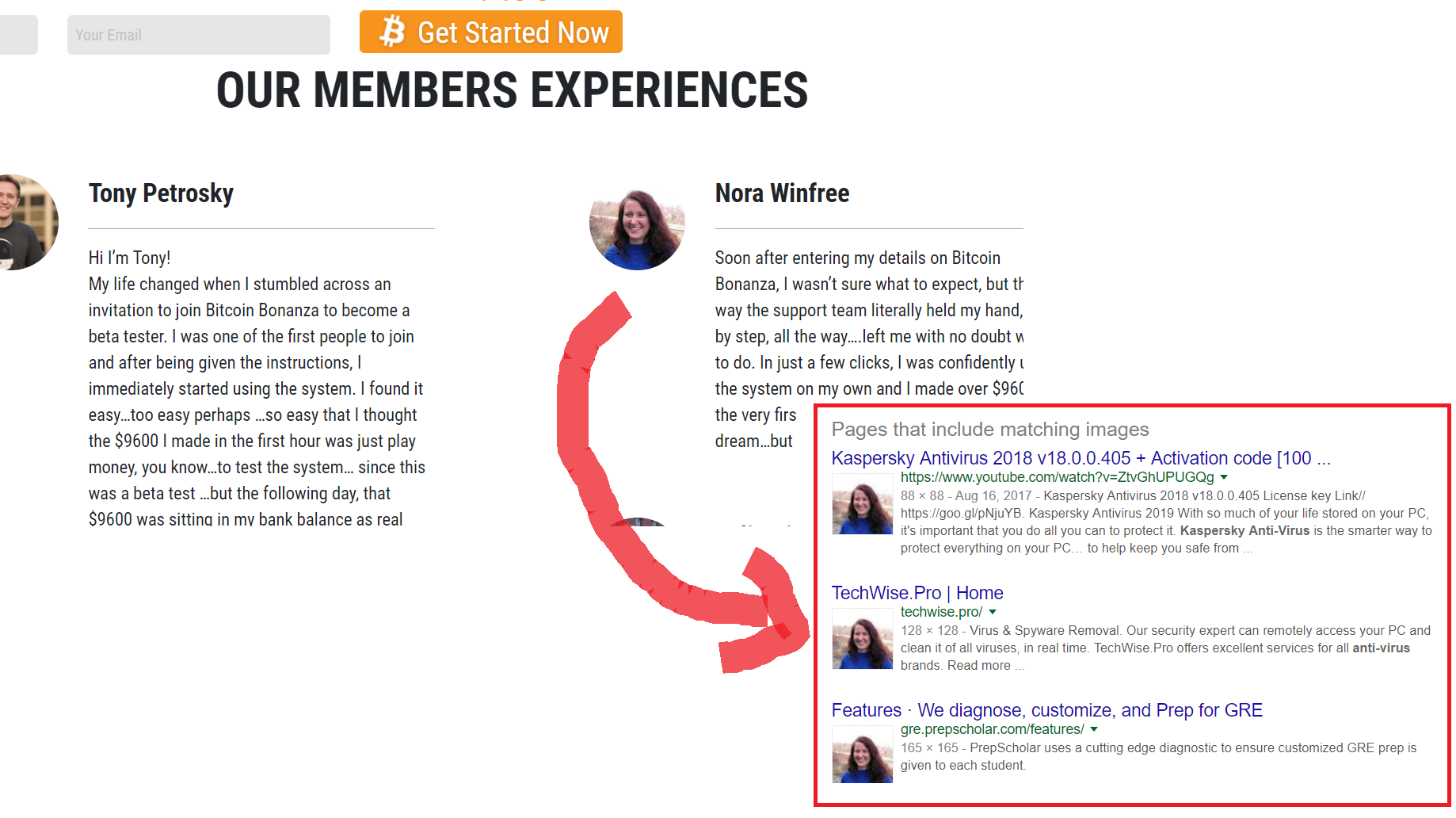 A Look at The Creators.. Yet Another Problem
And yet another major problem that I came across is that there is not information on the creators of this trading software. I want to know more about the team behind things like this before I jump in and with this there is no information at all.
Doesn't this seem a bit strange? With legitimate softwares, programs, business opportunities, etc… you should be able to read up on the people who started it all. Because there is no information on anyone I am forced to believe that they are hiding something. For some reason the creators don't want us to know them and this is another red flag for me.
For all I know the creators of this could be the same people as the creators of scams like Bitconnect, Crypto Magnet, Crypto Genius, and others. I just don't know if I can trust them or not and in a market filled with scams like this its just too risky.
Conclusion on Bitcoin Bonanza – What a Scam
There is pretty much no doubt that this is one big scam. There is nothing about it that makes me believe it is legitimate. Everything points to it being a scam. There are certain characteristics to look for when spotting a crypto scam and this has many of these characteristics present. There are more that I'm not even going to go over but I think you get the point from what I did cover above…. you just can't trust this place. Everything about it is a lie.
This is just another scam software that lures people in with the hopes and dreams of making easy money online. There are a lot of scam artists out there capitalizing on the cryptocurrency boom. This new technology has gained a lot of popularity and with popularity like this along with the ability to make money, the scam artists are everywhere. I literally review a new cryptocurrency related scams several times per week on my site here.
If you do sign up here is what is going to happen: They give you the software for free but you will then have to fund your trading account. Once you fund your account you will never be able to get your money back. They might make it look like you are making money with the software but you will not be able to withdrawal that money because everything is fake. Its all a fraud.
So just be careful out there and avoid opportunities like this.
On another note, which is not cryptocurrency related. If you are looking to make money online check out how I do it. The reason I'm mentioning this is because I know a lot of people looking to make money with cryptocurrency are just looking for money and not necessarily interested in the crypto technology they are looking to invest in. So if you are wanting to make money online take a look. I'm making over $6,000/mo consistently right now doing this.
If you have any questions or comments please leave them below and I'll try to get back to you soon ?