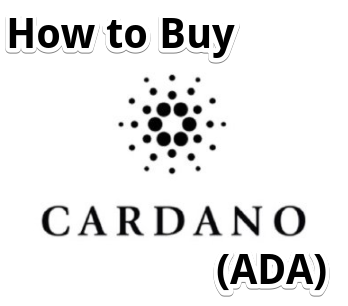 Cardano is being called the Ethereum killer for good reason. From what many people can tell, its basically a newer and much better version of Ethereum, improving on areas where Ethereum is lacking and is going to have problems with as it increases in adoption.
But anyways… I'm not going to get into why Cardano is awesome and why I think its worth investing in. The point of this short post is to go over how to get your hands on some Cardano. And by the way if you don't already know, the cryptocurrency that Cardano has is called ADA, so this is what I will be talking about.
Step 1: Buy Bitcoin
There is no super straight forward way to go about getting ADA. Its not like you can just take your debit card and go buy some online. You first will have to buy bitcoin, which you can do with just a credit/debit card.
I suggest using CoinBase to buy bitcoin. Why? Well because they are a transparent company that is based in the US and has professional management. On top of this they have a great insurance policy and I have used them for a while now with no problem.
In the crypto world you have to be careful where you go to spend your money and CoinBase is my choice here. You can read my full review of Coinbase here. If you sign up to Coinbase with my referral link you will get $10 of free bitcoin in your account. I'll leave the link below…
https://www.coinbase.com/join/
Once you create your account at Coinbase the first thing you should do is enable 1 factor authentication, which will make your account more safe from hackers.
After this you are going to want to add your method of payment so that you can buy the bitcoin. You can choose to use a credit/debit card or hook up your bank account. To do this you will have to go into Settings, then Linked Accounts, then Link a New Account…

After you have linked your account and it is verified you will then be able to purchase bitcoins. To do this you will go to the Buy/Sell menu link where you will enter how much money you want to spend or how much bitcoin you want to buy. Its pretty straightforward.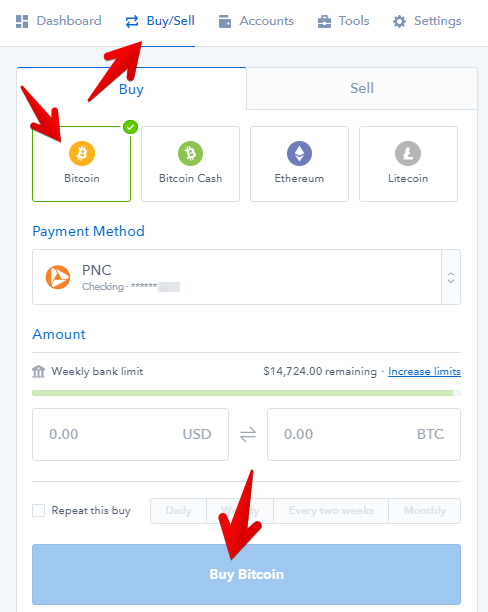 If you use a credit/debit card you will get your bitcoin instantly but if you use your bank account it will take around 5 days or so.
Step 2: Transfer Your Bitcoin To Bittrex
Now that you have your bitcoin you are going to have to transfer it to an exchange so that you can exchange it for cardano (ADA). Bittrex is one of the better exchanges out there and they are what I use most so this is what I recommend.
You will have to go to Bittrex.com to set up your account and everything. After your account is set up you will want to click on Wallet up at the top menu and then find your bitcoin wallet and click on +.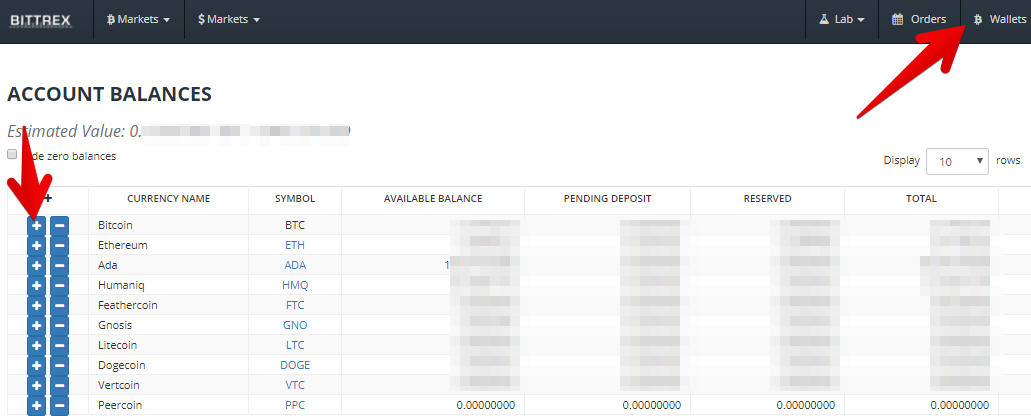 This will then give you your bitcoin wallet address. You are then going to want to copy that address code exactly. Be careful with this step…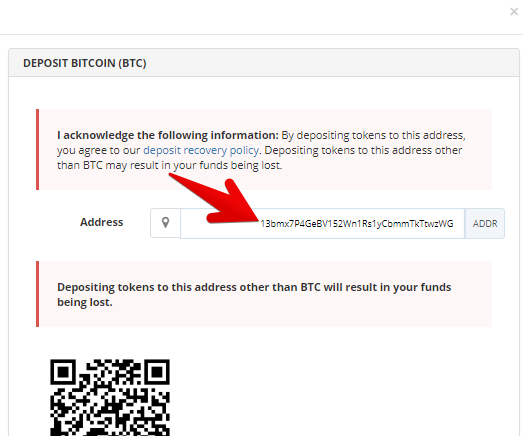 After copying the wallet address you are going to have to head back over to your Coinbase account, which is where your bitcoin currently is. You will want to click on Accounts, and then find your bitcoin wallet and click on Send. In the picture below I have no bitcoin at the moment on Coinbase to send but since you will, you will be able to click this button.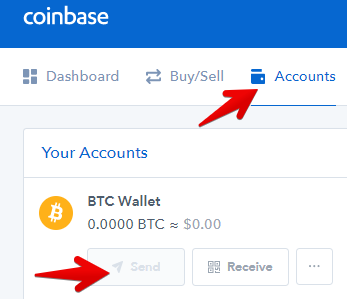 Then you will paste in that code you took from your Bittrex wallet, enter the amount you want to send and you are good to go.
Wait for the transaction to be confirmed and you will have your bitcoin in your bittrex account.
Step 3: Exchange Bitcoin for ADA
That was a long process but by this point you finally have your bitcoin over at the Bittrex exchange and are ready to but Cardano (ADA). This part takes only about a minute so that is good.
What you want to do is click on the bitcoin markets tab in the upper menu, then search for ADA and click on that…

This will take you to the page where you can trade it. Once you get there you need to scroll down to where you see the area to buy or sell ADA and of course you want to buy it…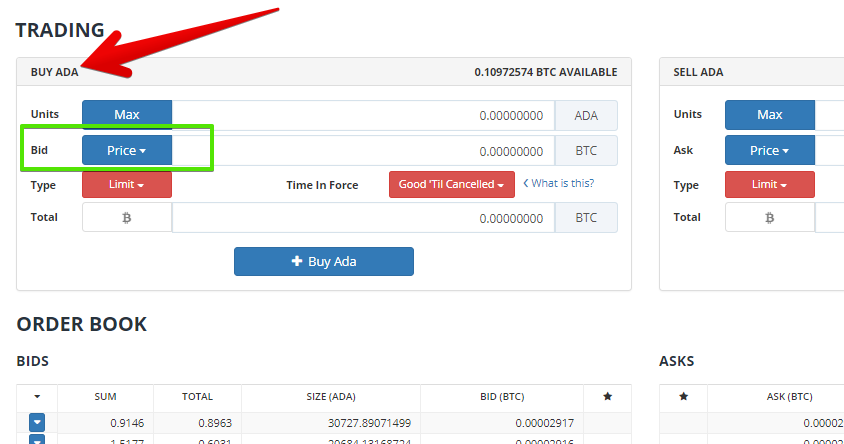 The box I circled in green labeled "bid" is where you set your price. You can choose any price you want but if you want to buy ADA right away you are going to want to click on price and choose "latest" which will enter in the price it is currently trading at. This will match you up with a seller right away.
You can then enter the total amount of bitcoin you want to spend in the bottom and click to Buy Ada.
After your order is filled your ADA will be in your ADA wallet which you then can do with as you please. If you plan on holding onto it for while you should store it in the Daedalus wallet that is available on CardanoHub.org.
Quick Summary
I know… I wish it was a more straightforward process too but this is the easiest way to go about buying Cardano at this point.
To summarize: First buy bitcoin at Coinbase (get $10 free btc if you use my referral link here: www.coinbase.com/join). Then transfer your bitcoin to Bittrex. Then exchange it for ADA. Then store it in the ADA Daedalus wallet if you are going to be holding onto it.
If you have any questions be sure to let me know. Just leave them in the comment section below 🙂