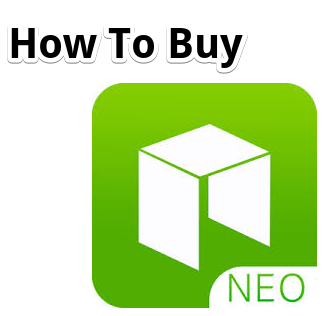 NEO is a blockchain-based project that is somewhat similar to Bitcoin, which everyone knows about. It has been increasing in popularity a lot recently which is why you are probably thinking about investing in it. As with bitcoin, litecoin, ethereum, and all the cryptocurrencies… as they get more popular the price increases a lot. So if you buy in low and the price goes way up, you make a lot of money.
NEO looks like it could have a pretty bright future and I'm investing small amounts in it so I thought I'd show others how they can do the same. If you are looking to buy NEO coins then keep on reading. The process is more complicated than buying bitcoin and others because its isn't as mainstream yet, but it isn't all that hard.
Step 1: Buy Bitcoin
The first step is to buy bitcoin if you don't have any already. The reason you need to first buy bitcoin is because you will then exchange this bitcoin for NEO.
If you have never bought bitcoin before then I would suggest buying through Coinbase. Coinbase is based in California, US, and is safe to buy through. I have used them many times and even wrote a review on them that you can read here.
What makes Coinbase nice is that they make the process very easy and straightforward. It will take over a day to get your bitcoins though.
First you will have to create an account. Then you will go to Buy/Sell and click on Bitcoin. Under payment method you will have to choose to pay with a credit/debit card or link your bank account. Either way you will have to verity ownership and this will take a day to do.
After that you will be able to purchase your bitcoin. If you choose to do so with a credit/debit card the bitcoin will be in your account instantly. It will be in your coinbase wallet that they provide.
Step 2: Send Bitcoin to Bittrex
There are a lot of different cryptocurrency exchanges out there but I use Bittrex. They allow you to trade and exchange cryptocurrencies very easily.
The first thing you will have to do at Bittrex.com is create an account obviously.
Then you will go to "Wallets" in the upper menu and find your Bitcoin wallet. You will see a + symbol if you want to deposit bitcoin into that account, which you do. So you will click on that + symbol and it will show your wallet address that you need to send your bitcoin to.

Then you have to go back over to Coinbase to send the bitcoin. All you do here is click on "Accounts", go to your bitcoin wallet, and click on "Send". Then you will be able to enter the wallet address from Bittrex and send it on over.
Make sure the address is correct because if not the bitcoin will be lost forever.
Step 3: Trade Bitcoin for NEO
So when you are logged into Bittrex you will have to go up to the Bitcoin Markets tab in the top menu, click on that, and then go over to NEO and click on that…

This will then take you to where you can trade bitcoin for NEO. You are going to want to scroll down until you see the trading section and the "Buy NEO" part on the left is what you are interested in…

At the top of that box it will show you your available BTC balance that you can spend. So you can spend it all if you want to or you can spend just a bit. You will enter this amount in the bottom box that says "total".
Then you will need to enter your Bid price. This is the price you are willing to buy NEO for. Basically all Bittrex does is match buyers up with sellers. So if you bid too low you will never get anyone willing to sell to you. You need to bid at what its actually worth.
I know this can get confusing so the easiest way to go about this is to click on Price and then on Last. This will automatically fill in the bid price with the current market value.
After you have the total amount of bitcoin you are willing to spend typed in and the bid price set, the amount of NEO you will be buying will be automatically filled in. Then you simply click on "buy NEO" and wait for someone to sell to you. If you chose the "Last" bid price as I went over it should be sold to you in a matter of minutes or even seconds. It just depends.
You will get a notification when it is sold to you and then you will have your very own NEO in your wallet at Bittrex. Then it is yours to do whatever you want with. You can keep it in your Bittrex account of you can send it off to another wallet if you would like.
I would recommend sending it off to a cold storage (offline) wallet if you are planning on holding onto it for a while. This is to just keep it safe from hackers.
Summary Of The Process
I know this process can get confusing but there isn't any easy way to go about it right now. Its not as easy to buy as Bitcoin. You have to jump through some hoops to get there but this is how I go about it and its really not that hard.
All you do is buy bitcoin (I recommend CoinBase), send your bitcoin to an exchange like Bittrex, and then trade your bitcoin for NEO…. simple as that.
If you have any questions or comments be sure to let me know in the comment section below. I'm happy to help 🙂