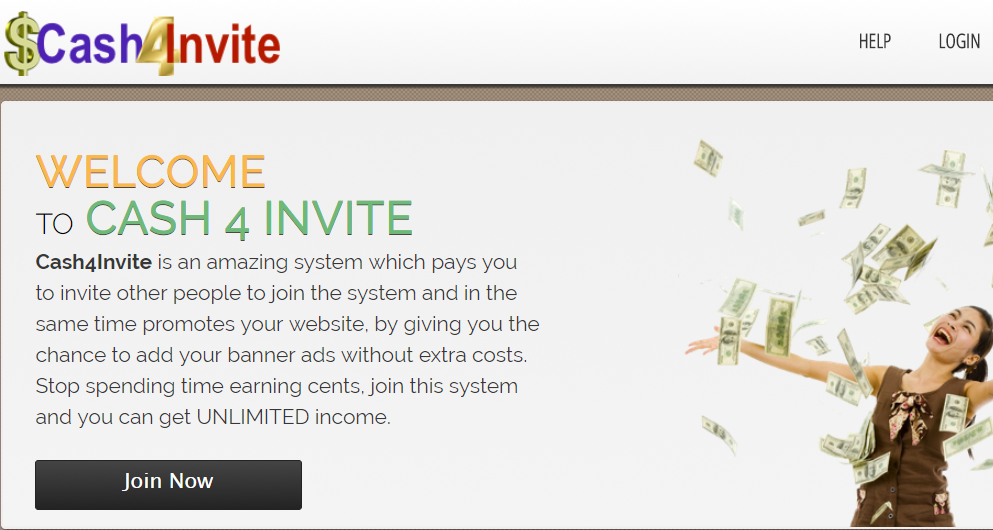 Cash 4 Invite (formerly known as Cash For Invite) is a program that claims you can earn easy money by joining and then inviting friends to join. Sounds easy right.. but whats the catch? There is always a catch. Is Cash 4 Invite a scam or something?
I'll tell you what the catch is. It is that this is not nearly as easy as they make it sound and you will probably not make any money. It is basically a scam system but that depends on what your definition of scam is. In this review I'll be going over how it works and everything you need to know about this place.
Cash 4 Invite Review
Cash 4 Invite has went under a bunch of different names over the years. As I said, is was most recently known as Cash For Invite. The reason it changes names so much is because word gets out about it being a scam and not working so they just re-brand it under a different name and make it appear new.
With this program all you are doing is referring people into it and earning commissions. You will of course first have to pay for your own membership and you will be earning commissions from the memberships that your referrals pay for.
Additionally you will be able to advertise with Cash 4 Invite, which isn't going to work out too well.
What You Get
You don't really get much of anything when you become a member. You get your referral code that you can use to get people to buy into Cash 4 Invite through you and you will get the ability to place ads on the Cash 4 Invite website.
The only real product that they sell is their ad placement service. Basically they will advertise a website banner of your choice on their website. Its a horrible idea because the quality of the traffic coming from this Cash 4 Invite website is going to be terrible. It just isn't going to convert, or at least I imagine it wouldn't be any good.
Membership Choices
Their are 3 memberships you can choose from: Basic, PRO, and Ultimate.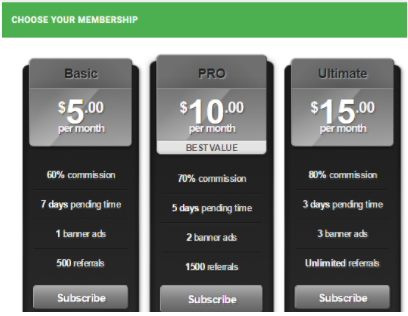 As you can see the membership that you choose determines how much you will be able to make as well as the amount of banner ads they will run for you.
With the Basic Membership you will only be making commissions that are 60% of $5, which is pretty much nothing. And with the Ultimate Membership you will be making 80% of $15, which still isn't much but its better.
How You Get Paid
They tell you that payments are made through PayPal within 7 days of request. There is a $5 minimum cash out threshold that you first must reach.
I don't know if I would count on getting money out of this program though. Can you really trust them? That is one question that needs to be answered.
Can You Trust This Place?
I definitely wouldn't trust them that is for sure.
First off, the entire system of making money here is very scammy. You are just making money by getting others to buy into the same darn program. The only reason the offer advertising is probably so they can get away with being a legitimate business in the eyes of the law.
But honestly, if you want to make money by promoting the same program you buy into there are better choices like Aspire and MOBE. They are more expensive but they are definitely better than this junk website.
However, I definitely would not buy into them either. I just mentioned them for comparison sake.
Conclusion on Cash 4 Invite? – Stay Away
The only good thing about this program is that it is cheap. So if you have already bought into it at least you didn't waste much money. Because there is no way you are going to make much here.
They provide you with a referral link so that you can promote it and make money like this but I doubt this will work out good. They provide no training to actually do so. Sure… you could potentially get some traffic to a website from the banner ads that they run and promote this program from the ads they run… but like I said, that traffic is going to be horrible.
Its just not going to work out. This is the bottom line and this is exactly why this program keeps changing its name so much.
If you are looking for a legitimate way to make good money online then I would suggest checking out this program. This is the same program I got started with back in 2015 and I am still a member today…. which is a testament to how good I think it is.
I make a living online right now and I owe pretty much everything to what I learned here.
==> My No. 1 Recommended Program Here
Questions, comments, concerns? Leave them below in the comment section and I'll get back to you soon ?