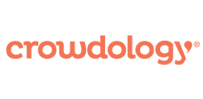 Crowdology is an online survey site that claims to pay up to $10 for taking simple surveys online. This sounds pretty good and all but they do tell you "up to" $10…. not that they will pay you anywhere close to this on average. So what is the real amount that you can expect per survey?
Lots of paid survey sites make you think that you will be able to earn more than you realistically can. If you are wondering if this is one of these places and is Crowdology a scam possibly then you are in the right place. I have took a look into this place and in this review I'll be going over a few things that everyone should know before the decide to sign up or not sign up.
Crowdology Review
Crowdology is a paid survey site where you can make money taking short surveys online. And I'll get straight to the point here and tell you that… NO, this place is not a scam. However, there are a few definite downsides to it that I'll be going over so don't just go sign up right away.
They offer surveys on all kinds of things and you never really know what to expect. Companies pay them to get opinions from the public via surveys and they pay people like you and I a small amount of this to actually take the surveys.
There is nothing complicated about making money this way. The survey are short and easy. Its pretty much a brainless way to earn some money in your sparetime, which I know sounds enticing.
How It All Works
Crowdology is free to join and doing so is pretty simple and straightforward. After signing up you are going to want to fill out your profile information completely. This is more important than you might think because they will use this information to match you up with surveys that fit your demographic. If you do not fill this out then you will be more likely to take surveys that aren't a good fit and get disqualified from them.
After doing all of that you will be able to take surveys and make some money. You will be able to login to the Crowdology site and see the survey offers available and you will also receive alerts through your email that will invite you to participate in surveys.
They tell you that the surveys on this site are relatively short, ranging from 2-15 minutes, but as you will see later they aren't as short as they may seem. Once you complete a survey the money will be credited to your account at Crowdology. It is only after you reach the threshold that you can cash out. If you want to cash out via PayPal you will have to get $8 and if you want an Amazon gift card you will need $10 minimum.
How Much Money Can You Make?
This is best looked at as a way to earn some extra pocket change…. because you really won't make much more than that. And this is how it is for any normal paid survey site out there. They just don't pay much at all.
They tell you that you can make up to $10 per survey but this should not be expected at all. Surveys also pay as low as $0.40. I would say you can generally expect to make anywhere from $0.50 – $2.00 per survey.
Complaints
Besides the obvious complaint of making very little money per survey, there are others. After going through a bunch of complaints on sites like SurveyPolice and TrustPilot here are some of the more common ones that you need to be aware of…
"Screened Out"
Getting screened out of surveys is a very common complaint. Some people claim to get kicked out of over 90% of the surveys they attempt to take. This is something that will happen on any paid survey site out there. My only advise here is to make sure you fill out your profile as accurately as possible to avoid getting surveys that will not work for you.
Not Enough Surveys
Crowdology isn't like SwagBucks, which offers tons of surveys. They are a smaller survey site and you won't be able to just go through and take survey after survey. Not having enough surveys to complete is another complaint I came across quite a bit.
Surveys Longer Than Stated
They tell you that the surveys only take 2-15 minutes on average but for the average person they will take close to double that amount of time. They are not as short as they lead people to believe.
Conclusion on Crowdology – Good Opportunity or Not?
I know there are some people calling Crowdology a scam out there but this place really isn't. You can make money taking surveys here… it just won't be very much. And this goes for any paid survey site.
If you do really want to make pocket change taking surveys in your spare time then I would recommend Swagbucks or PaidViewPoint over other sites. Swagbucks for example offers many more survey opportunities as well as other simple ways to earn.
If you are looking for a better opportunity to make money online on your own schedule then I highly suggest checking out this program. Not only can you make money on your own time with this but you can make a lot. I actually make a living online with it.
==> Program I'm Talking About Here
Questions, concerns? Leave them below in the comment section and I'll get back to you soon ?