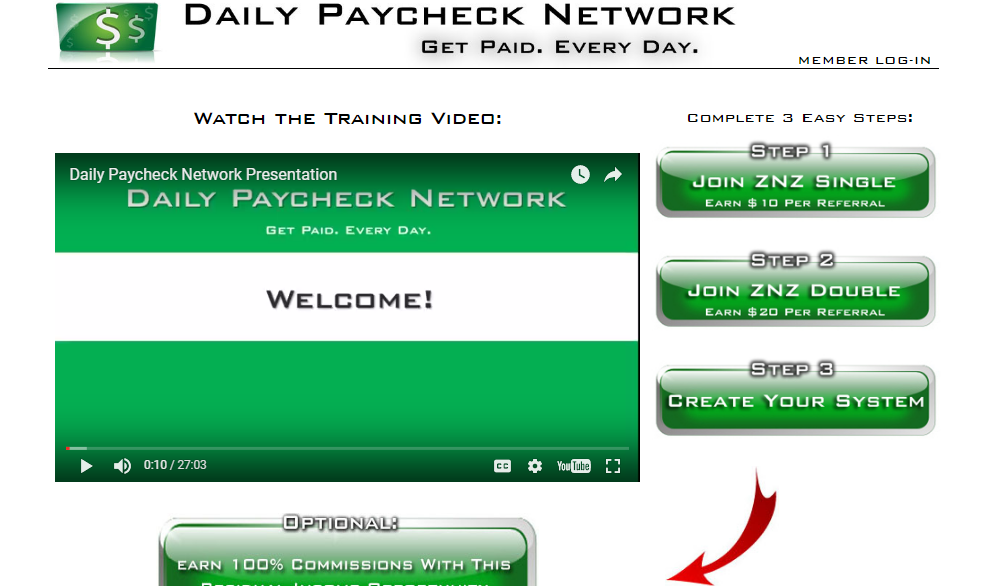 If you came across Daily Paycheck Network while looking for ways to make money online you are going to want to read this first. I have seen and reviewed programs like this before and they are never as great as they seem to be.
While it may seem like and incredible opportunity for you to make money online the reality is much different. Will Daily Paycheck Network scam you? Arguably so due to the misleading information used to get you to sign up. If this sounds a bit strange just hang with me for a second, I will explain what I mean here shortly.
Daily Paycheck Network Overview
Daily Paycheck Network is an affiliate marketing system that was created by a man named Steve Wirsig. There is no cost for you to actually use the system and you can make money using it without a doubt.
With this system you will be promoting a program called Zip Nada Zilch (ZNZ) that gets paid by big companies to promote trial offers. In addition you will also be promoting a program called Empower Network, which is an mlm online business program that is very shady and basically is a pyramid scheme.
When you get someone to sign up for ZNZ you can make $10 and $20, so $30 total. And when you get someone to sign up for Empower Network (which does cost money… a heck of a lot too) you can potentially make thousands of dollars per referral.
Sounds pretty good right? Ehh…. just keep reading.
How It Works
Ok, so in order to be able to use the Daily Paycheck Network system and make money off of it you first have to sign up for ZNZ Single and ZNZ Double. As I mentioned above, this place gets paid by big companies to promote trial offers for them in hopes of getting more loyal customers.
When you become a member of ZNZ you will have to sign up for a number of these free trial offers in order to get a certain amount of credits. And once you have enough credits you can then promote the actual ZNZ program to other people and make money when they sign up.
Additionally, Daily Paycheck Network tries to get you to sign up for Empower Network. This place provided online business tools such as website hosting, pre-made sales pages, lead pages, and training for people looking to make money online. Basically its a one of those programs that you buy into and then make money by promoting it to other people. I don't want to get too into it all, but it has a mlm structure and is basically a pyramid scheme.
It is extremely high priced and has many products. You can make thousands of dollars per sale promoting it.
Empower Network used to be a massive business but has since collapsed because many of its top members left.
What You Will Be Promoting
You won't be promoting ZNZ and Empower Network individually. All you will be doing is promoting Daily Paycheck Network and then when people sign up for ZNZ and buy into Empower Network through Daily Paycheck Network you will get credited.
The Reality Of This
While you can make good money doing this, chances are you won't. The real person that is going to be benefiting from all of this is the creator, Steve Wirsig. He is the one that is getting everyone to sign up through his links.
You probably aren't going to be getting anyone to sign up through you. Why? Well because Daily Paycheck Network doesn't provide anything really to help you drive traffic to their site. You have the system in place where you can make money but now you need traffic… and this is where the program falls short.
Traffic generation is one of the most difficult aspects of online business and is essential.
Conclusion On Daily Paycheck Network – Very Misleading
I will say, I like how Steve doesn't overhype this program too much. He doesn't tell you that you will be making $1,000/day or anything like that. But still, I think the sales pitch for Daily Paycheck Network is misleading. I have reviewed programs nearly identical to this before and have been in the online marketing business long enough to be able to tell that this just isn't going to work out good for the large majority of people.
I definitely wouldn't recommend Daily Paycheck Network for people looking to make money online… nor would I recommend ZNZ or Empower Network.
Questions, comments, concerns? Leave them below in the comment section and I'll get back to you soon 🙂