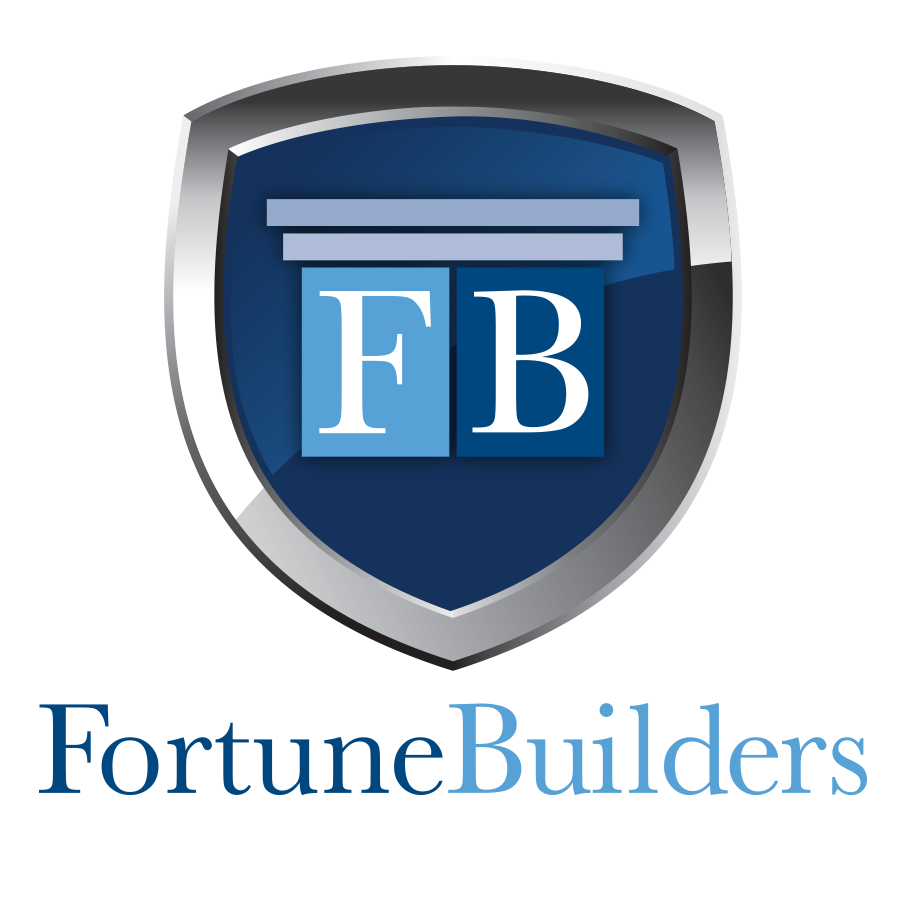 Fortune Builders is a real estate investing education company that provides everything from inexpensive online courses to very expensive one-on-one coaching programs. There are many good things said about this place and it can be very tempting to buy into some of the more expensive educational products that they offer, but is it really worth it? Or is Fortune Builders a scam possibly that is just going to leave you upset and with a bunch less money at the end of the day?
In this review I will be going over what exactly Fortune Builders is, the different type of education that it provides, the prices, complaints and more.
What Is Fortune Builders?
Like I said, it is a real estate investing education company. The company was founded back in 2006 by Than Merril, who is a graduate of Yale University but is probably most well known for being a NFL safety. Merril got involved in real estate and started his own company back in 2004 and after finding success he decided to create this Fortune Builders educational company.
There is a vast array of education that Fortune Builders provides. It attracts people with many different interests related to the real estate industry, such as flipping houses, wholesale, and rehabs.
Prices vary a lot with the different levels of education provided. They offer everything from basic online courses that you can take notes and learn a bit from, to very expensive one-on-one coaching where you are guided through the many processes and given a "system" that you can use to maximize profit and reduce risk.
Education
On their website there really isn't all that much information on what all educational type products they offer. However, from what I can find they offer the following…
Online Courses: As I mentioned briefly earlier, these are online courses that you can take from home on your end time. There are several different courses and they range in topics from wholesaling to tax liens and deeds.
Seminars: These seem to be short two hour or so events that usually lead to something else, Such as getting you to attend one of the three day workshops.
3-Day Workshops: These three day workshop seem to vary a good bit depending on where you are located and who is teaching them, and because of this they also vary in price a lot. If you already have a business in place then these weekend events can help provide a good polishing touch if you're looking for some tips/tricks to improve your business, but there is not enough included here if you are a beginner looking to get started. Topics range from commercial building to wholesaling and it seems like pretty much everything is fair game.
Mastery Program: The mastery program is the peak of the education that they provide. This is where you get extensive one-on-one coaching and really are guided through the process of getting your own business up and running. This program includes live weekly training webinar classes, curriculum that is laid out for you, action plans, systems you can use to dissect the business to keep things running more smoothly and efficiently, a back office CRM and a database to manage your business and more.
The Cost
When it comes to the cost of the different educational products they provide it is really hard to find information. They do not state any prices on their website so to find out the costs associated with the different levels of education I resorted to reading through tons of customer reviews.
And like I said, the prices of these different levels of education seems to vary a lot depending on where you are at and who is putting on the event or providing the training. For example, I know that some people are paying $197 to attend the three-day weekend workshops whereas others are paying $297. Why the difference? Well I don't really know because they don't provide any information on this.
And when it comes to the mastery courses is the same deal. Most of what I have found seems to point to the mastery program costing around $10,000 but I have also read reviews about people claiming that it costs up to $30,000, which is a massive difference of course. And then what is really strange as I've also read reviews of people talking about products costing in the $2000-$5000 range, which is really strange.
Honestly I don't know what to tell you when it comes to the cost. They just are not transparent at all with it and it is hard to find good information.
Complaints
Overall a general consensus on the education provided is pretty good. Most people are very happy with the knowledge and tools provided.… Not really any complaints here.
Where the complaints come into play is with what appear to be deceptive sales tactics. My guess is that the employees of Fortune Builders are making some pretty nice commissions when selling these products. Some of the complaints I've read on websites like the Better Business Bureau compare the employees to used car salesmen, that just constantly try to suck every penny out of you.
I also really did not like how they are not transparent with their prices. Because of this you really don't know if you're getting a good deal or not when buying in. The prices seem to be all over the place and you have no idea if you're getting ripped off or not.
There are reviews I have read, such as that below, from people who claim they were suckered into buying more expensive programs because they were told that they were the cheapest option, only to find out later that they were not the cheapest option.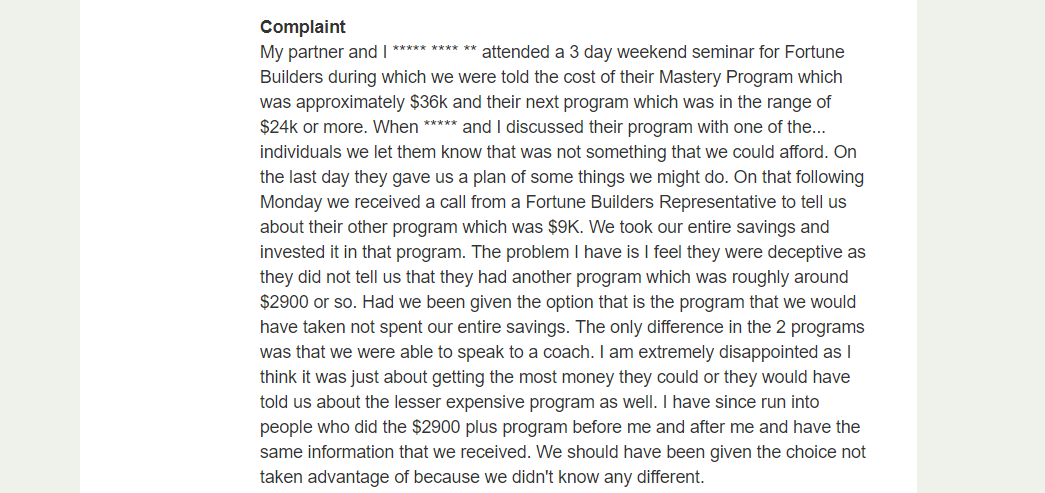 *Note: I would like to point out that overall this company has very good ratings from customers. Sure it has complaints too, but what company doesn't?
Conclusion on Fortune Builders – Scam?
No I do not think that Fortune Builders is a scam in it any way. They do seem to provide a very good education and really help people become successful in the world of real estate investing, which can be very lucrative. Of course whether you are successful or not largely depends on yourself and how much action you take, but as for the education provided… It is about as good as it gets.
If you don't have an entrepreneurial mindset with plenty of self motivation and desire to do this then you are not going to succeed, no matter how much education you get.
My only complaint, and the majority of complaints, comes from the somewhat deceptive sales tactics used to get people to buy into the expensive mastery program. So if you are going to get involved be aware of this and really make sure that you ask every question possible to ensure you are getting a good deal before actually giving them your credit card.
If you have anything you would like to add this review or comments/questions, please feel free to leave them below in the comment section 🙂