If you came across a work from home program that was supposedly created by Kelly Richards, Kelly Simmons, Bobbie Robinson, Susan Whitman, Mick Moore, Karen Evans, Raena Lynn, Heather Smith, Shelly Davis, Lisa Cadwell, or Cami White then you should read this. The programs that these people are promoting a scams. They are not what they appear to be and will not work out as they tell you. In fact…. these women are totally made up. They don't even exist!
The reason I am writing this post about all of these different women is because the programs being promoted under their names are complete scams. The work from home scams that they promote are identical with the exception of minor changes. Some of the work from home scams that have been promoted and that you may have heard of include…
Secure Job Position – Kelly Simmons
Xtreme Home Paycheck – Mick Moore
Internet Income Online – Kelly Simmons
Automated Daily Income – Raena Lynn
Accelerated Income – Susan Whitman
Online Jobs Now – Kelly Simmons
Entrepreneur Jobs Club – Mick Moore
Steady Home Income – Kelly Simmons
Home Earning System – Kelly Richards
Home Internet Income – Lisa Cadwell
Home Online Profit Education – Heather Smith
Home Job Placement – Kelly Simmons
Auto Home Profits – Shelly Davis
Daily Web Biz – Cami White
WAH Program – Bobbie Robinson
WAH EDU – Bobbie Robinson
Total Income Answer – Karen Evans
Financial Health Reset – Karen Evans
They are all the same darn program. This program has been promoted for years and is just constantly re-hashed under different names. If you look at the websites for these scams you can see the similarities…. they have pretty much the same layout and design… These are just a few of the many…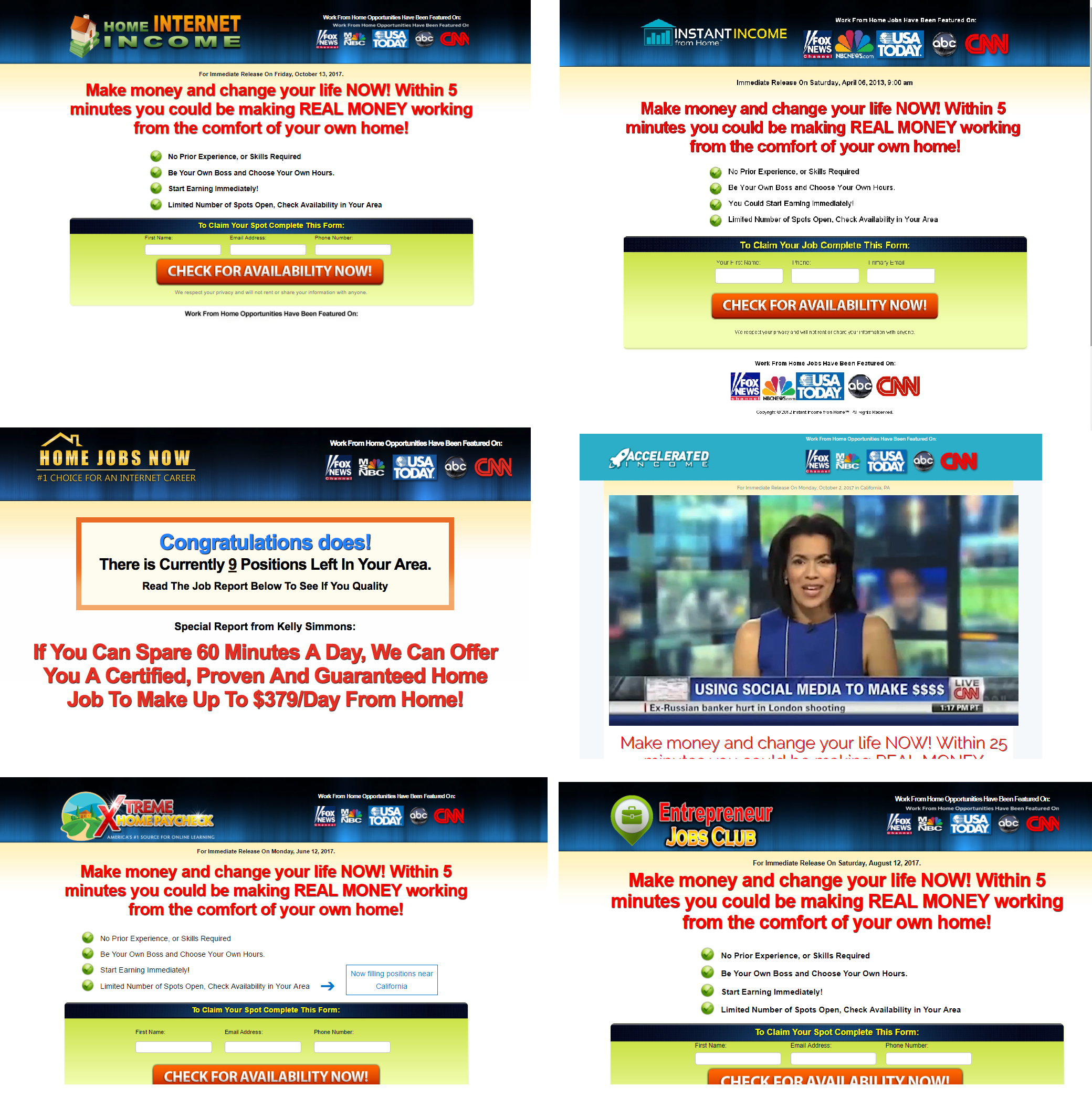 In the rest of this review I'll be going over some warning signs that you should look out for, I'll prove that the women that supposedly created these programs are fake. I'll explain why these programs don't work and more.
Some Warning Signs That These Are Scams
These programs all have some warning signs that they are scams. They are little scam tricks that are intended to sucker people into thinking that they are legitimate.
1) Fake News Endorsements 
If you look at the top of the sales pages for these programs they usually say something along the lines of "as featured on: CNN, Fox News, USA Today" and so on.
However, none of these opportunities have ever been featured on the news and they never will be. If you go to any of the news sites' websites you can search for them and you will not find anything relevant.
2) Fake Limited Availability
Many times you will see something like this…

These are almost always lies and when it comes to programs like this they are always lies. The reason hey are telling you that there are limited positions left is to try to get you to buy into it as fast as possible. The more urgent they make it sound the more likely people will buy in without doing the proper research.
A Look at The Fake Women Behind These
As stated, all of the women that are behind these are completely made up. Kelly Richards, Kelly Simmons, Bobbie Robinson, Susan Whitman, Mick Moore, Karen Evans, Raena Lynn, Heather Smith, Shelly Davis, Lisa Cadwell, and Cami White are all FAKE. They are fabricated just to help sell these scam programs.
On the sales pages for the various re-hashed programs that are being promoted under these women's names, they all tell the same sob story. Basically what they tell you is that "Kelly Simmons", or "Shelly Davis", or "Heather Smith", etc were at one point single mothers that were struggling to survive, living paycheck to paycheck. Until one day they came across this amazing work at home opportunity and have been making tons of easy money online ever since.
They tell you these fake stories because they are trying to relate to people and gain their trust. But like I said… the stories are fake. Below you can see the various different faces and names that go with these different scam programs and you can see that they all tell the same story…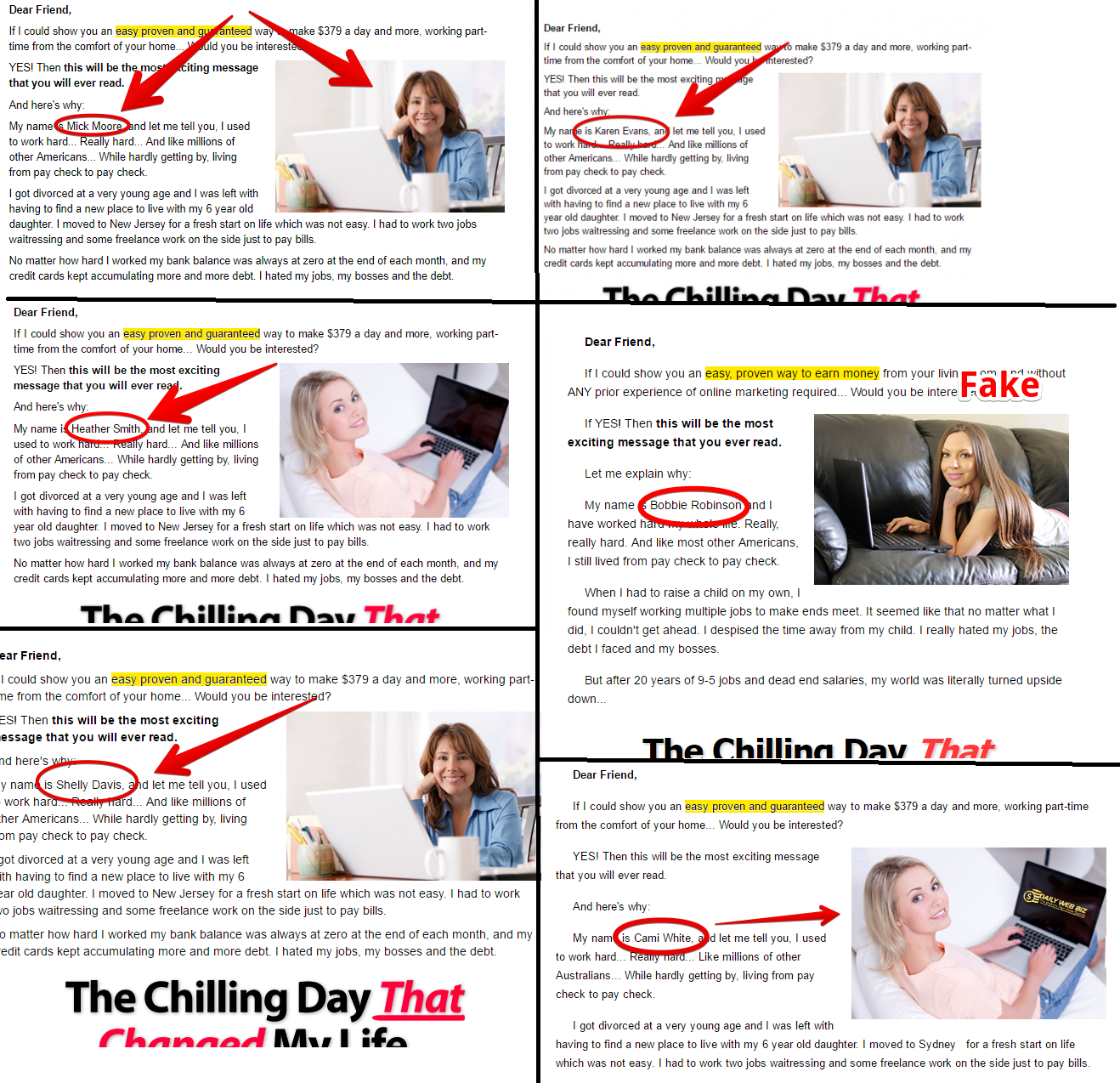 The pictures of these women are all stock photos that anyone can purchase online and use as they wish. The real names of these women are not any of the ones mentioned in these scam programs.
I have even seen a few of these link posting scams that have went the extra mile and hired paid actresses on Fiverr to record a sales video in promotion of the program. One of them that I have reviewed that did this was WAH EDU. The fabricated persona here went by the name Bobbie Robinson and as you can see below the woman was really just an actress…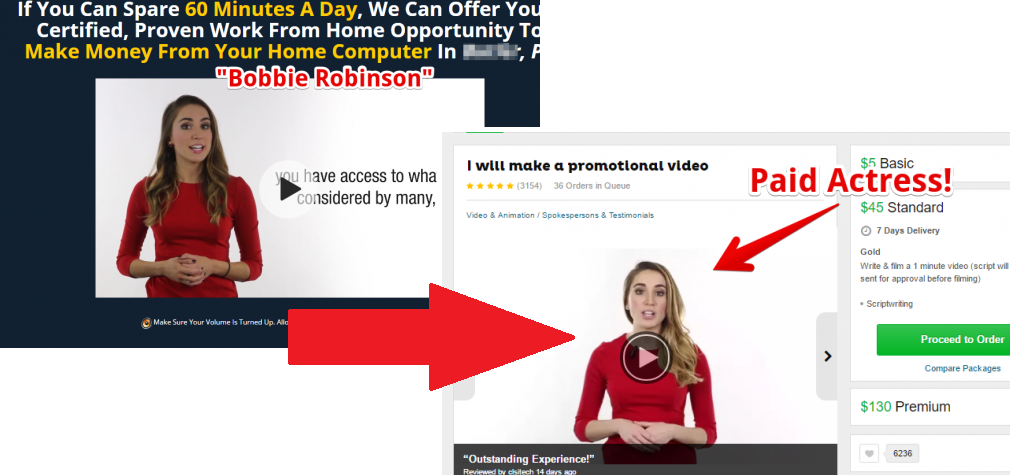 There are also several other re-hashed link posting programs that use paid actresses but I'm not going to break down every one here.
Why These Programs Will NOT Work
All of these programs, or should I say all these variations, promote the same thing… which they call "link posting".
What They Tell You Link Posting Is
Basically they make this "link posting" sound like its the greatest work from home job that has ever existed. They tell you exactly what anyone would want to hear… that its super easy and that you can make a ton of money with it. For some reason they always seem to be saying that you can make "$379 per day". I'm not so sure whats so important about that number but I've noticed that they usually use it when promoting these scams.
This "link posting" that they talk about is when you post links for big companies and earn money for doing so. They tell you that there are big companies looking for people to post links from home and they are doing so because its cheaper to have people work from home. They also tell you that you will make an average of $15 or $20 per link that you post and that it only takes 1-2 minutes to actually post the link.
Some of what they tell you here is true but it is very misleading at best.
What Link Posting Really Is
They made up the term link posting. The real name for what they are describing is called affiliate marketing and this is something that I have been making money with since 2015 (I actually make a living doing this. You can read how Here).
Affiliate marketing is when you promote products online for big companies and get paid commissions when you help make sales. Pretty much every big company out there has an affiliate program where they will pay people to do this. Amazon, Walmart, JC Penny's, PetSmart, you name it.
The way you promote these products is with what you call an affiliate link, which is your own unique link that you can post and get people to buy the product through.
So in reality you are posting links but here is the part that they don't tell you. First off… you aren't getting paid to just post links. You can't just post a link, which takes about 30 seconds, and then make money from it. You only get paid when someone clicks on your link and buys the product you are promoting. So its not like you can just go spamming links everywhere online. If it were this easy then everyone would be doing it right?
If you want to learn affiliate marketing the right way then I suggest the Wealthy Affiliate training program. If you use one of these scam work at home programs I  can pretty much guarantee failure. You might make a few bucks but there is absolutely no way you are going to make anything significant doing this.
What These Programs Provide You With
As you can imagine, they don't provide you with anything of quality. They all provide you with 3 things…
A website – A very basic "cookie cutter" website that every person gets when they buy into this.
Customer Records – Emails so that you can spam people like crazy trying to promote things.
Training – Outdated and all around horrible training that basically goes over how you can spam people with links like they teach here.
Overall what they provide is horrible. These programs are what make affiliate marketing look bad.
Have you ever gotten spam emails from people that you have no idea who they are and they are trying to sell you something? Aren't they annoying and don't they leave a bad taste in your mouth? Well that is what you are going to be learning to do with these programs.
The entire approach that these programs take just doesn't work out. They rely on link spamming and suckering people into buying offers… not a good way to do business and definitely not sustainable.
Conclusion on These Work at Home Scams
These are all without a doubt scams. They prey on people that are desperate to make money online and will only leave you with less money than when you started.
I have reviewed dozens of these over the years and with all the research I've done I don't think I've ever came across a customer review from someone who actually make money with these.
As I said, affiliate marketing or "link posting", as they call it, is a legitimate way to make money online. I make a living doing it and I know quite a few other people that do as well. The problem is that these scam programs take a scammy approach to it all that will never work out well. Spamming links just doesn't cut it. To do it the right way it takes more work than that.
If you are interested in learning how to start affiliate marketing the right way then I suggest taking a look at Wealthy Affiliate (full Wealthy Affiliate review here). Wealthy Affiliate is a training program that takes you step by step through the process and starts you out as if you are a complete newbie. This is where I started back in 2015 and I think its great.
If you have any questions, comments, or concerns leave them below in the comment section and I'll get back to you soon 🙂