Verge (XVG) is one of the privacy coins out there that seems to have a bright future. The people want a currency where anonymous and completely untraceable transactions can be sent and with Verge you can do this. Its very similar to Monero in many ways but one way that Verge is better, as many would argue, is that it uses "blackhole" technology which basically means that your IP address isn't able to be seen in transactions.
So anyway…. Verge is a coin that I am interested in and I know a lot of others are as well, which is why I'll be going over how to buy Verge in this short post. And by the way… there are several ways you can go about doing this. I'll be going over how I do it and what I think is easiest/ safest. And just to summarize this, what you will be doing is buying bitcoin, transferring it to an exchange, and then trading it for Verge.
Step 1 – Create Coinbase Account
The first step is to buy bitcoin which I suggest using Coinbase for. Why do I suggest using Coinbase? Well because they are based in the United States, they have a good insurance policy, they make it easy to purchase bitcoin, and I have been using them for a while and have had no problems.
You can create your account by going to www.coinbase.com/join 
Step 2 – Buy Bitcoin
Now that you have your Coinbase account open the next thing you have to do is set up your payment method so that you can buy the bitcoin. To do this go into Settings > Linked Accounts > Link a New Account. Here you will be able to link your credit/debit card or a bank account. You can also pay for bitcoin with a wire transfer if you would like.

When you link an account you will have to verify it. Then you will be able to purchase. So to purchase go to Buy/Sell in the upper menu, click on Bitcoin, make sure you have your payment method selected, and enter the BTC that you want to buy or the USD you want to spend.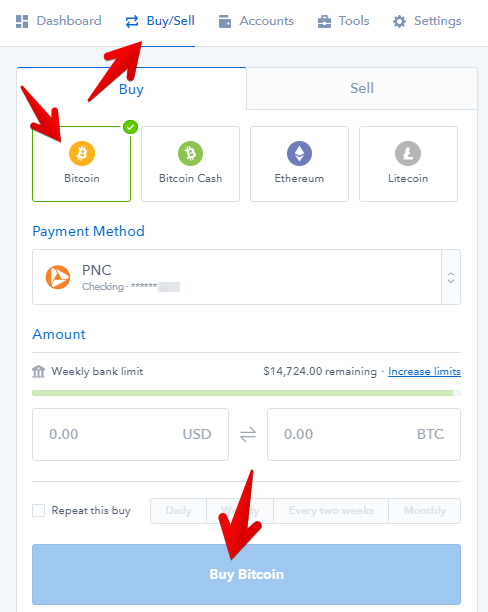 The process of buying bitcoin is very simple on Coinbase.
One thing to know is that if you use your bank account or wire transfer it will take longer… the fees will be a bit lower but it takes longer. If you use a credit/debit card the fees are higher but you will get your bitcoin instantly upon purchase.
Step 3 – Create Bittrex Account
Now its time to open up an account with an exchange that sells Verge (XVG). There is more than one route you can take here but I use Bittrex, which is one of the best.
So to open an account go to Bittrex.com. The process is pretty straightforward so I'm not going to go over anything here.
Step 4 – Send Bitcoin to Bittrex
Now we want to send the bitcoin from Coinbase to Bittrex. First you will need to click on the Wallets menu link, search for BTC, and get your public wallet address so that you can send the bitcoin on over.

When you click on the + symbol beside BTC a box will pop up with your wallet address on it. You are going to want to copy this address (make sure you copy it exactly) and then head on over to Coinbase again.
Once back over at Coinbase go to Accounts and click on Send under your bitcoin account.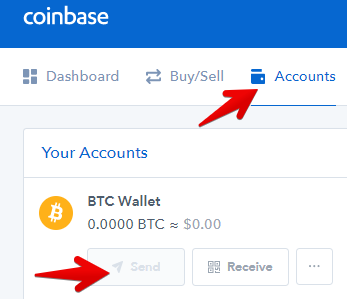 When you click on Send another box will pop up with a place that you will enter in the recipient address and how much bitcoin you want to send. Paste the address you just copied from Bittrex over here, double check it, and then send the bitcoin.
This might take a bit for the transaction to go though.
Step 5 – Exchange Bitcoin for Verge
Once you have your bitcoin in your wallet at Bittrex you can then trade it for Verge. So go up to Bitcoin Markets up at the top menu, search for XVG, and click on the link.
This will take you to a page that shows you a price chart for XVG and what you are going to want to do is scroll down until you see the trading section. The Buy Verge side of course is what you want to look at. What you will see is this below…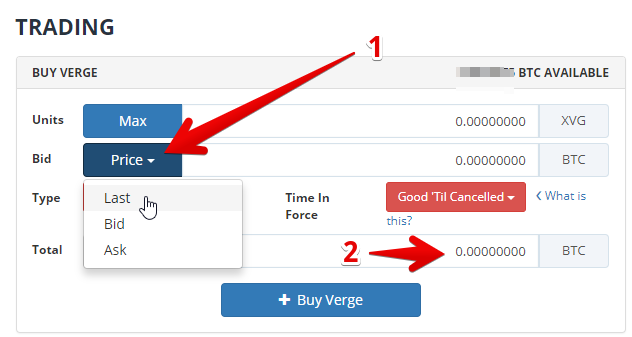 For the Price I suggest clicking on Last and then the current market price will automatically be entered in for you. If you do this your order will be filled right away. Then you can go down and enter the total bitcoin that you want to spend. When you do this the amount of XVG you are purchasing will be entered automatically.
After you click on buy your order will be placed in which a seller (or sellers) that are trading Verge will sell to you. Your Verge will then end up in your Bittrex wallet right away.
Keeping Your Verge Safely Stored
Its important to keep your Verge stored safely if you have a lot and are looking to hold onto it for a while. I'm not saying that you will lose your Verge if you keep it in your wallet at Bittrex, after all I have never lost any coin there, but I'm just saying it would be safer to store in a wallet such as the Electrum wallet that the developers provide.
You can go to their official website here to download this wallet.
Summary of Everything
Unfortunately there isn't a more straightforward way to get your hands on Verge at this time. You first have to buy some bitcoin, which I recommend using Coinbase for (by the way if you use my referral link here www.coinbase.com/join to join you can get $10 of free bitcoin in your account). After you have your bitcoin it needs transferred to an exchange that supports XVG. I use Bittrex. Then trade your BTC for XVG and move your XVG into a safer wallet such as the Electrum wallet if you are going to be holding onto it for a while.
I know some of this might get confusing so if you have any questions just leave them below in the comment section and I'll get back to you soon 🙂