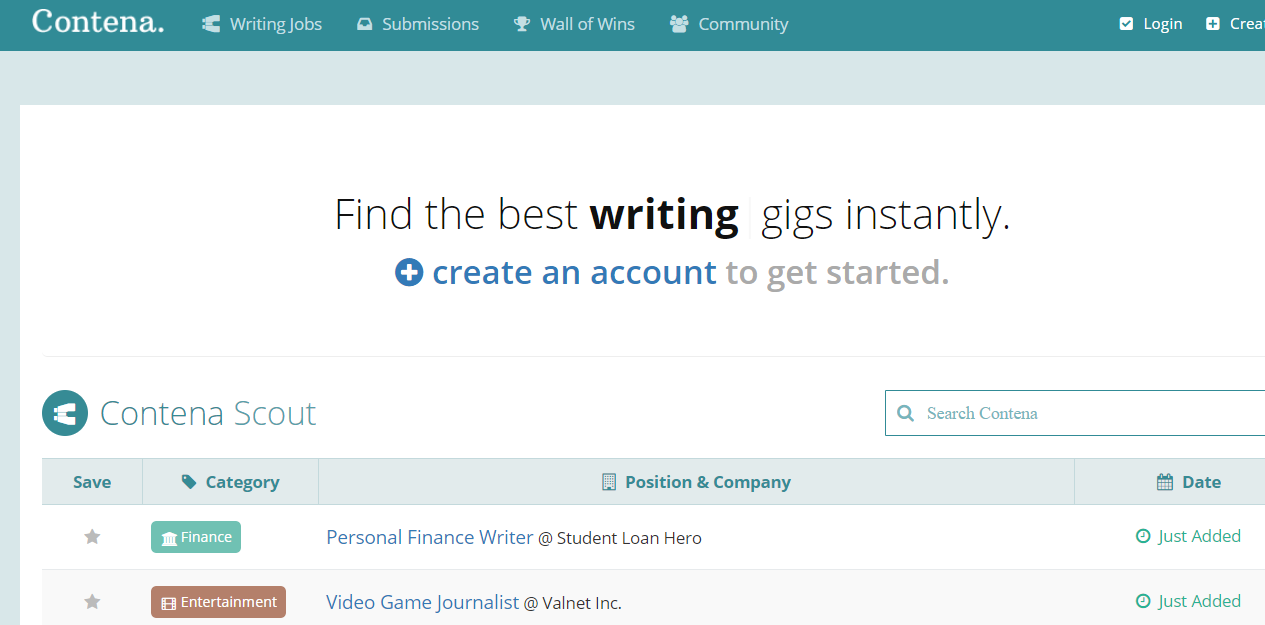 If you are looking to make money online with a freelance writing job then Contena is one of the options you have. But is this place any good? Or is Contena a scam that is just going to be a waste of your time?
Well I'll tell you right now its definitely not a scam, but it still may not be a good choice for you. In this review I'll be going over how this place works, what types of jobs you can get, who its good for and more.
Contena Review
Contena is a freelance writer job board. You can go there to find all sorts of writing jobs. If you are looking for a part time writing gig, a full time writing position, a job that pays $2k per month, one that pays $8k per month… etc… then Contena is worth looking into.
They have a variety of different writing jobs on their site and are one of the better job boards out there when it comes to freelance writing and finding good opportunities. Their job board is updated daily and with the many listing they have at any given time you are pretty much guaranteed to find a writing job/gig that you are interested in.
The downside is that they do charge a membership fee. You can join for free but you won't be able to get full access to the site and all of its job finding features.
How It Works
Once inside you will be able to search through a massive list of job offerings. The amount will vary but you can expect there to be over 10,000. This is a massive number so you will be able to sort through them depending on what you are looking for.
You can sort them by their position type, such as: full-time, contract, agency, or paid on project submission. You will also be able to arrange your search by the category that the writing jobs fall into. So if you are looking to write about a specific thing, you will want to do this. And of course you will also be able to sort based on the pay that the jobs offer and the quality of writing that they are looking for. This filtering system that allows you to filter your results is called Contena Scout.
Just to give you a small example of what you are looking at here, here is a screenshot of several jobs available to me…

When you find a job that you want you will not be working for Contena. They are just finding you the positions. You will be working directly with the place that is actually hiring. This isn't like Textbroker where you work and get paid from them.
Just Starting Out?
If you are new to the freelance writing world and not that good yet, Contena offers a training course called Contena Academy. This course provides training on various topics.
You will get video training, a written lesson, downloadable materials, and more. These lessons will cover everything from bettering your writing style, to compiling a great portfolio, to throwing a sales pitch and more.
You will also have a coach that will provide personal support throughout the course.
This training is included with the cost of the Contena membership.
PS: Another good choice for beginners is Elna Cain's course Write Your Way to 1K
Who Its Good For
I consider Contena to be a good choice for aspiring freelance writers and even writers that are already established.
As I just went over, the academy will help get you up and running if you are new to all of this. And the main portion of the site, the job finder, presents lots of opportunities for people with different skill levels.
The Cost
For everything I just went over you will need the Contena gold subscription. For a year subscription you will need to pay $99/mo for 6 months. So you get a whole year membership but you only pay this for 6 months… weird I know.
This is a lot of money but it might be worth it for you. It just depends on your situation and what you are looking for.
Conclusion on Contena – Worth the Investment?
As I said, it really depends on your situation. For many people out there this won't even be an option because $99 a month is too much to pay. But if you do have the money to spend and you are looking for a remote freelance writing job then there isn't much better place to find one. You could use Upwork, Freelancer.com and other freelance sites, but you won't get the training nor will you be able to find as many good writing jobs as Contena.
Contena makes it very easy to find a surplus of jobs. And the good thing is that they are constantly updating what is available so you are always presented with new job offers.
Another Route to Take
Since you are looking into writing jobs you would probably be interested in making money online as I do. I make a living blogging on my own websites. About 99% of what I do consists of writing so its right up your alley. You can read more about what I do and how others can get started Here.
==> How I make a living writing online
Questions or comments? Leave them below and I'll get back to you soon 🙂