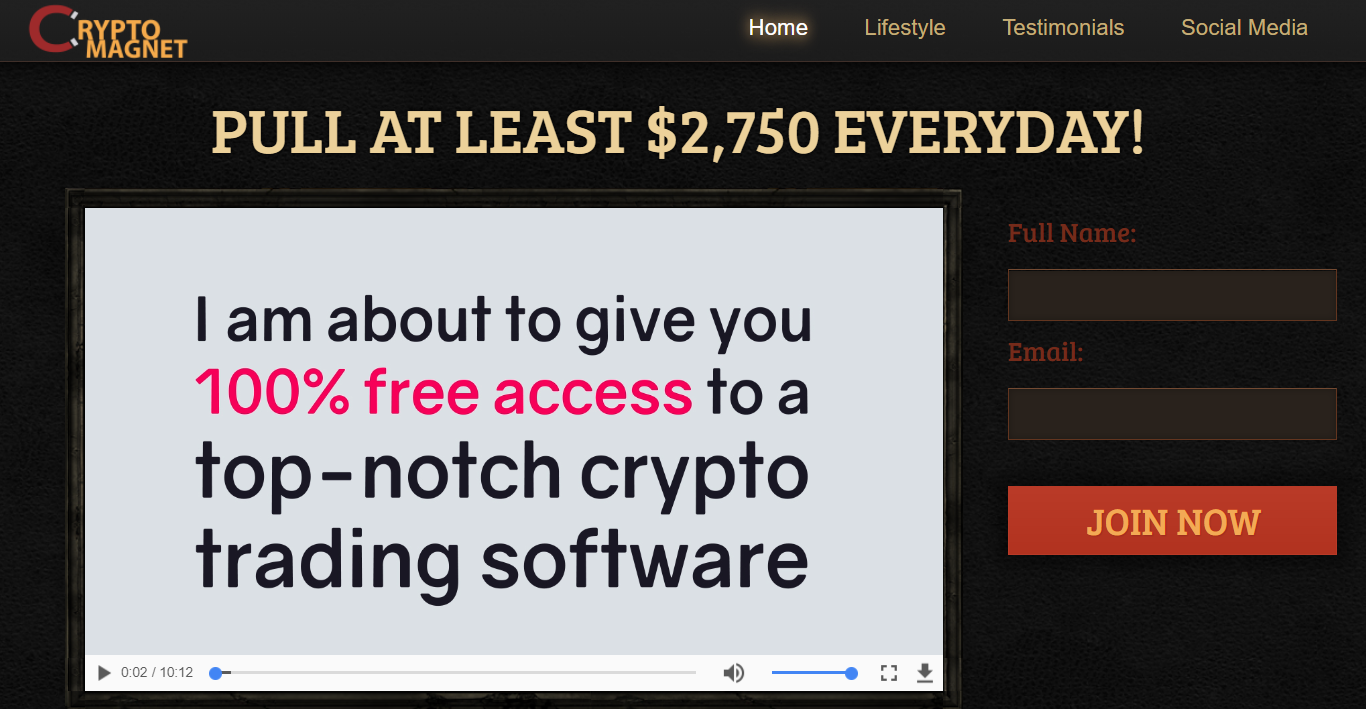 Crypto Magnet claims to be some incredible software that makes people a minimum of $2,750 per day trading cryptocurrencies. But is this really true? Can you really trust what you hear? Or is Crypto Magnet a scam that is going to suck the money out of you and leave you with less than when you started?
If you are suspicious of this software then good for you. This is a pure scam and I'm going to be going over why I think this in my short review here. I hope you haven't bought into it yet but if you have I would look into getting your money back as soon as possible.
CryptoMagnet Software Review
The Crypto Magnet software supposedly makes trades with 94.2% accuracy and has over 3,000 members making over $2,750 per day. The creator of this software, who goes by the name of Jonathan Adams, supposedly hired a team of the best developers in the world to make this.
He claims that you are 100% guaranteed to make you money and it sounds awesome right? I means this claims to make you fast an easy money. Who wouldn't want that?
Unfortunately the truth is that this is all a scam as you will soon see.
How Does It Work (Allegedly)
Of course they don't really go into much detail on how it really works. They just give a brief overview that is pretty vague and present no proof.
The guy tells you that this software is integrated with financial market makers throughout the world and recognizes patterns and trends of leading assets.
He says that it finds "reversal patterns" when a trend is about to end. It identifies patterns from the past and with this can then somewhat predict the future so that it wins 94.2% of trades for you.
The problem here is that this makes no darn sense. He tells you that this has been making millionaires since 2014 and claims that it relies on past price history. He also says that it will be able to make around 29 trades per day that have a 94.2% accuracy rate. I don't see how it can possibly find this many trades per day if its only trading with the biggest cryptocurrencies. It would have to be relying on very small market fluctuations which are pretty much meaningless.
This really makes no sense to me. I don't know.. maybe I'm just dumb, but I actually trade crypto's myself and have been doing so for a while now, and this guy just isn't getting through to me.
What also doesn't make sense to me is how he talks about the software being integrated with financial market makers. What the heck does this have to do with cryptocurrencies?
But anyways… forget all about how he tells you how it works because its all a lie. The whole thing is a lie. In fact, this Jonathan Adams guy doesn't even exist.
The Fake Creator Behind This
One thing that you should know is that this "Jonathan Adams" guy is fictitious. He is not really the CEO of this software. The people behind this software just made him up out of thin air to put a face to this scam.
I found this out by doing a reverse image search on Google. When I looked up his image I found literally hundreds of other websites using the same image. This is because it is just a stock photo that anyone can buy online and use on their site.

Doesn't Know What He Is Talking About
At one point in the video he talks about Bitcoin, Ethereum, and Litecoin but accidentally calls the latter "Litcoin", which does not exist. This just goes to prove that this guy has no idea what he is doing.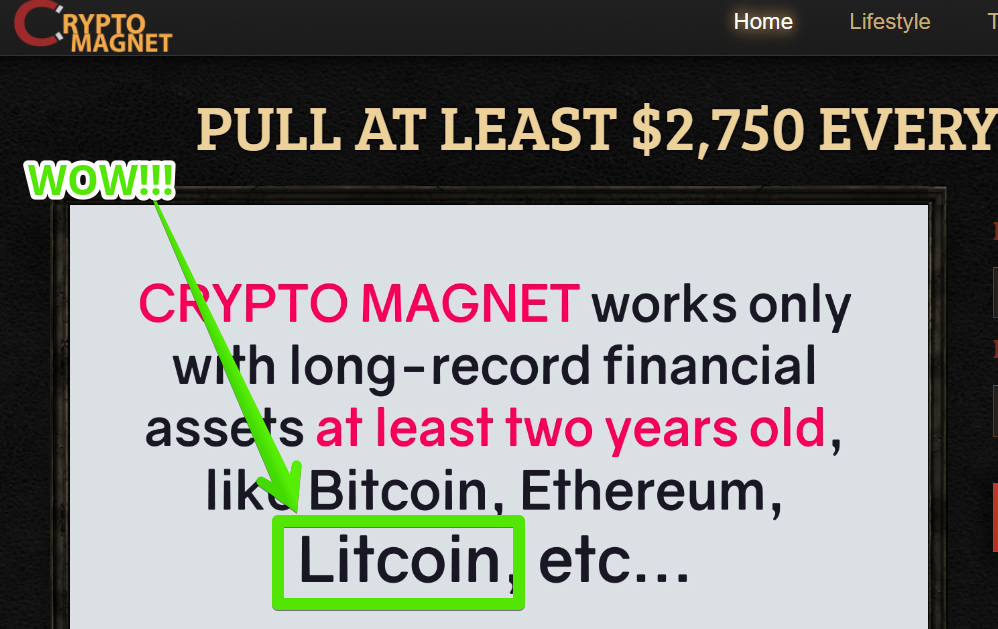 If he really had created a software like this and has been involved with trading cryptos for years then this mistake would have never happened.
How They Steal Your Money
Ok, so the system is free to use right? Of course. But you are going to have to deposit money to get started with the software so that it can make trades. The minimum investment is $250 and this is what they will steal from you.
And by the way. this also makes no sense at all. What they will do is refer you to a broker that you will deposit your money to online but when it comes to trading cryptocurrencies there is no need for a broker. This is just yet another thing about this all that makes no sense which I go over in my post for 10 signs of a cryptocurrency scam.
Conclusion on Crypto Magnet Software – Scam
This is just your typical cryptocurrency trading software scam. These have been popping up everywhere lately so you really have to be careful. I actually just reviewed a couple other similar scams including Crypto Money Maker & Bitcoin Millionaire Club, which you need to avoid as well.
If something sounds too good to be true then it probably is. This rule of thumb works out more often than you may think. When you hear of a system that can generate you fast cash with little effort, run away. Its more than likely a scam.
In the online world there are way more scam programs than legitimate ones so it can be difficult filtering out the scams and finding the right opportunities. One program that I will always recommend if you are looking to make money online is this program. I've been a members since 2015 and make a living working online now. This has nothing to do with cryptocurrency but I know many people looking into this are just looking for a way to make money online.
You can read my review of this program Here.
And if you have any comments or questions just leave them in the comment section below 🙂