Fast Income Generator claims to be an amazing work at home opportunity. The system is said to be able to easily make anyone $500 per day, but of course it is a limited opportunity and there are only 300 spots available to get this system… or so they say.
But is what they tell you really true? Or is Fast Income Generator (FIG System) a scam that you should be avoiding at all costs? After all… many of the "make money online" scams out there make similar claims of being able to generate you large amounts of income with little to no work. So who is to say that this isn't just another scam?
Anyway… in this review I will be going over the truth of the matter and you are going to want to hear it.
I'll tell you what… I'll get straight to the point here and tell you that YES… this is a scam. This system is a very misleading, mostly fake, ridiculous scam that is set up to screw people out of their money and I'll show you why I'm saying this.
Fast Income Generator Review
I came across the FIG System after landing on the news page below. It was an article about some the "fastest growing cash from home opportunity" in my area which I was immediately suspicious of. I have seen many scams that have created fake news articles like this to lure people in so this is nothing new to me.
And sure enough this was another fake news article that was created for the purposes of promoting this scam. In the article it stated that Amazon had supposedly come out with some "new" work from home program and supposedly what FIG does is sets you up with your own website so that you can take advantage of this new program.
Throughout the article there were links all over the place that you can click on to get started with this system. So what did I do? I clicked one of the links to investigate this new scam.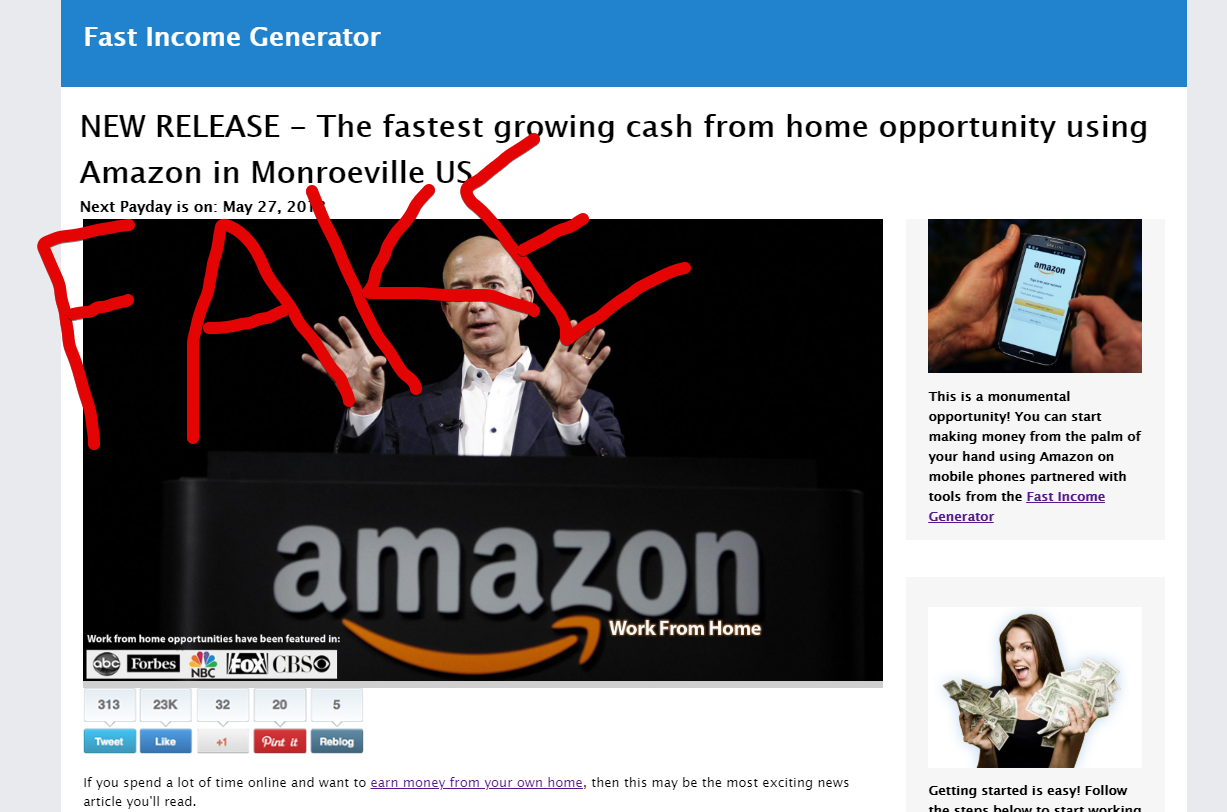 After clicking on the link I was directed to the page that you can see below that was asking me if I wanted to make $500 a day, to which I answered OF COURSE!.
This video presentation seemed early familiar to me at first but I couldn't quite pinpoint where I had seen it before. Then after watching the video for a bit it all came to me. They mentioned "money sucking websites" and I knew then that I had encountered this same exact scam before.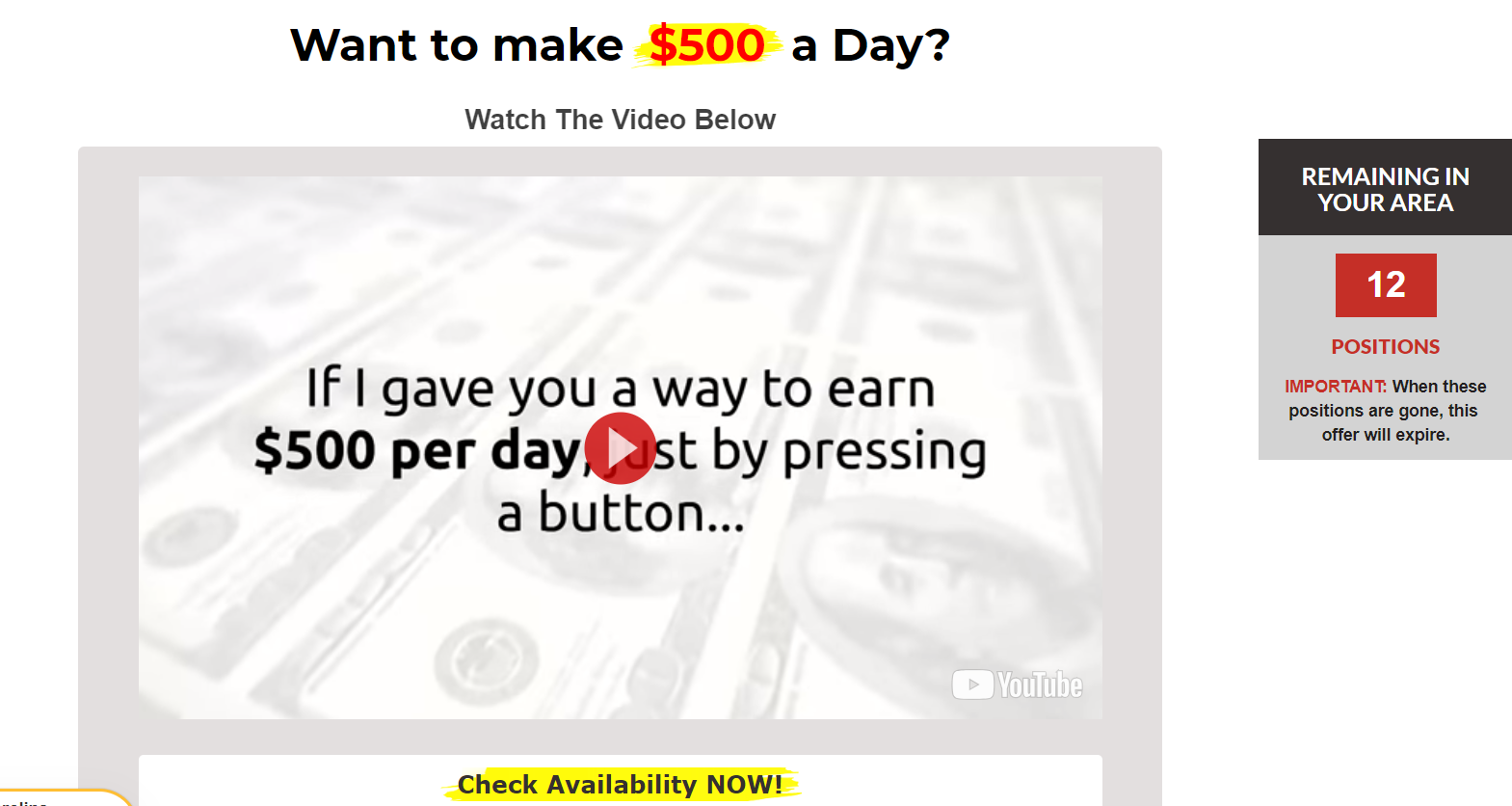 The spokesman tells you that he will hand you a money making site that earns $500 per day… all for free. And that he calls this website a "money sucking website".
All you have to do is hit a button and it supposedly starts cranking money into your bank account. Sounds pretty awesome right? And of course this requires absolutely no experience or knowledge of anything. It is so easy a caveman could do it.
The guy claims that this is "by far the most profitable opportunity on the internet".
But how can we trust this guy and what he says? Well the answer, of course, is that we can NOT trust him. Its all fake… EVERYTHING.
During the video presentation he shows an image of what is supposedly him and his family. His name is Willy Handcock and he has 3 kids with his wife Amanda. But after running a reverse Google image search on the picture of his family that he showed I was able to find that this is nothing more than a stock photo that anyone can purchase online and use as they wish. This is NOT his real family… its a purchased image. As you can see the image can be purchased on DepositPhotos…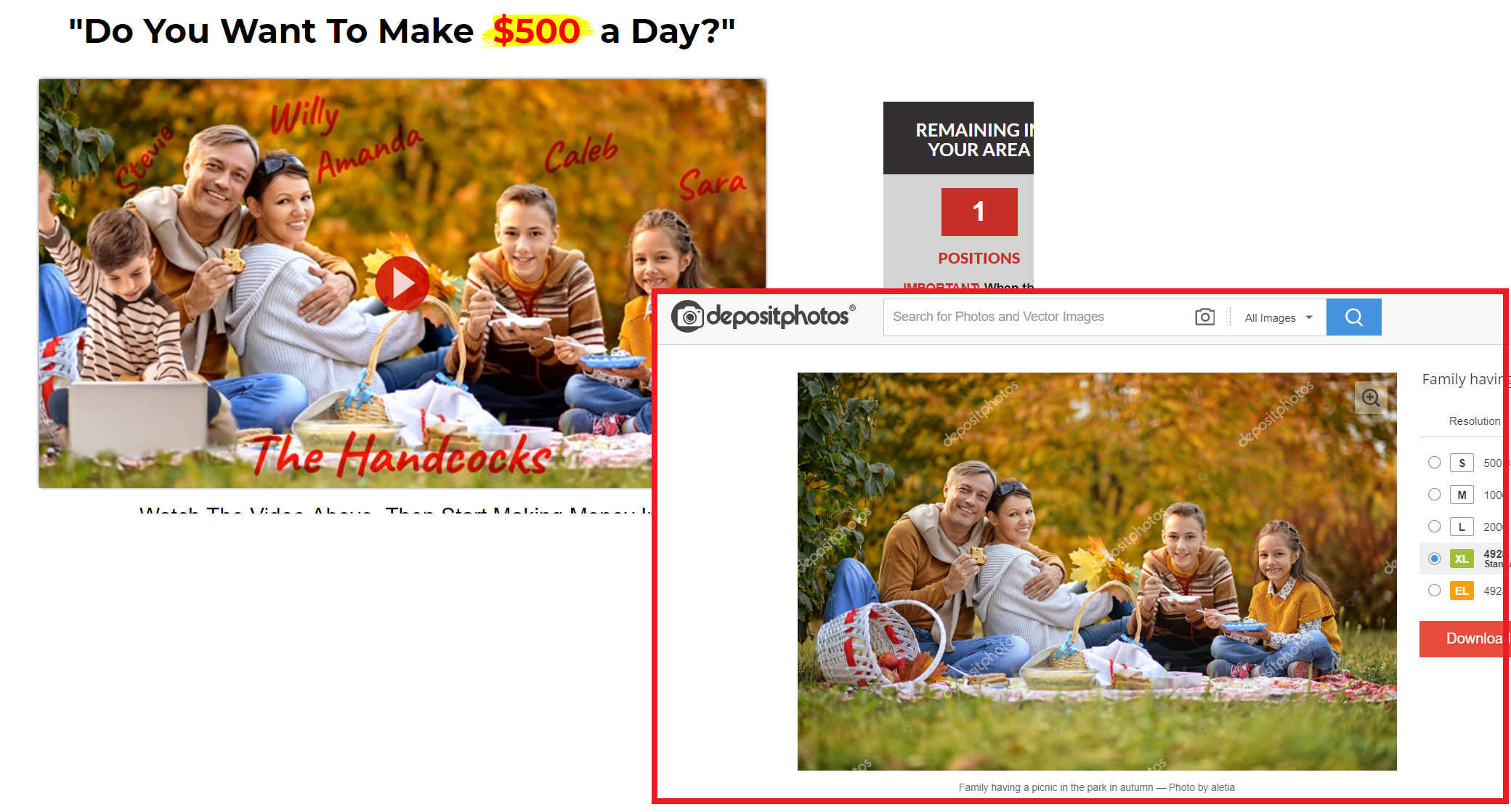 Doesn't Really Even Make Much Sense
The fake news story that lured me into this program talked about how Amazon had just released some new work at home opportunity program but then when I got to this "money sucking website" BS there was no mention of it at all.
Throughout the entire video presentation they really don't tell you much of anything. The guy just talks about all the money you will be making with this system and keeps trying to hype it up without really providing any info on what is really going on. Its all a bunch of fluff without any good information.
Towards the end of the video he starts talking about affiliate marketing, which is a legitimate way to make money online and is actually how I make a living, but still never mentions Amazon again. He just gives you some BS story about a Russian guy named Sergio who shared this system with him in the first place.
Everything Is Fake
The news story is fake, the person who created it (Willy Handcock) is a fake, and guess what??? Even the testimonial videos from people talking about how amazing this system is are all fake.
Below you can see a screenshot of the one lady in the testimonial videos and her profile on Fiverr. Fiverr is a freelance marketplace where you can hire actors/actresses to make fake videos like this for your products/services…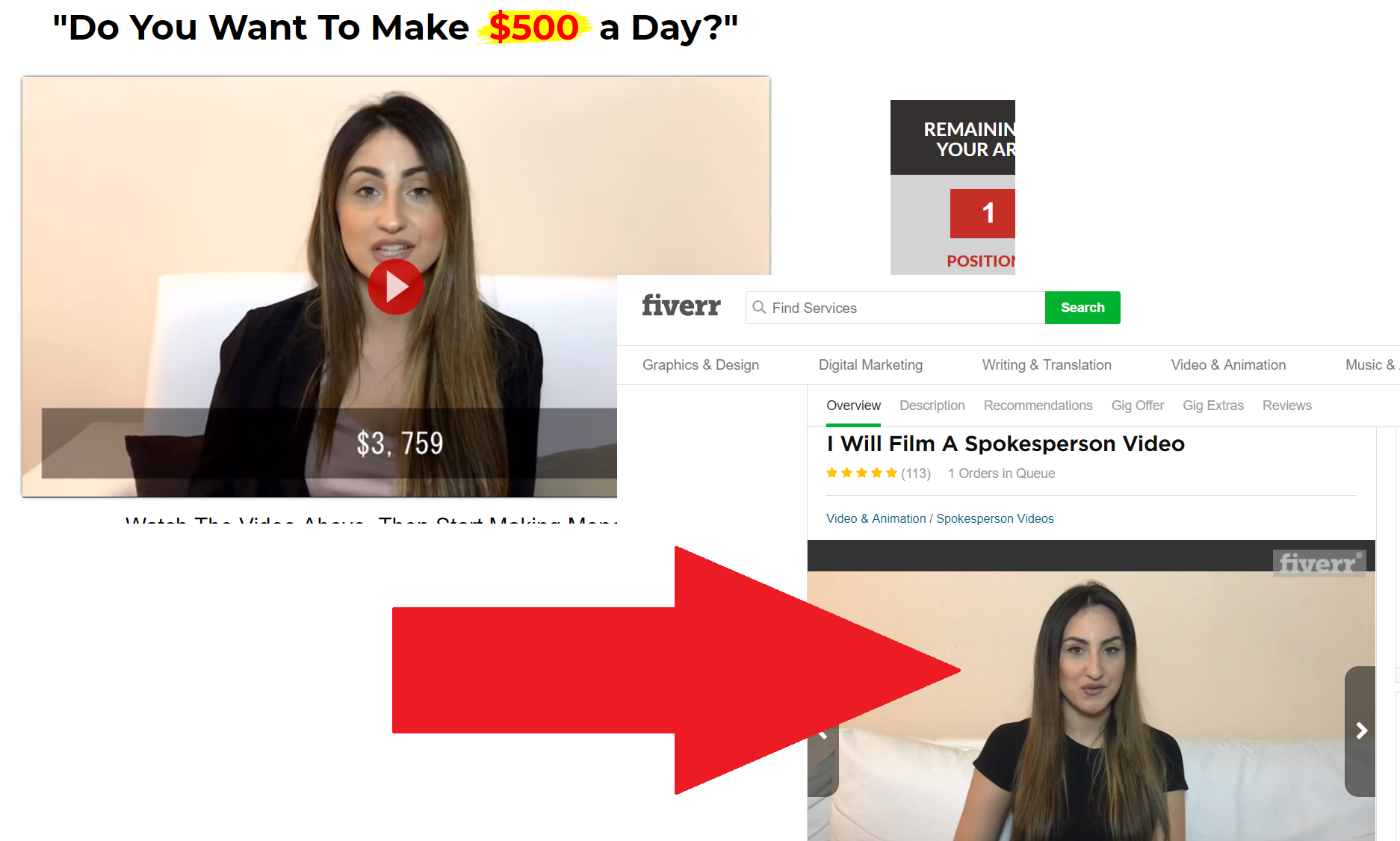 Your Typical Get Rich Quick Scam
As a rule of thumb… when something sounds too good to be true then it probably is. In this case it is too good to be true, meaning that it is false. Its all a lie.
There is no system out there that you can just push one button and start making tons of money online. That is absolutely ridiculous and luckily you did not fall for it. You took the extra time to do some research and came across my review here.
Just think about it for a second… why would this guy be giving away this system to a bunch of random people. He tells you not to share it with anyone but he doesn't even know you so why would he trust you with such a powerful system? It makes no sense at all and is completely fake.
Fast Income Generator is just part of a sales funnel to get people to buy into the Money Sucking Websites scam. This is something that you see often in the online world. You see a scam and then tons of different sales funnels popping up luring people in from different angles.
What I Recommend
If you are a beginner looking to make money online then I would really suggest taking a look at how I make a living working online, which is by affiliate marketing. Basically what I do is promote products for companies online and earn commissions doing so. Its a good way for beginners to get started because you just promote products that are already good sellers. There is no need to create or sell your own product.
But there are many ways to get started with this and many of them are not what I would call good options. You can read my "make money online guide" by clicking the button below. In it I go over what exactly I do, how it all works, and what I consider to be the best way for beginners to get started.
Leave any questions or comments below and I will get back to you as soon as I can 🙂