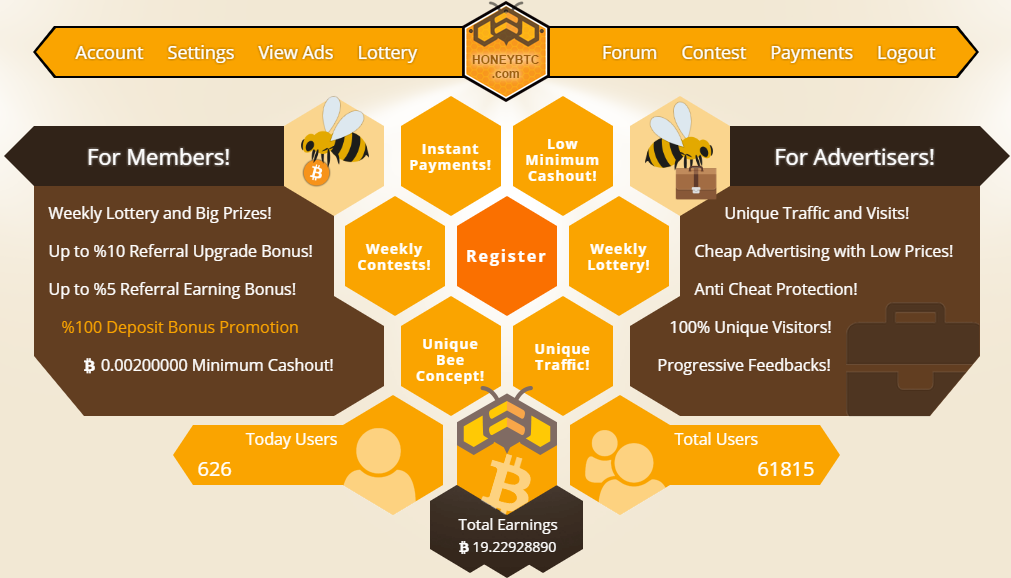 HoneyBTC (at HoneyBTC.com) is a site that pays you to click on ads and also gives you the chance to enter small lotteries, all to earn bitcoin. However, with all the hype surrounding bitcoin we have seen tons of scam programs out there that just don't live up to the bold claims they make. Is HoneyBTC one of them? Is this place legit and actually a good way to earn some free bitcoin online? Or is HoneyBTC a scam that is just going to be a waste of your time and leave you frustrated at the end of the day?
In this review I'll be going over what you need to know. I'll be covering how it works, how much you can actually make, the downside and more.
HoneyBTC Review
HoneyBTC holds a lottery that members can enter to win free bitcoin and they also pay members to click on ads, but the main part of the site appears to be investment, which I will go over more of.
But before I get into this…If you aren't familiar with PTC sites you might be very suspicious of this. I know it sounds kinda strange but there are legit sites out there that do this.
The way PTC sites work is like this: Advertisers pay them to place ads on their site and to give them a certain amount of clicks on each ad. They then pay members like you and I to click on these ads. With sites like Clix4BTC & BTC Clicks popping up, ptc bitcoin sites are becoming much more popular.
How It Works
Ok, so the PTC part of it is pretty straightforward. You can click on a bunch of ads that they host and get rewarded. It will tell you how much each ad pays and how long you have to stay on the ad to get credit. So you click the ad, you stay on the page for a specified amount of time, and you get rewarded.
As you can see below, pretty much all of the ads are for other ways to earn cryptocurrency online. You have to be careful with sites like this because many of the ads turn out to be scams. They don't really filter what they advertise…

There is also an investment side to this site that I mentioned earlier. Basically there are a bunch of different packages that you can purchase that promise fixed return. So you invest a certain amount of bitcoin and you are promised a certain amount in return each month.
As you can see below there are a bunch of packages where you pay 0.005btc and earn 0.006btc monthly….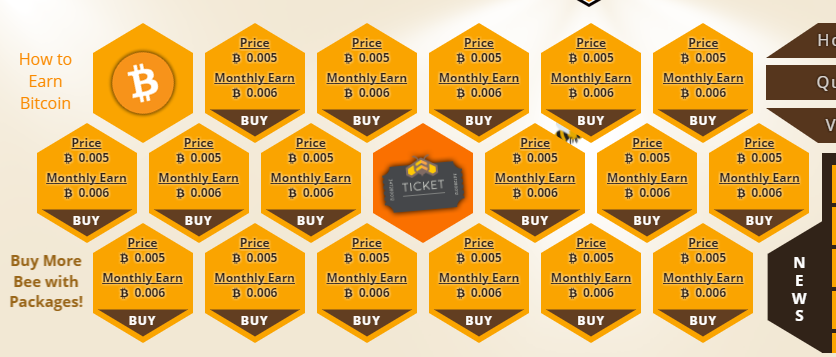 You can also upgrade your membership to earn more but I'm not going to get into that. Its the same deal where you invest, just you have the ability to earn more.
Make Sense?
This can be confusing and honestly I'm a bit confused on how this all works. How do you earn bitcoin from investing bitcoin? They don't tell you this. Do you just magically earn more than you invest?
I really wish there was some information on how this all works but there isn't. I'm guessing this might be some sort of Rev Share (revenue sharing) program mixed with a PTC site. You see this all the time in the online world.
But anyway… that's just a guess. The fact that they don't really tell you what is going on makes me a bit suspicious of it all but its not enough to call this place a scam or anything like that.
How Much Money Can You Make?
The downside to the PTC side of this site is that you make extremely little. As with any ptc site out there, you are getting paid less than a cent to click on ads. I have never been able to figure out why people actually waste time on these sites. They are not even close to being worth it in my opinion.
The ads pay you in "points". Usually you earn 10 points per click, which you can later convert into bitcoin which will equal 0.00000001 btc.
And on the investment package side of the site you obviously can earn a lot more but you first will have to spend money upfront, which many people probably won't be willing to do.
Conclusion on HoneyBTC.com – Good Opportunity or Not?
Whether Honey BTC is a good opportunity or not is up to you. There is still some uncertainty with how this site actually operates which is probably the reason you read this review in the first place. If you were looking into this site to get paid to click on ads then this is definitely something that I wouldn't recommend. All ptc sites are horrible wastes of time in my opinion. The only thing this site has over others is that it pay in btc which means that the little they pay you may be worth a lot more one day.
But honestly it still makes lot more sense to spend your time more wisely making money online and investing in bitcoin yourself.
If you are looking to make good money online in your free time then I would suggest taking a look at this program. I have been a member since 2015 and make a heck of a lot more money with it then any PTC site could ever make me.
Questions or comments? Leave them below and I'll get back to you soon ?