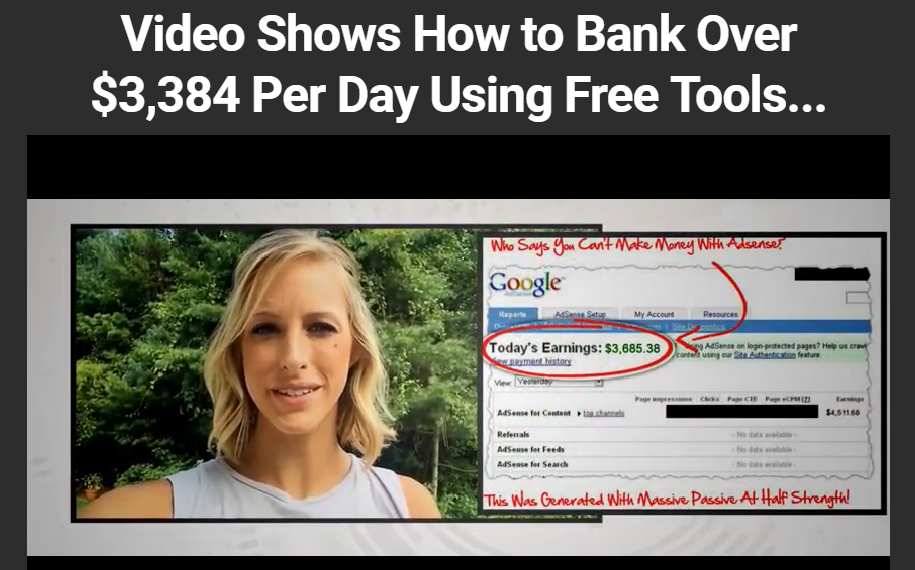 Wondering if Internet Wealth Biz is a scam? You will find out in my review here.
When I came across this program I knew I had to review it. And what I also know is that you will want to read this. The bottom line is that this program will not make you rich and it is not what it claims to be.
Internet Wealth Biz Review
Internet Wealth Biz is an online business program that is claimed to have been created by a man named Brian Thompson. He claims to make make over a million dollars per year working just 50 minutes or less per week.
This program has all the signs of a scam. It claims massive earnings for people who join of over $3,000 per day. It makes you believe that you just hit the jackpot by literally saying in the sales video that "you just hit the jackpot". It claims you can start making money as soon as today. And of course it makes you believe that you will have to do very little work.
The reason this program seems like a scam is because it is a scam, just like Home Internet Income & Accelerated Income. You will see what I mean by it being a scam after reading this.
The Man Behind The Program…. Brian Thompson.
Brian Thompson claims to be an online millionaire that is one of the top affiliate marketers around. Yet he says that you probably haven't heard of him because that is the way he likes it.
I have been affiliate marketing since 2015 and make a living doing so and even I have never heard of this guy. In fact, there is no information on him being who he claims to be. If he really were who he claims to be he would be well known.
This guy is a ghost an more than likely just a fake name used to help promote this scam program.
The Testimonials Don't Make Sense
Unfortunately in the "make money online" industry there is no shortage of fake testimonials. You can easily pay people on Fiverr and other sites to make fake testimonials for you and that is more than likely what happened here.
That's right… those people in the sales video that claim to be making tons of money with Internet Wealth Biz are more than likely just saying what they were paid to say.
On top of this some of them don't even make sense. The one blonde woman that claims to be making over $3,000 per day shows a Google Adsense account yet this program has nothing to do with making money on Google Adsense.  

Brian tells you that he is an affiliate marketer and this program teaches you how to make money in affiliate marketing…. which has nothing to do with Google Adsense.
Proof Of It Being a Scam
One thing that you need to make sure to do when you come across potential scams like this is to read the disclaimer. They can tell you all the BS they want to in the sales pitch but in their disclaimer they will usually tell you the truth. This is how scam programs like this can get away with what they do.
Anyhow, check out the disclaimer for Internet Wealth Biz…
I don't know if you can read that but it literally says "The typical purchaser does not make any money using this system".
If this doesn't prove that this program is a complete scam then I don't know what will. They are basically telling you that everything in the sales video is a complete lie.
My Prediction
I haven't actually bought this program and don't plan on it, but I do have a prediction about what will happen if you do.
You will buy in for the $47 price and this will provide you with very little of what you need to succeed. You will then be forced in to buying upsells which will cost much more than this. At the same time you will also receive tons of emails from these scammers trying to get you to buy other products.
Why do I say this? Because I have seen it happen many times and it is quite obvious that this program is only focused on making money off of the customers, not teaching them to make money.
Conclusion on Internet Wealth Biz – Scam
Although I haven't actually bought this program I can say that I am 99% positive that it is a scam. It is full of lies and the income disclaimer pretty much tells you that its a scam.
This is just your typical get rich quick scheme. It is very appealing to make quick and easy money online but the reality is that opportunities that are this easy do not exist. There are good opportunities out there this just isn't one of them.
When it comes to making money online there are a lot more scams and wastes of time programs out there than legit good opportunities that I can recommend. However…. gun to my head, what is the best program out there? This is it. I have been a member since 2015 and it took me from nothing at all to making a living online.
==> Recommended program I'm talking about here
Questions or comments? Leave them below and I'll get back to you ?