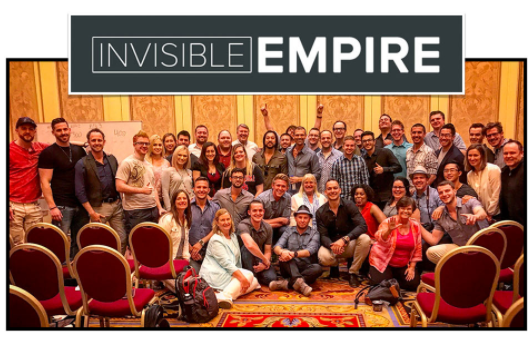 Invisible Empire (yourinvisibleempire.com) is an internet marketing program that claims it can make you rich for the most part. But it is expensive and its not like you can afford to just whip out your walled and go all in. First you need a little more information on this place. Is this legit? Is Invisible Empire a scam? What will you get and how does it work? These are all questions that need answered.
In this review I will be answering exactly this. And by the way I am in no way affiliated with this program so you can count on this being unbiased.
Invisible Empire Overview
Invisible Empire is an online marketing program created by Mark Hoverson that teaches ordinary people how to make money online and sets them up with tools to do so. It is what you would call a "high ticket" program because it is very expensive.
They call this program a "37 level game" but this might be a bit misleading. Basically they just make the training a bit more fun and game-like than it could be. This is something that is nice about it. But at the end of the day its not about having fun with this its about making money online, which I'll show you isn't as easy as they make it sound with this.
What You Get
Of course you will get the training that will take you through the entire process of setting up your online business. I can't really complain here. It will take you from nothing to something and is pretty informative from what I see.
You will get access to products that you can sell online and earn $1,000 a sale. This way you don't need to create or find your own products to sell. You will also get pre-made sales funnels and pre-written emails that you can use to sell these products.
And some of the other things you will get is training on Facebook advertising and Instagram marketing. This way you can utilize 2 of the biggest social media networks to drive traffic and make sales. There are also live events and coaching that you get access to but I'm not going to cover that.
How This Works – How You Make Money
What you are going to be doing to make money is selling this Invisible Empire program to other people. Its a "buy this program and make money selling this program" type of deal similar to MOBE and Aspire if you are familiar with them.
All the pre-made sales pages, emails, and the products that you can make $1,000 commissions on…. this is what I was talking about. You will just be selling this same program to others.
Do you remember how you came across this program in the first place? Maybe it was an email that brought you to it, a Facebook ad, etc.. That is what you will be doing.
The Cost
In order to get the training, tools, and everything I went over above, you will need to pay a monthly fee of $297 or a one time fee of $1,997. Ya… I know… its expensive.
You will also need to pay for additional services. For example you will need an autoresponder service which will give you the ability to send out automated emails to people. They recommend GetResponse which will cost you another $15/mo minimum.
The good thing is that if you are only interested in promoting it and don't need the product then there is just a $19.95 monthly fee or $199 per year. But I'm guessing that most people would not be interested in this. This would only be for those that are making money online and already know how to market and sell.
Conclusion on Invisible Empire – Scam or Legit?
Invisible Empire isn't really a scam although I do not care for this place. I do not like programs like this that get you to buy in only to teach you to make money by selling the same darn program to other people. Its just a big circle. The training does seem good and all, and you could apply what you learn to any online business… but the focus is getting members to promote Invisible Empire to others.
There are a lot of programs out there that are very similar to this that I have reviewed in the past. And I know that these types of programs just don't work as good as they lead you to believe. It will not be easy selling people on this and making those $1,000 commissions sounds enticing but most people are going to fail at this.
If you are looking for a legitimate and affordable way to make money online then it gets no better than this program here. I joined in 2015 when I just started out. I was a complete beginner at the time and now I make a living online, which goes to show that it actually works.
Its a good, honest program that provides the tools and training without all the BS and hype. It is much more realistic for the average Joe to make money with this.
==> Learn more about this program here
Questions, comments, concerns? Leave them below and I'll try to get back to you soon ?