Jerky Direct claims to have what can potentially be a good money making opportunity for individuals. But is this opportunity over-hyped? Is Jerky Direct a scam possibly? Or is this the legit work-from-home business opportunity that you have been waiting for?
I decided to write this review after looking into this business opportunity because I know there are a lot of questions out there that need answered and there are many people that are suspicious of the legitimacy of this all. In this short post I'll be going over how the business works, how you make money, the downside to it all, and more.
Jerky Direct Overview
Jerky Direct is a mlm company that sells beef jerky. They pride themselves on how they keep their products simple and don't over-hype them. I like this about them. There are a lot of mlm's out there that hop on new fads and exploit new "superfood" trends. Jerky Direct doesn't do this.
But anyways, I'm not going to be discussing the beef jerky here. I'm here to talk about the business opportunity.
Anyone can become an affiliate for Jerky Direct and make commissions selling their beef jerky. Also, because this is a mlm, affiliates can make money by recruiting in other affiliates which is a big part of the business.
Cost Of Joining
In order to become an affiliate you will have to pay a yearly fee. For the first year it is $15.95 and for the years after that it is $14. Its nothing bad nor high in price by any means.
How You Make Money
As mentioned, you will be able to make money by both selling products on your own and by recruiting others into this business beneath you.
Personal Sales
Jerky Direct will give you your own personal website to sell their beef jerky. When someone buys something on your site you will get a $2 commission along with a $2 bonus. So you will get $4 total from the sales on your site, which are sales of the Twin Pack and the Sampler Pack.
Recruitment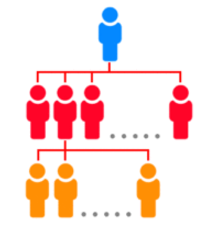 When you recruit another affiliate into the business you will earn 100% commissions on their first purchase. After that you will earn according to a 7 level comp plan.
The 7 level comp plan is uni-level, meaning that there can be unlimited people on each level. The affiliates that you personally recruit in make up your level 1. The affiliates that they recruit in make up your level 2… and so on all the way down to level 7. Below is a table that shows how much commissions you can earn from each level beneath you…
Each product that is sold gives out a $5  commission which is then distributed according to the levels as you can see…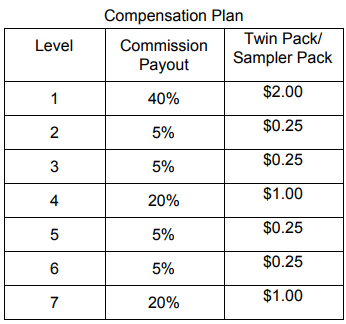 I know this compensation plan might be a bit confusing, and honestly its somewhat hard to explain, so here is a video that goes over it which you might find helpful… (This is for educational purposes only and I do not own this video)
The Harsh Reality Here
With a pyramid-like mlm compensation structure like the one that Jerky Direct has here you will need to recruit to make good money. There is no way around this. Sure, you do have to make sales yourself to stay active, but recruitment is key. All the big earners here have massive downlines and recruit pretty much non-stop.
The problem with earning money from those beneath you is that this creates a very uneven income distribution and only the top few percent make the majority of the money…. which means most people fail.
I wish I could have found a Jerky Direct official income disclosure but I could not. However, I have reviewed dozens and dozens of mlm's over the years (Valentus & Exfuze recently) and I know that with a 7 level comp structure like this one very few will make good money. That is just the reality of it.
Conclusion On Jerky Direct – Scam?
Jerky Direct is not a scam, I definitely wouldn't call it one. Their products, which are jerky, are legit and seem to be top of the line. The only problem I have with this business opportunity is that they make it seem easier and better than it really is. They should show an income disclosure so that new affiliates can see how difficult it actually is.
There is a lot of potential to make good money with Jerky Direct but the fact of the matter is that not many people will make good money. MLM's like this have extremely high turnover rates for a reason.
So if you are going to pursue this opportunity just know the reality of it, and not the stories that you may hear about how easy it is because they aren't true.
Something else that you might want to look into if you are looking for a work-from-home job is how I make money online. I make a living online and I enjoy what I do. Here is the program that got me started and got me to where I currently am, making $5k + per month.
==> My no. 1 recommended program here
Questions, comments, concerns? Leave them below in the comment section and I'll get back to you soon ?