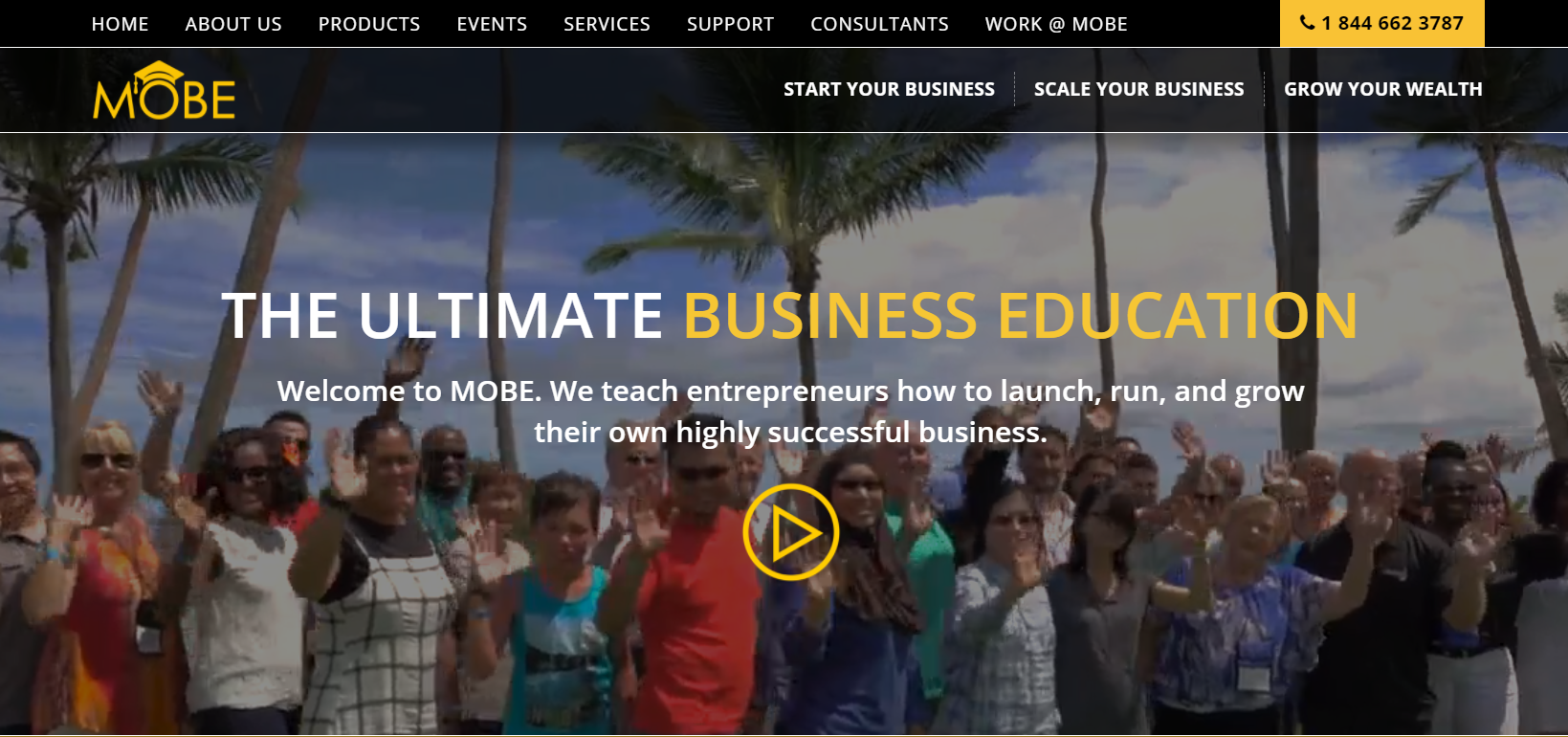 MOBE is a digital marketing program created by Matt Lloyd that receives quite a lot of negative attention on the internet. But is this negative attention unjust or does this program deserve what is said about it? Is Matt Lloyd and MOBE as scam altogether?
In this review I'll be taking a level-headed approach and going over what MOBE is exactly, why so many people call it a scam, the reality of the situation, common complaints and more.
What Is MOBE Exactly?
MOBE, which stands for My Online Business Empire, is a digital marketing program that provides both the training and the tools necessary for online marketing and making money online.
They provide pretty much everything you need for online marketing and from what I have seen it is all top-notch you could say. I have seen some MOBE members become very successful with making money online.
Why All The Negative Attention?
There is more than one reason for the negative attention that you may or may not have seen online. Some of the reasons for this include the following…
#1 – They Push You to Promote MOBE
Many people buying into MOBE may not know exactly what they are getting themselves into. They might be surprised to find that the main introductory 21 step MTTB course pushes members to make money promoting MOBE itself. So pretty much you buy in to make money online and then you end up making money online by getting other people to buy in.
I will tell you that it is possible to apply the training and tools that MOBE provides you with to any online business  however. How many people actually do this? I don't think we will ever know. But I can say that I think the large majority of people that buy into MOBE end up trying to promote MOBE to other people because of how the whole system is designed.
So you can see why this would make people upset with MOBE. Many people feel as if they are just a disposable tool used to promote the brand and make the company rich.
#2 – It Gets VERY Expensive
This is something else that not many people know when they originally buy into MOBE… which is that you will have to pay large amounts of money to be able to make money.
MOBE uses what is called a "licensing rights" business model which means that if you want to sell MOBE products and make money doing so you are first going to have to buy them.
How much does MOBE cost ask? Well they have many different products. They have their introductory products, like the 21 step MTTB program that sells for $97 or the $49 product and these are basically a way to get people's feet in the door, and then you have their core products where the real money is made. The core products range in price from  $2,497 all the way up to $29,997 as you can see here…

These core products are extremely expensive but this is what makes MOBE so luring for newcomers. Because by selling these high ticket products you can make huge commissions.
Do the products actually deserve their price tags? Products like this can be hard to put a price on but I would personally say that they have massively inflated prices all for the sake of being able to make big commissions. This is at least how it seems to me.
But anyways… the bottom line is that if you want to make good money promoting MOBE, which you will be pushed to do, then you will have to buy into the expensive core products of the program. They will provide more tools, training, help, but possibly more than anything the ability to make bigger commissions.
There are lots of other programs that do this out there too. Legendary Marketer, TCP Lifestyle System, and Jeff's 6 Figure Business System just to name a few.
#3 – Misleading Promotions
MOBE has a serious problem with what I call "rogue affiliates". These are MOBE affiliates who promote MOBE in a very misleading and unethical way all for the sake of making money. Instead of legitimately getting people to buy into MOBE by providing truthful information they often misrepresent the opportunity and promote it as a "get rich quick scheme".
I review MOBE promotion sites all the time and see everything.
Most sites will just make MOBE sound better than it is by talking all about the automated massive commissions you can earn with this system but don't discuss the work that is involved or the massive amounts of money you first have to spend to make that kind of money. Some sites that I'm talking about here include My Hidden Pages, Home Based Wealth System, Amazing Shortcut and others.
Then on the even worse side of things you have sites that totally misrepresent the opportunity and pretty much completely scam people. For example I reviewed a program recently called "Get Money Relief", which was really just a funnel site set up to get people to buy into MOBE. This site promotes MOBE as a "personal stimulus package" and claims that this amazing program exploits some loophole in the new US economic stimulus package, which is a ridiculous claim that is completely untrue.
As you can imagine, if you were to buy into MOBE thinking it is some fairy tale system that is going to be dumping tons of money into your bank account on autopilot then you are going to be extremely disappointed.
Some Common Complaints
Most of the complaints that I find online have to do with being mislead into buying in thinking it was going to be some easy process to make money as well as having problems getting refunds of their money.
There are a lot of people that seem to be asking for refunds and understandably so. The problem here is that they make it much more difficult than it should be and you have to jump through hoops to get your money back.
On the BBB website there are plenty of complaints about this which I took several screenshots of here…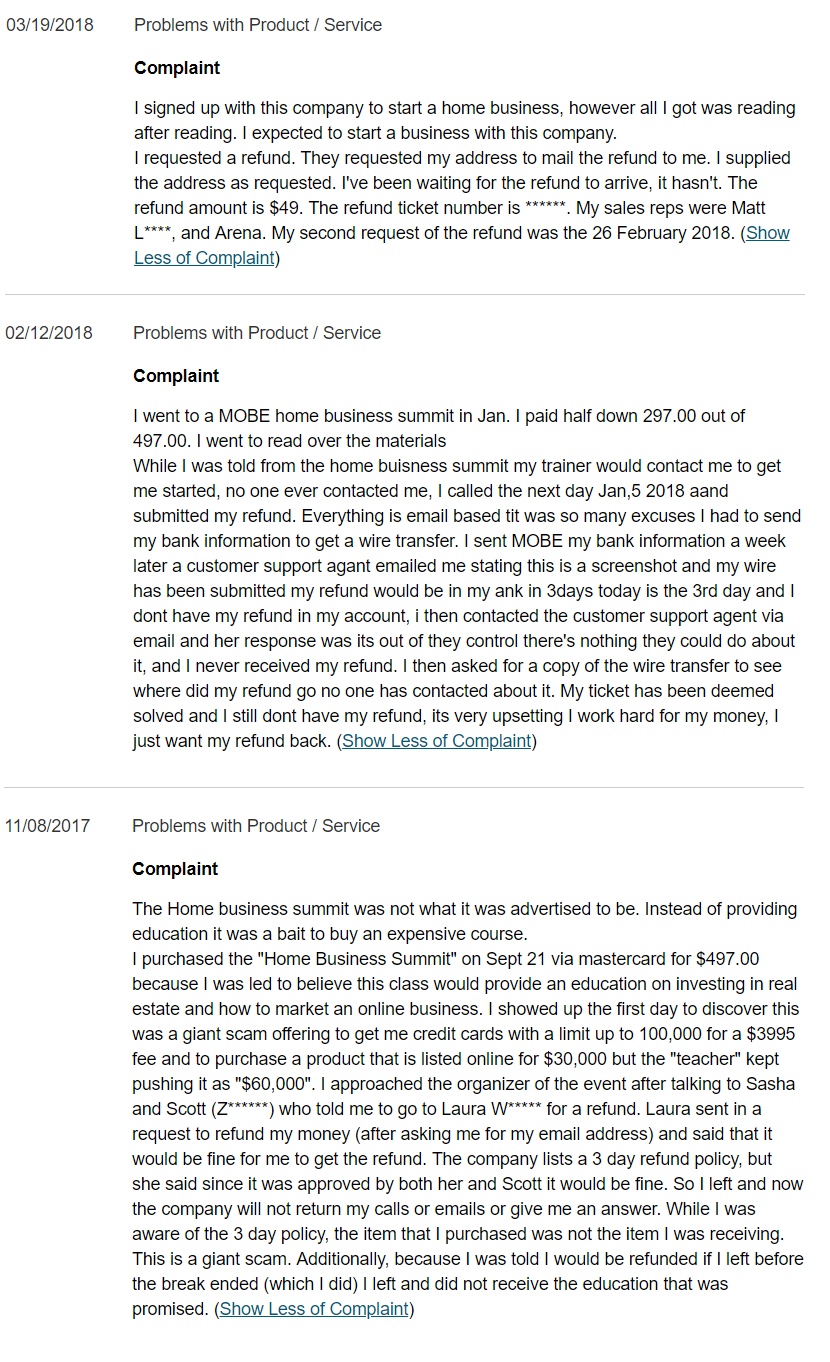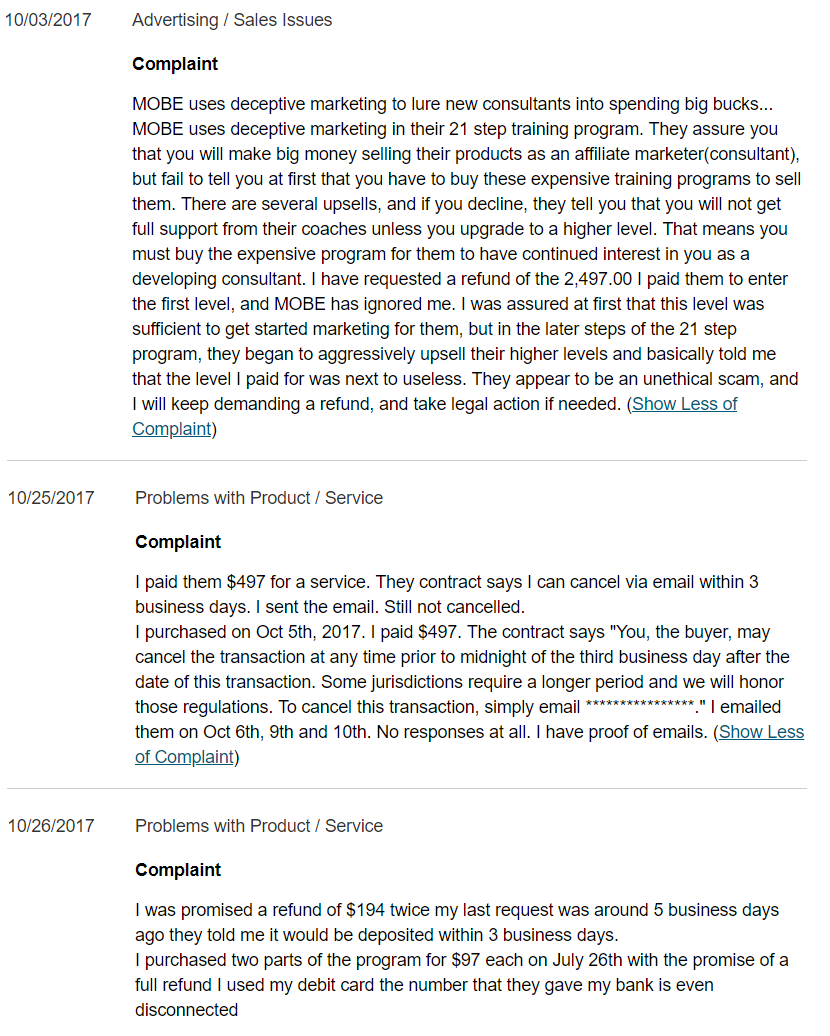 Also if you go to Ripoff Report you can find loads of complaints about refunds as well as the program just being a scam in general… I took an overview screenshot below but if you want to actually read the individual complaints you can go to Ripoff Report to do so.
So Is MOBE a Scam? What Is My Take On It?
The answer to this question depends on what you consider a scam. There is no doubt that MOBE pushes members to promote their products and there is no doubt that they push people into upsells that they didn't know about from the start, which is pretty unethical in my view.
They could be more straightforward and let people know the reality of the business but they fail to do this and treat members as if they are nonhuman. I don't like this and I don't agree with what is going on here. But hey… this is all just my opinion and who am I to say whether or not its a scam. Matt Lloyd himself claims it isn't a scam so its not to him.
Do you think its a scam? Its definitely a well crafted money making scheme that is for sure… but does this make it a scam? I would love to hear everyone's thoughts on this in the comment section below.
And by the way, if you are looking for a program that is 100x more affordable and doesn't push you into promoting their products then I recommend Wealthy Affiliate. This is the online business program I use to make money online. You can read my review of Wealthy Affiliate here.