Survey Downline is one of many paid survey sites out there that will pay you to complete easy surveys online. But is this place any good? Is Survey Downline legit or just another survey site scam that is going to have you running around taking surveys like crazy for little payout?
I decided to write this review because I know there are people that are questioning this site and wondering if they should sign up or not. I'll be going over how this place works, how much money you can make. some complaints I have, and more.
Survey Downline Overview
Survey Downline is a site that conducts market research via online surveys. Market research is big these days and there are companies and institutions that pay big money for research data on their target markets. So these companies pay Survey Downline and Survey Downline pays you a bit of that money.
As a member here you will also be invited to participate in focus groups, which will pay better than the surveys.
One of the most notable things about this place is their referral system. They are called Survey "Downline" for a reason, which I will go over more. Its nothing too great but it is worth mentioning.
How It Works
Signing up is free and easy. It will only take about a minute to do. After that you will have to complete your profile. This is important to do because it gives them information on you so that they can match you up with appropriate surveys.
After that you are ready. You will receive survey invitations in your email which you can then choose to participate in or not. Generally you can expect a handful or so per month…. its not like there are that many. You will also receive invitations to focus groups by email.
After taking your surveys or participating in focus groups your account will be credited with the amount specified. After you read a $20 balance you are then able to cash out.
How Much Can You Make?
Survey Downline seems to pay better than most paid survey sites out there. They have the normal 10 – 25 minute multiple choice surveys but you can expect to make $2-$5 and sometimes $15 or so with these suckers.
And when it comes to the focus groups there is some good money to be made. You can make over $100 with some of these but this will vary a lot depending on the magnitude of it.
I reviewed Panel Opinion and MyPoints recently and this seems to pay a bit better than these.
The Referral System
I have literally reviewed probably 100 or so paid survey sites and I have never seen one like this. You could consider Survey Downline a mlm (multi-level marketing) opportunity because they have a 2-tiered affiliate program where you can get paid 2 levels beneath you.
How it works is like this: The people that you refer to Survey Downline are your level 1, and the people that they refer are your level 2. And you will get paid from both levels. They pay out up to 50% of their revenues total: 35% for the surveys that you take, 10% for the survey's your level 1 takes, and another 5% for the surveys that your level 2 takes as you can see below…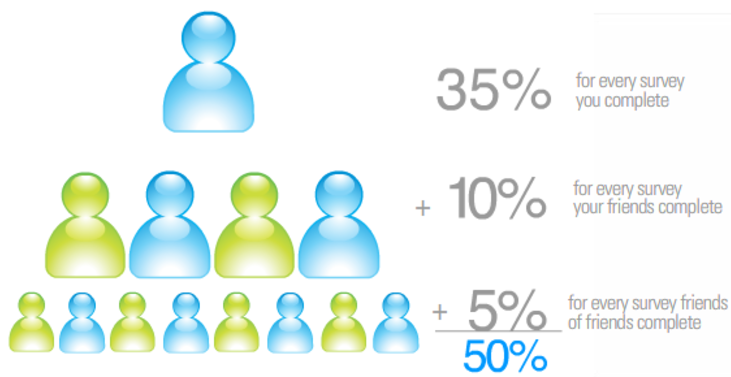 The Good & Bad Side To This
The referral program is the best I've seen for a paid survey site. So if you have the means to refer lots of people here and build up your downline then you might be able to make some decent money.
However, the problem is that it seems this tends to be the main focus for many people. And if you focus just one referring others to this site, and then they focus on the same thing, then you aren't going to really make much because the only way you get paid is from when you or those in your downline actually complete surveys.
Survey Downline Conclusion – Legit or Scam?
Survey Downline is a legit paid survey site and I don't see them being a scam in any way. They have the most lucrative referral program that I have seen on a survey site like this and their survey's also pay fairly well if you compare them to other similar sites.
The only downside here really is the lack of opportunity. They just don't send out many surveys so you aren't really going to have much opportunity to make money one your own. Sites like SwagBucks offer many ways to earn money and they also provide a lot more surveys than this one.
However, I don't really recommend any paid survey site that much. They just seem like a waste of time to me.
If you are looking for a way to make money online in your spare time then I would suggest checking out this program. This is the same program I got started with back in 2015 and I am still a member today…. which is a testament to how good I think it is.
I'm making $5k + per month online right now and I owe pretty much everything to what I learned here.
==> My No. 1 Recommended Program Here
Questions, comments, concerns? Leave them below in the comment section and I'll get back to you soon ?