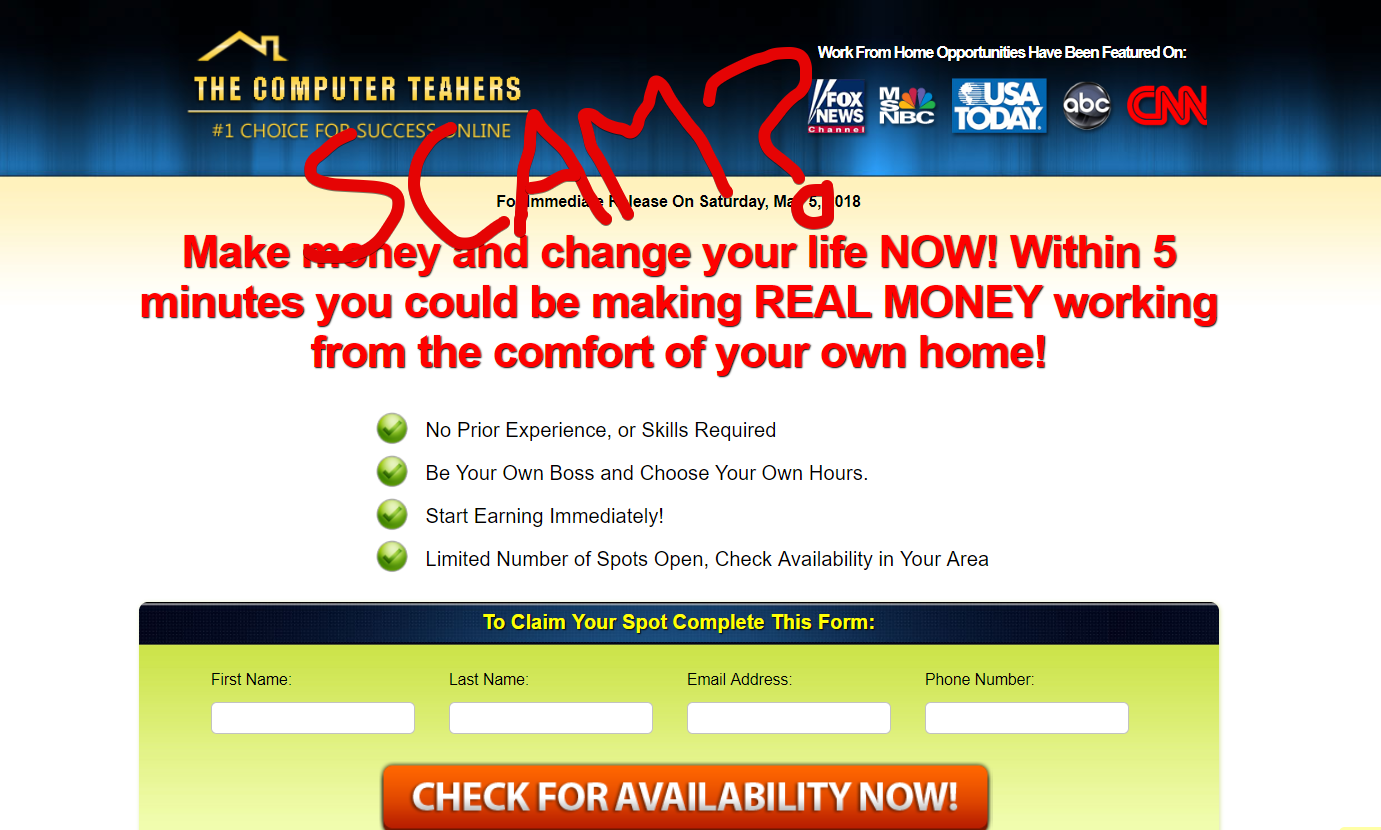 The The Computer Teachers program is yet another one of the scams that claim she can make it super easy money posting links online. Much of what they tell you consists of lies and misleading information. You will not be able to make $379 per day like you are led to believe. It's all a bunch of BS if you make any money at all with this program I would be surprised.
In this review I will be going over what this program will not work based on my experience with online marketing.
The Computer Teachers Review
The Computer Teachers is what you call a link posting scam. The lead you to believe that you can earn super easy money posting links online. While you can make money posting links online it is nothing like they tell you. They tell you that companies are "desperate" for independent link posters like you to work from home and that you can be much earn unlimited income with this opportunity.
The provide an income calculator where you enter in the amount of links you and to post each day, the average amount you will earn per link, and the days per week that you will work. After entering in this information it will then spit out a number for you which simply is not true.
They tell you that you earn an average of $15 per link that you post but this is not the way that works.
The Truth
This "link posting" that they tell you about is really called affiliate marketing. Affiliate marketing is when you promote products for companies online via affiliate links and earn commissions when you help make sales.
There is absolutely no way to predict how much a single affiliate link will make you. You only earn commissions when someone clicks on your link and buys the product you are promoting. How can you possibly predict this?… You can't! I have been doing affiliate marketing since 2015 and there is absolutely no accurate way to predict this.
It is also very misleading when they tell you that it only takes one to two minutes to post a link. This is true… It doesn't only take a minute or so to actually post the link. However there is much more work involved than just this, which they do not tell you about.
At the end I will go over how you can get started with affiliate marketing the right way, but first I want to go over why this program will not work out.
Why This Program Won't Work
This is a very cheap program and will not work out. The entire approach that this program takes is wrong. They basically teach you how to use spam links everywhere. This is not the right way to go about it. Doing this just does not work, plain and simple.
This program takes the easy approach. They lure people in with the claims of being able to make super easy money online when the reality is this is not possible. When something sounds too good to be true than it probably is, and this saying applies this program perfectly. For some reason many people think that the money online is very easy for some reason when it is not. This is what I have come to realize having worked online for years now.
What This Program Provides
When you buy into this program you will get training and even a website. The main focus of it all is to get people to buy into the same darn program. It will push you to go spam links and get others to buy into this The Computer Teachers program, where you will be able to earn commissions every time you get someone to do so.
So pretty much you get suckered in thinking that you will be able to make easy money online selling products for legitimate companies and then you are pushed to promote the same stupid scam product.
Old Program, New Name
These types of link posting scams are nothing new to me. I have reviewed dozens of them over the years and am very familiar with the whole thing. They are constantly changing their names but for the most part stay the same.
What is happening is more buying into one program and then they are being pushed to promote that same program, as I mentioned above. Many of these people will re-brand it to make it their own and then promote it, which is why the names change so much.
Some of the many identical link posting scams that I have reviewed over the years include Home Internet Income, Instant Income From Home, Home Jobs Now, Accelerated Income, and others. You can see some of the screenshots I have taken of the other scams and help they are virtually identical…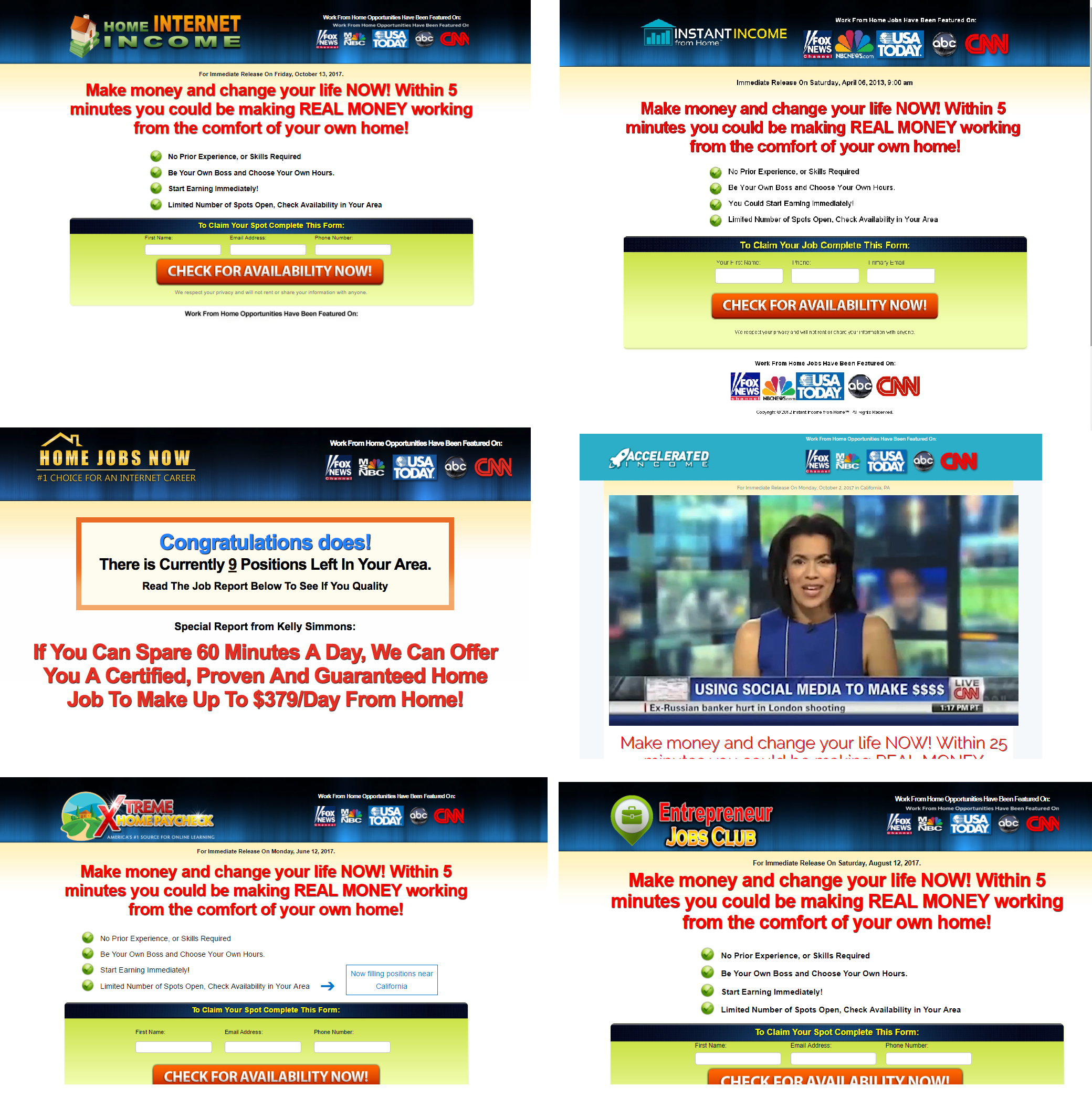 Conclusion on The Computer Teachers – Scam
There are many programs that I review where it is hard to tell if there really scams or not, but this one is different. There is no question that this program is a scam. You can make money with "link posting" but it is nothing like they lead you to believe.
Always remember the saying "if it sounds too good to be true than it probably is". This little saying will save you from 99% of the scams out there, including this one. Just think about it… If you could make $379 per day just by posting these simple links then why isn't everyone doing this? If this were true then I would definitely be doing it and I would have all of my friends and family members doing the same. But of course it is not true… It is not so simple.