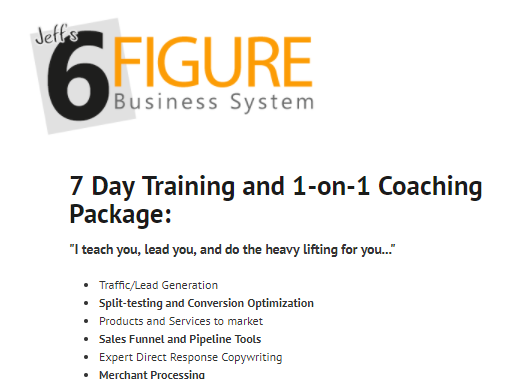 Since you are reading my review of Jeff's 6 Figure Business System I'm guessing that you are probably suspicious of some of the bold claims made about this. There are a lot of different sales pitches out there and promotions for this program and most of them claims that you can make easy money online…. as much as $500 – $10,000 per sale.
Honestly most of the sales videos I have seen that funnel you into buying this program do seem way to good to be true. This is the reason I decided to put together this review because people need to know the truth. The truth is that while you can make money with Jeff's 6 Figure Business System…. its not nearly as easy as it may sound.
Jeff's 6 Figure Business System Review
Jeff's 6 Figure Business System is a "make money online" program created by Jeff Lerner, who is a very successful online marketer that makes over 7 figures a year. This program provides tools and training to be able to make money online.
Like I said, there are a lot of different promotions for this place. I review websites all the time, like Copy The Millionaire &  Job Killer System for example, that promote this money making opportunity.
These promotions are all usually the same thing…. they tell you how easy it is to make money with this pre-made system, they say that everything is done for you, they tell you that you can make $500 – $10,000 per sale, etc.
They tell you everything that you want to hear. And you will see why in a second…
How This "System" Works
People buy into Jeff's 6 Figure Business System to make money online and then they are pushed to make money online by getting other people to buy into Jeff's 6 Figure Business System. Its a big cycle.
That is why there are all of these different websites out there promoting this system. They are all created by affiliates who are promoting it to make money.
The pre-made aspects of this program that they tell you about are all set up to get members to go out and promote the system. Everything is based around selling the system.
One Thing They Don't Tell You
Most of the sales pitches that I have heard out there claim that this system is "completely automated" or "completely done-for-you".
This is not true. And besides… why would they even provide training if everything was already done for you? What would you need training on if you don't have to do anything?
The reality is that you will have to implement the training to actually make money and this is not as easy as it sounds. You will have to be the one that goes out and markets the program. And anyone involved with online marketing for any length of time knows that this is not a simple task, especially if you have no experience.
The Massive Cost
The $49/mo or $39/mo (whatever it is) that you have to pay for Jeff's 6 Figure Business System is just the beginning of things. This is just the start.
You know how they say you can make $500 to $10,000 commissions? Well these commissions are being made by selling the program. So if you are going to make $10,000 commissions then the product being sold must cost more than $10,000 right? That is correct.
This Jeff's 6 Figure Business System is just the beginning of things. You will be upsold on Jeff Lerner's much much more expensive products and so will the people that you bring into the system. Just as you will be trying to sell products that cost over $10k, so will the person that recruited you into the system.
And guess what? You have to first purchase the products that you want to sell. So before you can earn $500 – $10,000 commissions you will first have to purchase those extremely expensive products. This is where they get you and this is how they keep the money flowing in.
Conclusion on Jeff's 6 Figure Business System – Good Opportunity?
I don't particularly care for programs like this that get people to buy in and then just push them to go out and get other people to buy in. But I wouldn't really call this a scam because there are people making money with it. Although I would call it somewhat of a "shady" business practice.
The sites promoting this Jeff's 6 Figure Business System on the other hand…. many of them are scams because they are extremely misleading in what they tell people in order to get them to buy in.
All in all I don't recommend this program because for 1) all you are doing to make money is getting other people to buy in with the hopes of making money, and 2) its extremely expensive if you really want to make good money and most people just won't be able to afford it.
If you are looking for a more legitimate and affordable program to make money with then I suggest taking a look at this program. I joined back in 2015 and am still a member to this day. Its also notable that I make a living online now and pretty much all of my success can be attributed to what this program has taught me.
==> My No. 1 Recommended Program Here
Questions, comments, concerns? Leave them below in the comment section below and I'll get back to you soon ?