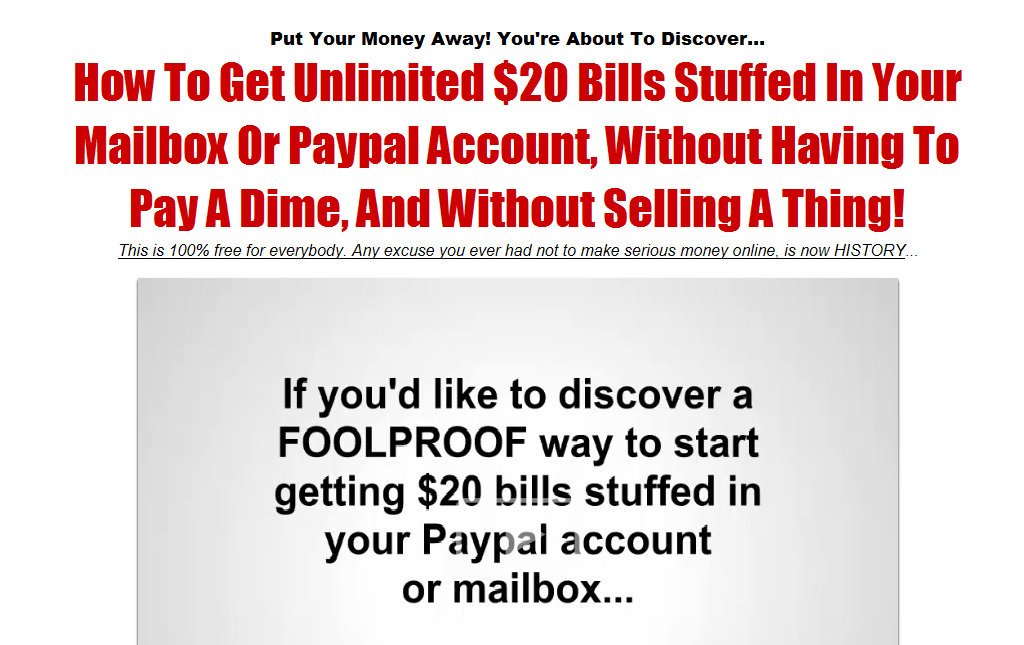 Laid Off To Paid Off claims to be an amazing money making opportunity but can you really believe what you hear? Is this place actually legit or is Laid Off To Paid Off a scam that is going to leave you with less time and money than when you started?
I have been getting some questions about this place recently so I decided I would review it and write this post. There are definitely some things that everyone looking into this opportunity should know because the fact of the matter is that, as you probably were suspicious of…. this isn't as great as they make it out to be.
Laid Off To Paid Off Overview
Laid Off To Paid Off is a system that was created to promote a program that you can make money with called ZNZ, or Zip Nada Zilch.
ZNZ is a kind of like an advertising platform in a way, but not the usual way. They promote trial offers for various big companies. These trial offers could be for a GameFly membership, to sign up for a credit report, to get approved for a credit card, etc. They are not always free but some are.
Companies pay ZNZ whenever they get people to sign up for their offers and ZNZ returns the favor by paying you, as a member, to get other people into ZNZ and to sign up for trial offers. You will be able to make $20's like the Laid Off To Paid Off system leads you to believe, but it won't be quite as easy as it may seem.
How It All Works
As you were told, the Laid Off To Paid Off system is free to use. When you join you will get a replica of the website that you will be able to promote to other people. You won't actually be promoting ZNZ, which is how you will make all of your money. You will be promoting Laid Off To Paid Off, which will then do the promoting of ZNZ for you.
This system is very similar to Daily Paycheck Network if you have every heard of this program.
With your own Laid Off To Paid Off website you will get credit for anyone that signs up to ZNZ through it and will be able to make the $20 bills when those people complete trial offers.
However, in order to be able to get credit for referring people to ZNZ you first have to earn 1.0 points of credits. You do this by signing up for trial offers on your own. These will pay anywhere from 0.25 to 1 credit, so you might have to complete more than one offer.
What You Get
With this system you get your own Laid Off To Paid Off website as I mentioned. You also get pre-made ads that you will be able to use along with some basic training.
So pretty much you have everything you need to get people to sign up for ZNZ so that you can make money, but of course now you actually have to go out and get the people, which is the hard part.
The Hard Part
Ok, so of course you are going to need people to visit your website if you want any chance of making money. The way that they teach you is through classified ads, Craigslist, Facebook posting, and other simple methods like this.
And these may be simple, but getting traffic is not so simple. I have been working online since 2015 and make a living in online marketing. I can tell you that it is not simple. If it were this simple to generate traffic then everyone would be doing it.
Unless you have a massive Facebook following then what you post isn't going to be worth much and will likely lead to no money earned. And the very basic training that is provided on traffic generation with this system is something you could learn from watching youtube videos for 30 minutes.
Conclusion On Laid Off To Paid Off – Scam?
I do not consider Laid Off To Paid Off to be a scam. All it is really is just a system that was put together to promote ZNZ, which is a legit program.
However, I really don't see this program being a great choice for people with no experience online. Me for example, I could probably make decent money with this because I have experience and I have blog sites like this one that I could use to generate traffic. But for newbies I don't see it being very plausible that you will make good money.
If you have no experience and are looking to make money online I would suggest taking a look at this program. This is the same program I got started with back in 2015 and I am still a member today…. which is a testament to how good I think it is.
I'm making $5k + per month right now and I owe pretty much everything to what I learned here.
==> My No. 1 Recommended Program Here
Questions, comments, concerns? Leave them below in the comment section and I'll get back to you soon 🙂