The Martin Make Money Profit System claims to be an easy way for anyone to make $200+ per day. But is this too good to be true? Is Martin Make Money Profit System a scam like the many other similar scam systems that plague the internet?
I came across this program and knew I had to write a review on it because there is no doubt that people are getting the wrong impression of it. This is not the simple easy money making system that it claims to be and I'll go over the truth in this short review.
Martin Make Money Profit System Overview
There are probably multiple websites out there promoting this system, but the one I came across really made it sound like a scam. It told me that this system is easy to start and it generates automated income. The phrase "automated income" is always a red flag for me. More often than not, programs that make this claim are pure scams. (Xtreme Home Paycheck and Freedom Cash System are 2 scams that I reviewed recently with similar claims)
Another red flag that I came across right away was the claim of this requiring very little work to make such huge profits. They claim that only 1-2 hours a day can get you generating over $200 per day. That sure sounds a little ridiculous to me.
But anyways… you can always judge a book by its cover…. right?
So after entering my email address and name I went through to the offer. It turns out that they redirect you to another offer that is hosted on the Warrior Plus marketplace and is called 8 Minute Profits. And of course this program makes even more ridiculous claims than what I had initially came across.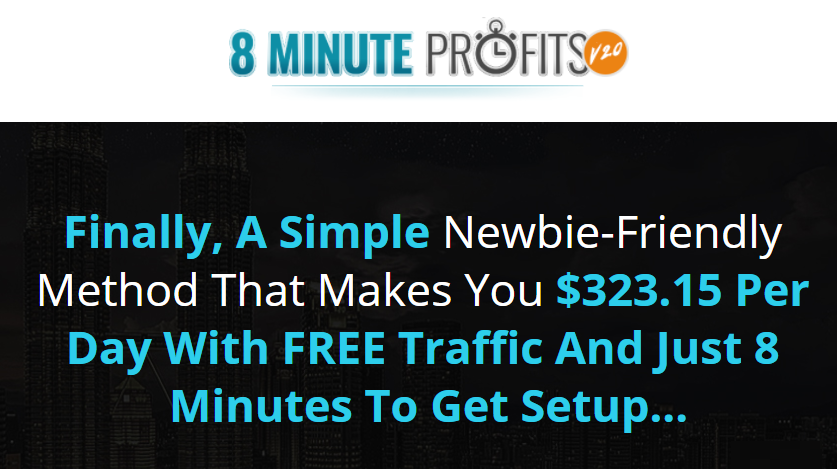 This program claims that you can start making over $300 per day with just an 8 minute setup. That is what it seems to lead you to believe anyhow.
But this is not the real program here. I don't know why they redirect you to this program but if you go to your email to confirm your subscription you can get access to the program you signed up for ….Martin Make Money Profit System.
What This Program Is
Martin Make Money Profit System is a simple system that consists of 4 free videos. Yes these videos are free but don't get excited yet because its nothing special.
The 4 videos don't really go over all that much. You will start out listening to Martin go over his reputation on Warrior Plus to show you that he knows what he is doing and isn't a newbie. They you will learn about how affiliate marketing works and how you can get set up to start making money. Next you will be taught about the importance of sales funnels and there will also be an ebook that is promoted to you at that point. Lastly you will be given a sales pitch on why you should upgrade and pay to work with Martin.
If you upgrade and pay Martin claims that he will literally "do all the work" and all you have to do is sit back and watch the money come in.
There is also another upgrade that he pushes you to buy that is a case study of how to go about setting up your online business and everything. It will basically take you through the entire process of how this all works.
How You Make Money
Basically this program is one of those "buy this program and you can make money selling this program" type of deals. When Martin tells you that he "will do all the work". What he is doing is duplicating his website and giving it to you, which you will be able to use to get people to buy into this same system.
I have seen these systems a thousand times online. There are tons of programs that just push you to promote the program to make money.
Conclusion On Martin Make Money Profit System – Scam?
I really don't see much potential in this system. Honestly.. I don't really agree with the way they force you to promote the program to others in order to make money in the first place. But if you really do want a program like this there are much better ones out there such as Aspire and MOBE, which I also do not recommend.
I highly doubt there are many people making $200+ a day with this system, if any. The only one making good money is probably Martin himself. This program seems to be thrown together as a way to get people to buy and promote his system at the same time… which is a win/win for him.
Overall this just is not something I would buy. I wouldn't even think about it.
Questions, comments, concerns? Leave them below in the comment section and I'll get back to you soon ?