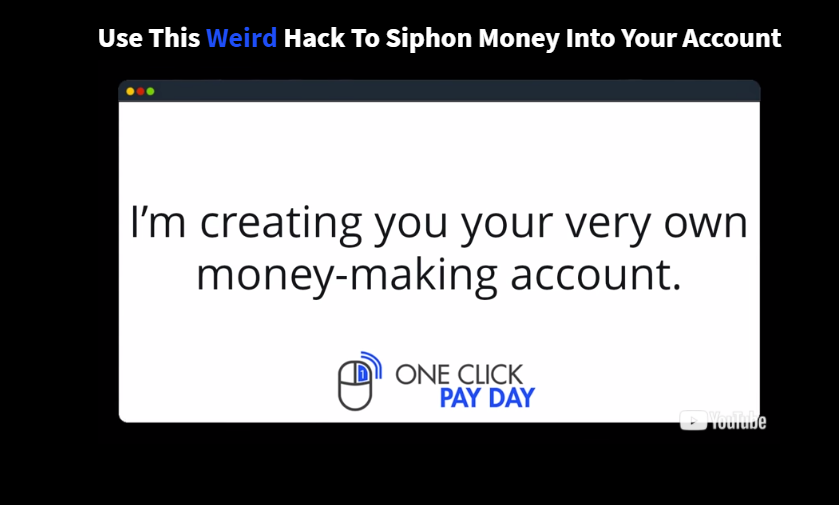 One Click Pay Day is a new system that I came across that claims to be a super simple way to make money online…. but is this really true? Or will One Click Pay Day scam you and leave you with less money than when you started?
When I came across this system I knew I had to take a look into it. It comes off as very "scammy" and I was suspicious of the claims that are made. So I dug a little deeper and in this review I'll be going over a few things that everyone looking into this system should know.
One Click Pay Day Overview
One Click Pay Day is a program that is claimed to be created by a woman named Kathy Evans. In the sales video I watched there wasn't much talk about what the program actually does. Basically Kathy just tells you about how she is creating your own money-making account and that making money is as simple as 1 click.
And yes, you heard me right. She claims you can make money in just 1 click. Pretty ridiculous sounding right? Or could this possibly be true and maybe one heck of an amazing business opportunity? Well…. I wouldn't get too excited because I'm about to expose this system for what it really is… which is a scam.
Take a Look at all the Lies They Tell You…
#1 – The Testimonials are FAKE
The testimonials that they show in the sales video are as fake as can be. These people haven't actually tried out this system. They are just paid actors and actresses that you can hire on a website called Fiverr.
Here is a screenshot of the one guy in the video (who claims to make about $20,000/week) along with his profile on Fiverr…. same room, same shirt and everything…

#2 – "Kathy Evans"
I am not able to verify anything on this lady "Kathy Evans". I can find information online about people with the name Kathy Evans, but not this particular Kathy. I  cannot find anything related. The reason for this is that she is more than likely a fictitious name that was just created for this scam.
#3 – Only 40 Spots Left
She also tells you that there are only 40 spots available so you have to hurry now. This is nothing more than false scarcity to try to get people to buy into this as quick as possible and not wait.
This Proves That This is a Scam
As if the lies mentioned above aren't enough already… take a look at what I found here. If you scroll to the bottom of the sales page you will be able to read their disclaimer. This is required by law and pretty much says that this is a scam. Take a look…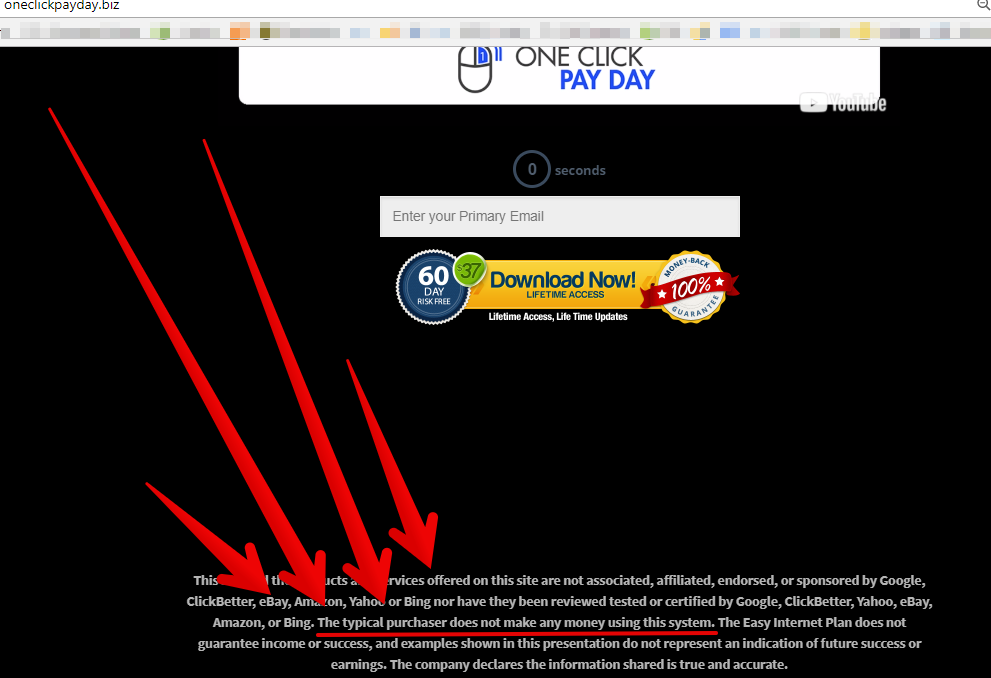 So in the sales video the lady talks all about the money you are going to be making and how this is so so easy… yet in the disclaimer they tell you that "The typical purchaser does not make any money using this system". So pretty much they are telling you that the entire sales video is a lie.
This is how scams like this get away with this BS. They can lie all they want as long as they have a disclaimer that tells the truth.
I would also like to point out that in the disclaimer it mentions a program called "Easy Internet Plan" which makes no sense. This is because this disclaimer was likely taken from this program and reused for On Click Pay Day.
Conclusion on One Click Pay Day
Your suspicions were correct. I'm guessing that you were suspicions of this program in the first place because you took the time to read my review. And it paid off. This system is as fake as can be.
One good saying to live by is that if something sounds too good to be true then it probably is. "One Click Pay Day"…. this name says it all. It sounds like a scam and it is a scam. There is no way to make money online that is nearly as simple as 1 little click. This scam reminds me of Your Home Biz & FB Freedom System, which are 2 other scams I recently reviewed that are making their way around the online world.
I have been making money online since 2015 and make a living online now. I know from experience that there is no real shortcut to making tons of money online. Everything takes real work. I knew this system was a scam before I even started to review it but I gave it the benefit of the doubt…. but it turned out to be a scam as expected.
Anyway… if you are looking for a legitimate way to make money online then I suggest taking a look at this program. I started with this program back in 2015 and am still a member to this day. Pretty much all of my success online can be attributed to what this program has taught me.
==> My No. 1 Recommended Program Here
Questions, comments, concerns? Leave them below in the comment section below and I'll get back to you soon ?