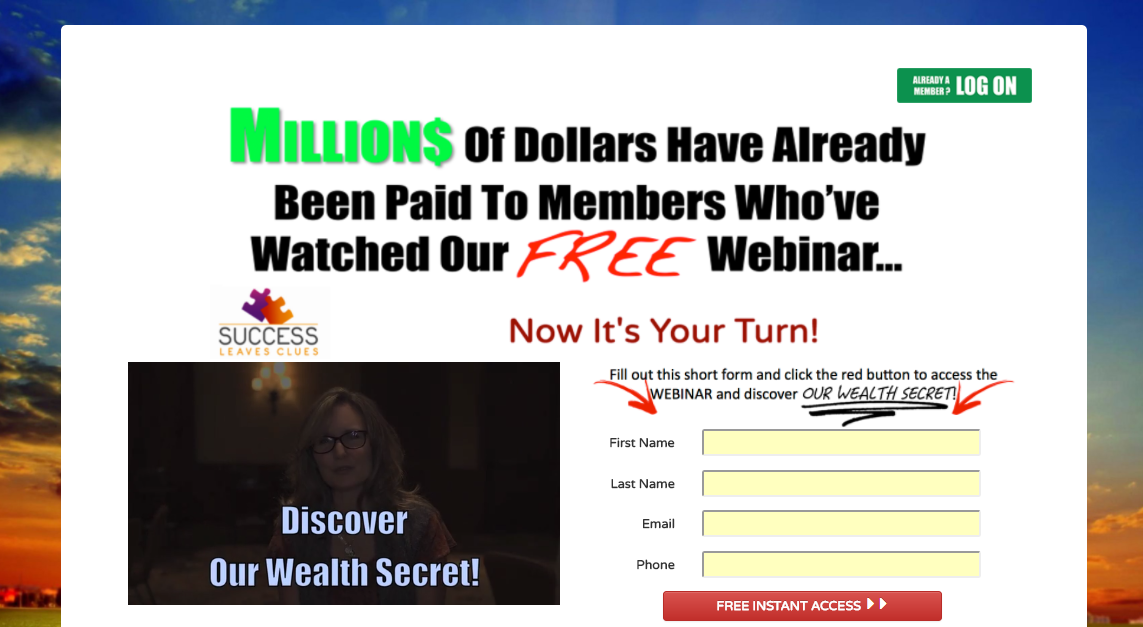 If you are looking to make money online and came across a program called Our Wealth Secret pause for a second. It may sound like an amazing opportunity but is it really? Or is Our Wealth Secret a scam that is going to leave you with less time and money than before?
The reason I am writing this short post is because there area a lot of people coming across this Our Wealth Secret website and getting into it when they don't really understand what they are getting themselves into. I'll be going over what this place is, how it works, and the reality of making money like they are promoting.
Our Wealth Secret Overview
Our Wealth Secret is just a website that was set up to promote a program called 8 Figure Dream Lifestyle. There is no product or program called "Our Wealth Secret".
So the real question here is whether or not 8 Figure Dream Lifestyle is a scam and how it works.
The truth is that 8 Figure Dream Lifestyle is one of those programs that you can buy into where you make money selling it to other people. Basically you go around promoting it saying "hey join this program and you can make a lot of money getting other people to join this program". Its one of those type of deals.
It also is extremely expensive to be able to make money with this and I'll go over why.
The Cost of Business
8 Figure Dream Lifestyle uses a "Licensing Rights" approach to their business model.
When you buy into the business you have to purchase what is called a package. There are 5 packages total ranging in price from $2,000 to $22,000. When you buy one of these packages you will also have to buy the Licensing Rights if you want to sell it to other people and make commissions off of it, which is the whole point of this program.
So if you were to buy in with the cheapest package (Basic Package) at $2,000 you would also have to spend another $195 for the rights to sell it to others.
The Catch
As mentioned, there are 5 packages you can buy as follows…
Basic – $2,000
Builder – $3,500
Advanced – $6,500
Pro – $12,500
VIP – $22,000
These are the prices not including the licensing fee.
The catch here is that you only can earn commissions off of what you already have bought. So if you buy in with the Basic Package you will only be able to make money selling that same package. If you have someone that buys in at a higher level you won't make a penny.
This somewhat forces you to buy the higher priced packages in order to have a chance of making good money.
How Much Money Can You Make?
Members keep 100% commission on all sales. So if you were to sell the Basic Package to someone you would get $2,000. The licensing fees are what the program owners keep and that is how this program stays in business.
Its the same thing for the higher priced packages. For the VIP Package you could literally make $22,000 off of one sale.
Something else that you should know is that this place has a mlm compensation structure. This means that not only do you make money from the sales you personally make, but also from the sales of people that you recruit into the business.
This places uses what is called a " 1 Up" system where each person's first sales goes up to their sponsor, aka the person that recruited them in. So you don't keep the money from your first sale, the person above you does. And the same goes for everyone that you recruit in… their first sale goes to you.
The Reality Of This Business
The reality here is that making money promoting 8 Figure Dream Lifestyle products is not as easy as it may seem.
I have reviewed plenty of other similar programs to this that use Licensing Rights business models and sell extremely high ticked products and they are always much more difficult than they appear to be.
8 Figure Dream Lifestyle's promotional tactics are a bit different than most that you come across. A lot of their recruitment is done by sending postcards in the mail, while others are strictly online. But its all similar. These business models just don't work as good as people think.
It is extremely difficult to make good money doing this.
Conclusion – Is Our Wealth Secret/ 8 Figure Dream Lifestyle a Scam?
I would pretty much categorize this as a scam. First off… its a very unethical business model. You are recruiting people in by selling them dreams of making 8 figures a year and its all about reselling the same darn program to other people. There is no real value being provided here.
I just really don't care for business models like this that provide no value, cost a ton of money, and are very difficult to make money with.
If you want real value and a much more realistic way to make money online then I would suggest that you read about how I make a living online.
Questions, comments, concerns? Leave them below in the comment section and I'll get back to you soon 🙂