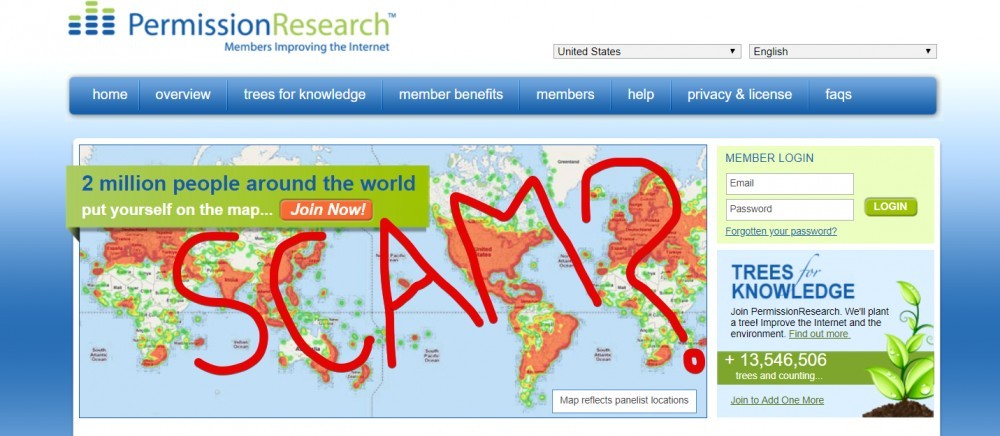 Permission Research is a market research community that gives you the chance of being potentially rewarded for allowing them to monitor your Internet activity as well as for taking surveys. But is this place really worth your time? Or is Permission Research just another scam that is going to take from you and leave you with nothing in return?
In this review I'll be going over what you should definitely know before you join this place. Based on my own research you are probably going to want to reconsider if you were thinking about joining.
Permission Research Review
Permission Research, as I said, is a market research community. They are a division of a place called comScore Inc, which is part of the Advertising Research Foundation that was founded way back in 1936.
They claim to have over 2 million members worldwide, but who knows how true this actually is. I can't really imagine them having this many active members. Maybe they have had a total of over 2 million members join, but from what I see many of the people joining this site or quitting shortly after.
The purpose of this market research place is to improve the experiences of users online, particularly when it comes to browsing websites and doing e-commerce shopping. In a nutshell, what they do is monitor your behavior online so that they can analyze what you're doing, find similarities between what others are doing, and improve in different areas. Additionally they also offer surveys which collect your opinions about all sorts of things.
This type of business is needed. It will be interesting to see what the Internet would be like without research companies doing things like this. Would online shopping be a complicated on organized nightmare? Who knows…
How It Works
Monitoring Software
The monitoring software collects data on what you do online. It runs silently in the background so all you have to do is download it to your computer wants and that is it.
I'm not sure what all that monitors. I have reviewed other similar market research programs in the past, such as Gomez Peer Zone and Mobile Xpressions, that only monitor certain aspects of your online activity. They avoid things like monitoring your email, and other more private areas.
This monitoring software may sound like a good idea, but there are some serious drawbacks to it that I will be going over soon.
Taking Surveys
When you join Permission Research you will also receive survey invites from time to time. And if you get lucky… They might even pay you.
Overall the surveys are pretty disappointing. You won't get many of them in the fact that you won't even get paid for all of them is a big downside.
Privacy Policy
When it comes to market research places like this that monitor your online activity, privacy is always a big concern. Luckily, they are straightforward with their privacy policy. It is easy to understand and written in plain English. You can read here if you want to.
Some things worth noting in the privacy policy are that they also collect additional information from third parties, such as email providers, television providers, etc. in order to better analyze individuals.
The good thing is they don't sell personal information to third parties. What they sell consists of information dealing with your online behavior, but they will not be selling anything personal.
Complaints
Low Paying
This is a massive downside. You could pretty much say they are "no paying". This place is one of the lowest rewarding sites of this kind that I have reviewed. Gomez Peer Zone is a much better choice, although they do not always accept the new members.
Software Problems
If you read through user reviews on sites like SurveyPolice you will find a lot of complaints about people having problems with the computer after downloading the tracking software. These include things like a slow running computer, draining your battery, the Internet browser not working properly, and a bunch of random strange problems.
Viruses
I've also read through multiple complaints about people getting viruses soon after downloading the software. They claim to have been alerted by their security system that was already on the computer before hand. One person even claims that he got a virus which destroyed his hard drive. So that he then had to go out and purchase another.
Screened Out Of Surveys
What little number of surveys you get invited to, you will get screened out of some. This just comes with the territory and you will find complaints about this for any survey site out there. It is just a real bummer here because they barely provide you with any surveys in the first place.
On the upside, you do get entered into the sweepstakes drawing and could potentially win up to $100,000. They do this drawing monthly but I have never heard of anyone actually winning anything.
Privacy Concerns
Of course they tell you that they are handling your data appropriately and not selling any personal things to third parties, but there is still always a concern when it comes to this. Can you really trust this place even with all the people complaining about viruses they have got from their monitoring software?
Final Thoughts – Worth Joining?
Overall I am pretty disappointed with what I see at Permission Research. It just seems that they take intake but don't get much back at all. Users are hardly rewarded for their time and it just does not seem to be worth it in my opinion.
One of the few things I actually like about this place is that they are partnered with Trees for the Future, and they plant a tree for everyone who joins, not that this matters to you at all.
If you were thinking about joining this place I would definitely recommend against that. If you want a place that will reward you simply for allowing them to track your Internet activity, go with Gomez Peer Zone or Mobile Xpressions. Just don't expect either of these places to be that amazing either.
What you might also be interested in are reward sites like FusionCash, which I am more of a fan of. At FusionCash you can get paid for taking surveys, playing games, clicking on ads, and a few other things. In this place is currently offering a $5 bonus just for signing up.
Anyways… I hope you enjoyed the short review and found it helpful in one way or another. If you have any questions or comments, please leave them below and I'll get back to you as soon as I can 🙂
If interested in earning good money online I would suggest taking a look at how I went from $0 to over $6,000 a month working online.