PTC Bank claims to be a Paid to Click (PTC) site where you can earn easy money by just clicking on ads and visiting websites. But is it really as good as they claim it is? Are there better similar options available? These are questions that you need answered before putting time and effort into a site like this.
In my review here I'll be going over what is PTC Bank, how it works, how much money you can actually make and more.
What Is PTC Bank?
As I stated, PTC Bank is a Paid to Click site that will pay you small amounts of money to click on ads and visit websites. What they do is provide advertising for clients. Clients pay them to put their ads up on the site and then PTC Bank pays members a small amount of that money to click on the ads.  So in a way its a win/win for everyone, except as you will find, the money that can be made is extremely little.
On the website PTC Bank claims that the average amount made per click is $0.10, which I am very suspicious of. Making 10 cents per click on a site like this is a heck of a lot. I've reviewed many other PTC sites that are legitimate, like Wad Ojoo & NeoBux, and you are lucky to make $0.01 per click.  So this is something that I will be looking into more to see if they are lying or if you really can make this much.
Making Money
So its pretty simple. You click on one of the ads that they have listed on their site. You stay on the page for a short period of time. You get money in your account.
When you are on the site you will see a list of different ads. The "normal" ads pay $0.10 per click but they even have "double" ads that pay $0.20 per click, which is insanely high, as well as ones that only pay $0.02 per click.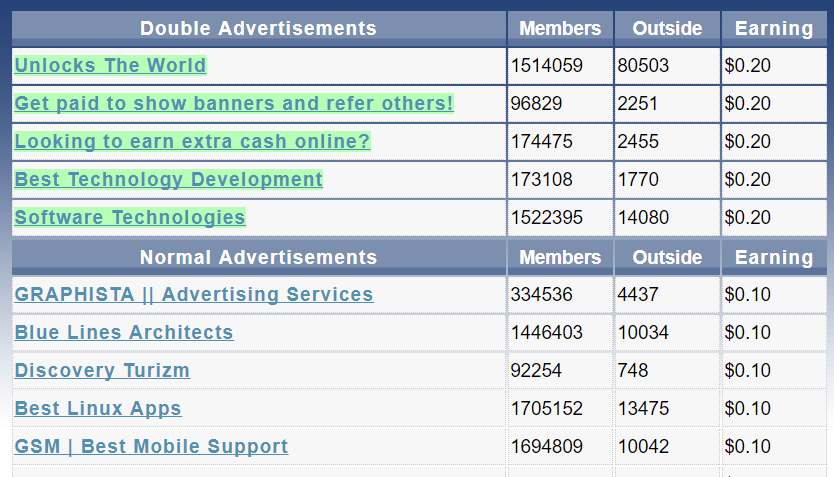 This is fine and all but as far as I'm concerned the money isn't real until you have it in your bank account. When you click on ads you are only given money into your account at PTC Bank, which can then be withdrawn when you get a $100 minimum. But they can say anything they want beforehand. They could credit your account with $1000 per click if they wanted to. But until the money is in your hands it doesn't count.
Things Aren't Making Much Sense
Honestly this is a very poorly put together PTC site.
In the advertising section there is barely any information if you are looking to place ads on the site. You are given the choice of 3 different plans but none of them give you a number you can expect for the amount of clicks you will get. They just tell you, hey pay this much and we'll put your ad up for a month. It makes no sense.
I don't see how they would get many advertisers doing this.
Red Flag
One thing that caught my eye is how they do not let advertisers pay for ads with their PTC Bank balance. If you want to pay for ads you will need to pay with Paypal or Payza.  But why would this be? If your PTC Bank balance has real money in it then why wouldn't you be able to use it?
I'm guessing that the numbers you see in your account is inflated and not real. As I said, I don't see how this can be sustainable if they are paying people up to 20 cents per click.
Conclusion on PTC Bank – Scam or Good Opportunity?
I can't tell you for sure if its a scam or not because I'm not going to waste my time getting to $100 to cash out. But I can tell you it seems to be a scam. The only way they can pay members up to $0.20 per click is if they are really ripping off the advertisers. And if this is true then the advertisers will just to to another legitimate PTC site. This is not sustainable as far as I see.
The fact that they don't let you use your PTC Bank balance is the icing on the cake. This pretty much proves it to be a scam in my opinion. I don't see any reason for them not to allow this other than if the money in your account isn't real, which I don't think it is.
I'm not going to recommend this site but of course you can do what you want to. One of the most well liked PTC sites out there is NeoBux if you want to take a look at them. However, I don't really recommend any PTC site because of how low they pay. Its not out of the ordinary to have to click 1,000 ads just to make $1, which is ridiculous.
If you are looking to make money online in your spare time then I would suggest taking a look at this program. I've been a member since 2015 and make a heck of a lot more than I ever could on any PTC site out there. You can read my review for it Here to learn more.
Questions or comments? Leave them in the comment section below and I'll get back to you soon 🙂