Have you been asked to join Pure Romance by a consultant? Or maybe you saw someone trying to get people to join on Facebook or something like that? There are a lot of questions swirling around this company from all the consultants out there that are recruiting other people to join them as consultants. This leads to the question of is Pure Romance a pyramid scheme or not? And this is exactly what I will be answering.
I will be going over how this business operates, explaining how the compensation plan works, going over the downfall of this business model and more.
Pure Romance Overview
Pure Romance isn't your typical mlm business opportunity. They are the only mlm company that I have looked into and reviewed thus far that is in the sex toy industry. They sell sex toys of all kinds and many other products that have to do with sex.
But the point of this review isn't about the sex toys. What I'm looking into is the business opportunity at hand.
Pure Romance is a mlm direct sales business. Anyone can become a consultant for this company and make money by both selling their sex products themselves and by recruiting others beneath them, which is the "pyramid scheme" part of it.
A Look at The Compensation Plan
Making money with Pure Romance is all about hosting "parties", where you will able to sell products and recruit in new consultants. Hosting parties will be the foundation of the business.
As a consultant you will be able to make purchases from Pure Romance at discount prices and then sell these products at retail prices. The difference between the 2 is the profit you will make. And this difference will vary depending on your rank. The higher rank you are the bigger discounts you will be able to get.
There are a handful of ranks within the company and if you want to make good money then you need to move up these ranks. Not only will moving up the ranks give you better discounts on products, which means more money made from personal sales, but it will also allow you to earn more money from people below you.
Recruiting in new consultants is a requirement if you want to move up the ranks. And as you recruit more people in and move on up, you will be able to earn higher commissions off of them.
Override Commissions are a major component of the compensation plan here and you can earn from 4 levels deep. Level 1 are the consultants that you personally recruit, level 2 are the consultants that they recruit, and so on. I took a screenshot below of a chart that explains all of this.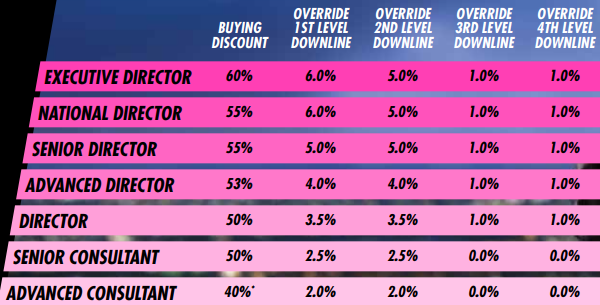 Pyramid Scheme Maybe?
The compensation plan here obviously is very focused on recruitment. It is possible to make money by never recruiting a single consultant in but you won't make much of anything like this. When you recruit you are able to make more from personal sales and from sales coming from people in your downline.
But is this a pyramid scheme? That is a question that can't really be answered because I don't have enough info. The way that this could be a pyramid scheme would be if its revenues were overly dependent on recruitment rather than product sales to the general public. So you would have to see how much of the product volume sold is coming from new consultants being forced to purchase starter kits.
The Bottom Line
This could very well be a legitimate mlm opportunity, but the bottom line here is that mlm's like this are not as good as they seem.
They make big claims and tell you all about all the money that you can make but they fail to tell you the failure rates. The reality is that there is lots of potential to earn money…. there is a lot of room to move up in the company.
BUT….. most people are going to fail. With a pyramid-like mlm structure as this has the majority of people are going to be at the bottom struggling to make money while those at the top are the ones being rewarded. The money that those at the bottom could be making from sales gets taken from them and given to people above them in the form of Override Commissions.
In order to make it in this business you are going to need to recruit constantly and build up your downline. But this is easier said than done.
Income distributions are always very uneven when it comes to these businesses, where the top few percent make nearly all the money. I just reviewed two similar biz opps (Vemma & TruVision Health) and its the same reality with them.
Conclusion on Pure Romance – Scam Business Opportunity?
Pure Romance is not a scam. They do sell legitimate products and the opportunity they offer is legitimate. There will be some people that go on to make a lot of money in this company. But this will be very few people. With a mlm structure like this most people are pretty much guaranteed fail. This is what they don't tell you.
I'm not telling you not to pursue this. I just want you to know the reality of it because I know the company and consultants for the company aren't going to tell you this. So just know what you are getting yourself into.
Something else that you might want to look into if you are looking for a work-from-home job is how I make money online. I make a living online and I enjoy what I do. Here is the program that got me started and got me to where I currently am, which I am still a member of.
==> My no. 1 recommended program here
Questions, comments, concerns? Leave them below in the comment section and I'll get back to you soon ?