The business opportunity that QNet offers may seem like a great idea to pursue… but is it really as good as it seems? That is the question that needs answered. Is this the home-based job that you have been waiting for or is QNet a scam that is just going to be a waste of your time?
I know there are a lot of questions surrounding this business and its legitimacy that need to be answered. That is the reason that I decided to take the time to write this review. I'll be going over a few things that anyone looking into this opportunity definitely needs to know.
QNet Overview
QNet is a direct sales company that sells a range of products. They sell everything from products dealing with health & wellness, to beauty, to jewelry & watches, and much much more. But I'm not here to write a review on the products that they sell. I'll save that for another day.
I'm focusing on the business opportunity that is offered. As a direct sales company anyone can join in on the opportunity and make money on their own time as their own boss. There is the potential to make a lot of money here but there is one major downside to it that I'll be going over.
How You Make Money In This Business
There are something like 10 different ways that you can actually earn money as an Independent Representative with QNet, but these all can be place into 2 categories: making money with personal sales and making money with recruitment.
Personal Sales:
As an IR you will be able to purchase products at discount prices that only other IR's can buy them at. You are then able to go out and sell these products to customers at retail prices and keep the difference between the two. This is what they call Retail Profit.
Recruitment: 
QNet is what you call a mlm, or multi-level marketing company. This means that there are multiple levels within the company and you are able to recruit in new IR's beneath you who you will be able to earn commissions off of.
This is very important if you want to make good money in this business and there are many ways you can earn from recruitment.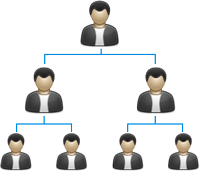 One way is from what they call "Step Commission" which are commissions earned from a binary structure. Basically there are 2 positions beneath each person in the binary structure and when you recruit people in they will fill the positions beneath you and then any other openings below that. You will earn commissions from the BV of the weaker side of this binary structure.
Another important way to earn is through Rank Advancement. There are different ranks within QNet and you will actually earn bonuses when you move up the ranks. On top of that you will be able to earn more commissions when you move up the ranks.
You may be wondering now how the heck do you move up these ranks and the answer is simple… you are going to need to recruit. Moving up the ranks is all about increasing the BV of your organization, aka your downline. And of course the easiest way to increase this is by recruiting in more people.
The Downside to This
The sound of being able to earn money by building up a downline beneath you sounds very enticing.. as it does with any mlm. But the reality is that this actually makes it more difficult to make money.
When companies like this have compensation plans that focus on recruitment this much it is not a good thing (in my opinion). They have a lot of potential to make a heck of a lot of money but they make it harder for those at the bottom to earn good money. The reason is because much of the money that those near the bottom make gets siphoned from them and goes to paying off those above them on the mlm pyramid-like structure.
With most mlm's only the top few percent of people actually make good money while the rest struggle. I just reviewed Waiora & Vollara the other day (2 other mlm's) and its the same deal with them.
Conclusion on QNet – Scam or Not?
QNet is definitely not a scam. They sell legit products and the business opportunity that is offered is also legit. There is the potential to make good money here. I just want people to know what they are getting themselves into though. It isn't as easy as many people make it sound. When it comes to businesses like this that rely so much on recruitment there are bound to be many Independent Reps running around recruiting people in with misleading claims.
So just know what you are getting yourself into if you decide to pursue this. MLM's are a really tough business to make it in and that is why I stay away from them.
Something else that you might want to look into if you are looking for a work-from-home job is how I make money online. I make a living online and I enjoy what I do. Here is the program that got me started and got me to where I currently am, making $5k + per month.
==> My no. 1 recommended program here
Questions, comments, concerns? Leave them below in the comment section and I'll get back to you soon ?