If you are looking to invest in the investment opportunity that Resonance Capital provides but are hesitant to do so then you are right where you need to be.
Maybe you are wondering will Resonance Capital scam you… or is this place really legit? Whatever the case I'm going to be going over what you need to know… which people promoting this company aren't going to tell you.
Resonance Capital Review
Resonance Capital is an investment company based in Estonia. They claim to be a team of very successful investors in the currency industry as well as the rising cryptocurrency industry.
The reason many people are suspicious as to whether or not they are a scam is because they promise fixed returns on investments which are very high. On top of this they also offer an affiliate program where investors can recruit in other investors and earn money from their investments.
The Cost
The minimum investment to take part in this investment service is just $5. But you can also invest thousands of dollars if you would really want to… but I wouldn't recommend this and you will see why.
The different investment packages are as follows. They all have fixed ROI percentages and mature in a fixed amount of time…
Test
Start

$50 – $100
168 days
144% ROI

Bronze

$150 – $700
168 days
148.8% ROI

Silver

$800 – $2000
336 days
158.4% ROI

Gold

$2500 – $5500
336 days
168% ROI

Platinum

$6000 – $9000
336 days
180% ROI

VIP

10,000 – $16,000
336 days
192% ROI

IPO

$20,000 – $50,000
336 days
288% ROI
How You Make Money
So you can supposedly make some pretty big ROI's just from investing your money in the company. However, if you really want to make money they push you to go out and get other investors to invest as well.
There are 10 ranks within their affiliate program and of course if you want to make as much as possible then you are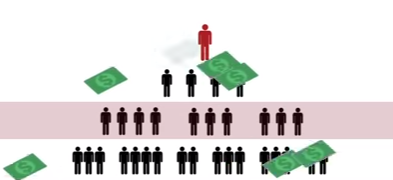 going to have to climb the ranks. And of course if you want to climb the ranks then its all about recruiting in more people and purchasing more expensive investment packages.
To climb the ranks you will need to increase the amount of investments in your downline, which consists of the people you recruited in (level  1), the people they recruited in (level 2), the people level 2 recruited in (level 3) and so on.
Ponzi Scheme Maybe?
I'm going to answer this question because I know that I'm going to get asked it a lot. The answer to whether or not this is a ponzi scheme is maybe.
I can't give a yes or no answer because I would have to hack into their system to see what is really going on to give a concrete answer. HOWEVER…. this place is very characteristic of a common internet ponzi scheme so I am very suspicious of its operations.
There are a few things that I'll go over that lead me to believe that this place is not the legitimate investment opportunity that they claim to be.
Can You Really Trust This Place?
Ok, so the first thing that makes me suspicious of this place is that they are very new. They just started in 2017 and don't really have any credibility yet. They have no long history of being a successful investment company or anything like that.
Second off they really don't give you any real information on this place. They tell you that they are a bunch of professional investors but no names are given so you really cannot verify any of these claims.
Maris Landsbergis is the only name given on this company. This guy is said to be the development director of it all but there is really no information on him other than that.
Any credible investment company out there will give you more than enough background information on them so that you trust them but this company just doesn't have any to give.
Conclusion on Resonance Capital – Scam or Good Opportunity?
I'm not going to tell you what to do or what not to do. The decision to invest in this company is up to you. However… I sure as heck am not going to invest in it. I have seen way too many scams that are nearly identical to this. They make big fixed income promises on your investments and they push members to recruit in other investors.
There is really not much of anything that makes this company come across as legit at all….. you know what… I take that back… there is NOTHING about this company that comes off as legit.
Of course its always best for you to do your own research and come up with your own opinions on things like this. But my opinion is that this is a ponzi scheme in disguise. I see it all the time and its nothing unusual really. 50 Cent Freedom & BTC Team Profits are two recent Ponzi's that I've reviewed.
When it comes to making money online there are a lot more scams out there than legit opportunities that I can recommend. However…. gun to my head, what is the best program out there? This is it. I have been a member since 2015 and it took me from nothing at all to making a living online.
Questions or comments? Leave them below and I'll get back to you ?