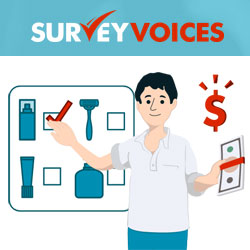 Survey Voices is often promoted as being one of the best paid survey sites out there. But can you trust what you hear? Is this place a good choice or is Survey Voices a scam that is going to be a waste of your time?
There has been a lot of questions being asked about the legitimacy of this survey site so I just wanted to write about a few things to clear the air. This place is probably not what you think it is and I'll be going over why.
What Is Survey Voices?
Survey Voices is a paid survey website that you can go through to take paid surveys online. These surveys are generally short, from 10 – 25 minutes in length, and consist of multiple choice questions that are easy for anyone to answer.
But this place isn't what you probably think it is. Survey Voices doesn't actually offer any surveys of their own. Instead, they are just like a middleman that refers you to other paid survey sites. Once you sign up through them you will then be given a list of other paid survey sites that it recommends you sign up for, which is exactly what Survey Sheep does also.
It will tell you that there are only a certain number of spots left to try to get you to sign up for these sites right away but this isn't true.
As you can see below from the screenshot I took it is telling me to sign up for Survey Junkie and i-Say. I am very familiar with both of these survey sites and I can assure you that there are not "only 4 spots left". Both of these sites will take in all the members they can get.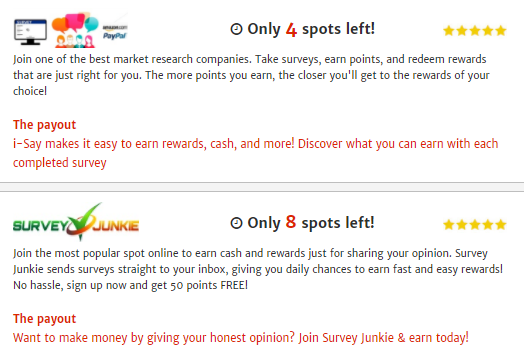 The Purpose of Survey Voices
You might be asking yourself.. "what's the point of this place if they are just sending you to other paid survey sites?" And that is a good question to ask. In my opinion there is no good point for you anyhow.
The whole purpose of Survey Voices is for them to make money off of you. If you have ever been a member of any of the big survey sites like SwagBucks, Inbox Dollars, etc.. then you might be aware that they have referral programs where members can refer other people to become members and make money off of them.
This is what Survey Voices is doing. They are referring people to all these other sites and making money by doing so. And they are doing so in a rather unethical way by lying to you and saying that there are limited spots left to try to get you to sign up right away.
And there is no purpose of you signing up to these other sites through Survey Voices. There is no benefit to it. All of the sites that they refer you too are nothing special. Its not like they are some expert matching service that found you the best survey sites out there specific to you.
How Much Can You Make?
For some reason there are ads that I have seen for this site that claim you can make $300. And they make it seem like you can do so with just one survey.
This is very misleading. While you can definitely make $300, it doesn't tell you anything about how long that might take. If you can make $300 with one survey that is really good, but if it takes you 1,000 surveys to make that money then that isn't very good at all.
The truth is that you won't make much. The survey sites that they refer you to are nothing special by any means. Both of those that you can see the referred me to above are your average sites. They all pay very low amounts for your time.
I am very familiar with both of the sites pictured above and with both you can expect anywhere from $0.50 to $2.00 per 10-25 minute survey generally… with the longer surveys paying more. Once you do the math and calculate in the time wasted just trying to qualify for surveys you will find that they are a waste of time, at least in my opinion.
Conclusion, Is Survey Voices a Scam?
Well all they do is try to make money off of you by referring you to other sites. They provide no value whatsoever and are a complete waste of time. There are also all sorts of very misleading advertisements for this site. All in all I would consider this site to be one of the more "scammy" ones out there and definitely do not recommend anyone sign up to them.
There is just no point in doing so. If you want to make some extra money (not much) the go right to the source. Sign up directly to the survey sites that actually offer the surveys and pay you.
Anyway… that is it for my review. I hope you enjoyed it and gained some good insight. Please leave any questions below in the comment section and I'll get back to you soon ?