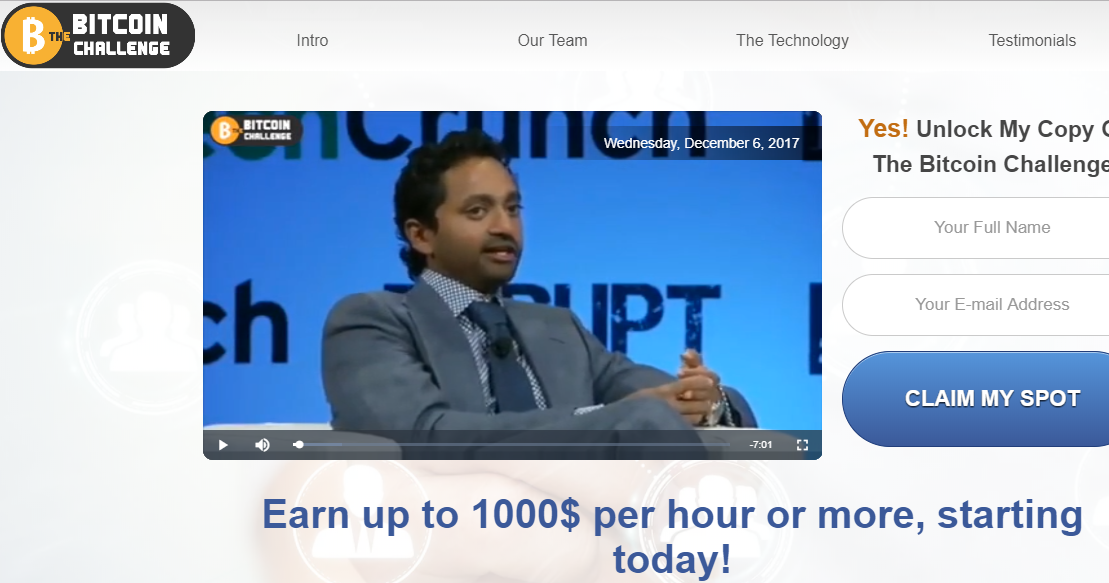 The Bitcoin Challenge is a cryptocurrency trading software that claims to make it easy for anyone to make tons of money in the cryptocurrency market. On the sales page for this program they claim that you can make up to $1,000 per hour with this thing. Claims like this are pretty bold and often times completely untrue.
But is this the real deal? Will this software make you rich with extremely little work? Or is The Bitcoin Challenge a scam like it very well seems it could be? In this review I'll be pointing out some things that you should definitely know about this place. After reading this you will have a much better opinion of what is going on here.
The Bitcoin Challenge Review
The Bitcoin Challenge is an automated cryptocurrency trading software that is based on some special algorithm that identifies trends in the market.
It tells you what to trade and when to trade. So basically what they tell you is that you don't have to do a thing. All you do is click the mouse a few times when it tells you to.
Sound legit? The answer is no… it doesn't sound legit at all and I would put it in the same category of other probable cryptocurrency trading scams like Crypto VIP Club & CryptoGain. And there are more reasons for why I think this that I will discuss below…
Some Problems I Have With This Place
First off, the spokesperson in the sales video never even says his name. You have no idea who is running the show here. The first thing I like to do when I come across a program or software like this is to look up the people behind it to see if I can trust them. In this case you can't even do this.
All they show you is the team behind it which is completely fake….
These people are fake and so are their pictures. They are just made and this makes me very suspicious because you see this all the time with scams.
Just to give you an example, here is a reverse Google image search I ran for the one guy pictured above and as you can see there are plenty of other sites using this exact same image…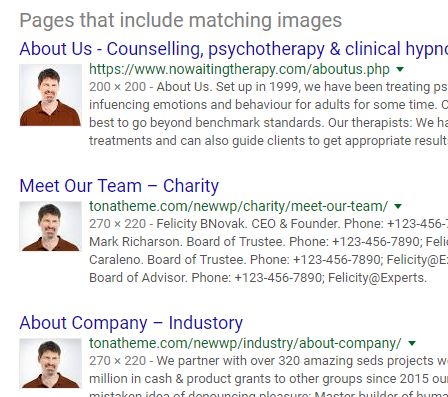 What Exchange Does This Trade On?
Another big problem that I have with this is they don't tell you anything about what exchange platform this software is trading on.
I actually trade cryptocurrencies a bit myself so I know a thing or two about how this works. You see there are different cryptocurrency exchanges out there like Bittrex, Poloniex, etc where you can trade back and forth between all kinds of different cryptocurrencies.
They don't tell you what one they are trading on… This is pretty serious in my opinion and honestly doesn't make any sense because you would have to first create an account on the actual exchange and then integrate the The Bitcoin Challenge software with it.
This Software Just Won't Work Out
You know the saying if something sounds too good to be true then it probably is? Well I think this saying fits perfectly here because I really can't see how this could possibly be true.
I mean I don't doubt that the software can identify trends in the crypo market, I actually use software myself that does this and alerts me of possible trades. However…. I still need to use my brain and take a look at the market charts before I trade.
A simple piece of software can alert you to fluctuations that you can take advantage of but it won't give you the whole picture. There are "pump and dump" cryptocurrency manipulations going on all the time and they make you think that you can make a lot of money but its a just a way to sucker people into buying/selling. Big players are able to manipulate the markets and software won't be able to tell you things like this.
Conclusion on The Bitcoin Challenge
While I have no concrete proof that this is a scam because I haven't actually tried it out, I will say that it is very characteristic of many of the scams I have looked into and reviewed. They promote it with bold unbacked claims, they lie to you about the people behind it, there is no proof of it actually working other than fake testimonials (yes they are fake too by the way), etc…..
If you want to buy into this go for it but I sure as heck am not. Sure they let you use the software for free but of course you have to fund your account to be able to trade, which is where they will get you.
When it comes to making money online there are a lot more scams out there than legit opportunities that I can recommend. However…. gun to my head, what is the best program out there? This is it. I have been a member since 2015 and it took me from nothing at all to making a living online.
Questions or comments? Leave them below and I'll get back to you ?