So I came across this place called Tubeloom (tubeloom.com) the other day and knew right away that I had to write a review on it. The sales video I watched made some bold income claims and pretty much told you that it is an extremely easy way to leverage Youtube to make boatloads of money. But we have all heard these stories before and they usually turn out to be scams.
But anyway… you can't judge a book by its cover. There are some programs that I thought would be scams in the past that turned out to be pretty good. So is Tubeloom a scam? I had to look into this program and do a little investigating to find out. In this review I'll be going over what I found and what you need to know.
Tube loom Review
The existence of Tubeloom is based around there being what they call a secret "money well" in Youtube that you can tap into to make $300+ per day. And its claimed that this is one of the most "powerful, little known money making secrets on the planet".
The lady in the sales video that I watched, who says her name is Charlotte, claimed that with a few hours of work she can make $1,000 every day like clockwork. But is this really true?
You can form your own opinion after seeing some of these lies…
NOTE: THERE ARE SEVERAL DIFFERENT SALES PAGES FOR THIS AND SOME OF THEM HAVE DIFFERENT INFORMATION.
Don't Believe This
During the sales video the spokeswoman talks about these people that are using the system that are making tons of money. She shows pictures of them on the screen and tells you about them. The problem that I have with this is that these people are fake. She just made them up for the sake of trying to sucker people into buying TubeLoom.
I'll show you. Here is a picture of "Susan" from the video…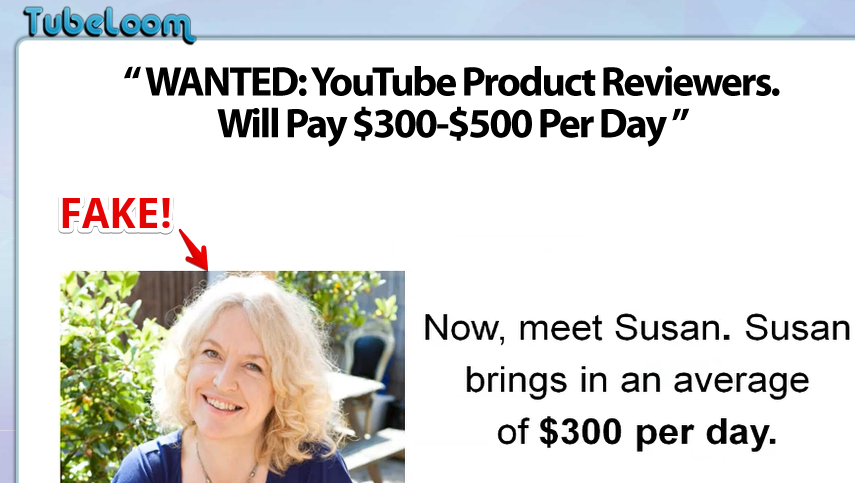 After doing a reverse image search on her picture I found that this image is being used all over the internet. The reason for this is because it is a stock image and anyone can buy the rights to use it online. As you can see below there were identical results when I searched for it… (and I know the search results are inappropriate).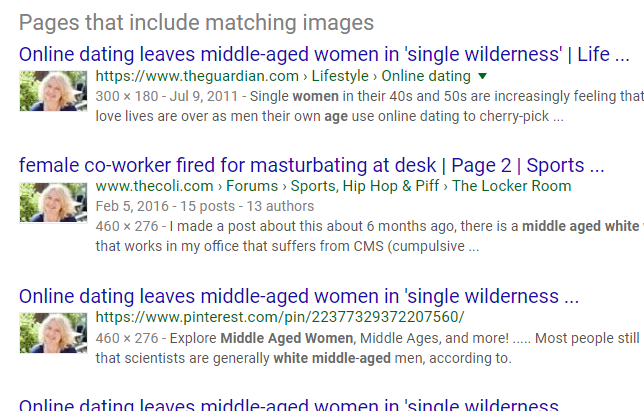 And even below the video there are testimonials from people that claim they have tried this program and made a bunch of money. These are completely fake as well. These pictures have been stolen from social media accounts and posted on this ToobLoom, I'm assuming without the people's permission.
Here is one example…

I ran a reverse image search of the picture here and found that this image was actually stolen from a Linkedin profile…. The real woman's name is not "Denise" as TubeLoom claims.
The One Thing Good About This Program
Well that title might be a bit misleading. Because the way I see it I don't think there is going to be anything good about this program. But one thing that is good that has to do with it is the platform on which it is sold.
It is sold through ClickBank, which is a digital product marketplace. ClickBank has a decent refund policy and if you do buy into this and want your money back it shouldn't be overly difficult to get it back. And believe me… if you buy in you will end up wanting your money back. However, you can't wait too long. I'm not sure how long the refund policy lasts but its not forever.
ClickBank used to be better about screening programs and making sure that scams aren't being sold on their platform but it seems that there are still some that get past the guards.
Conclusion on TubeLoom – Scam?
TubeLoom is without a doubt a scam in my opinion. I haven't actually purchased the product so I can't say that with 100% certainty, but I can say that with 99% certainty. It has all the common characteristics of a scam…. easy money, little work, massive discount to get started, etc.
I have reviewed hundreds and hundreds of scams over the years (recently exposed The Auto Money System & 7 Figure Profit Code) and this I know its hard to trust people online but you are just going to have to trust me when I say its a scam. I am very familiar with how you can make money one Youtube. There is a lot of money to be made on Youtube, but there are no ways that fit the description of a "hidden money well" that requires extremely little work and is as easy as Tubeloom makes it seem.
The bottom line is that there is no super easy way to make money online. I have been working online since 2015 and this is the realization I have come to. If you want to make good money online then you have to put in the work and effort.. And of course you need a legitimate program, not a scam like this one.
If you are looking for a legitimate and affordable way to make money online then it gets no better than this program here. I joined in 2015 when I just started out. I was a complete beginner at the time and now I make a living online, which goes to show that it actually works.
Its a good, honest program that provides the tools and training without all the BS and hype.
==> Learn more about this program here
Questions, comments, concerns? Leave them below and I'll try to get back to you soon ?