Ultimate Retirement Breakthrough it is presented as a way to make money online by Chris and Susan. But what is it really and is this program worth your time and money? There are so many scams out there online nowadays that it can be hard to differentiate what is legitimate and what is not. Is Ultimate Retirement Breakthrough a scam they should be avoiding or is this the real deal?
In this review I'll be breaking down the program for you and telling you what you need to know. I would strongly suggest reading over my review here before moving forward and buying in or not. What do I say this? Well because some of the information given is pretty misleading and if you buy in after reading this alone you are likely going to be disappointed, at least somewhat.
Ultimate Retirement Breakthrough Review
Okay, so Ultimate Retirement Breakthrough was created by Chris and Susan Beesley like I said, but what is it really?
It is presented as an opportunity to make good money and be able to retire with enough wealth to go around traveling, living a luxurious life, and really just enjoying the golden years. Or at least that's how they portray this opportunity. There are probably multiple different sales pages for this program but the one I came across was filled with Chris and Susan traveling the world on vacations all over the place.
As for the program itself, they claim that you can earn massive commissions of up to $10,000 per sale with it and that is "done for you".
They claim to both the management consultants by profession that used to work 10 to 12 hour days, but of course that all changed when they started using this system.
But What Is Ultimate Retirement Breakthrough Really?
Ultimate Retirement Breakthrough really is just a sales funnel to get people to buy into another program called MOBE, or My Online Business Empire.  MOBE is a high ticket digital marketing training program that teaches people to make money online. Members of MOBE are provided with done for you websites and marketing funnels to promote MOBE to other people.
So basically this is one of those programs that people buy into to make money online and then make money online by getting other people to buy into the same program.
MOBE is an all-inclusive type of deal. They provide websites, training, and everything you really need to make money online. It is possible to apply what they give you to any online business but the main focus is on getting members to promote the system. And because they provide you with done for you websites and sales funnels for promoting the system, most members take this path.
Putting This Into Perspective
So where does Ultimate Retirement Breakthrough fit into all of this?
Well as I said, this is just a sales funnel to get people to buy into MOBE. You see Chris and Susan are members of MOBE and are they doing exactly what the training has taught them to do which is recruit in other members. When you buy into the program through their website they earn commissions.
This sort of thing is nothing new to me. MOBE has been around for some time and I have reviewed many different sales funnels that have been created by members trying to recruit other members in. Some recent ones I have reviewed include High Ticket Wealth System and My Home Business Mentors.
Misleading Information You Should Be Aware Of
One thing that I think it is important to do in this review is go over some of the misleading information that is given out with the purpose of suckering people to buy in. There is a law I could you ever hear, but I'm just going to cover a few things.
1) This Is NOT Completely Done For You
First let me say this… Assistant is NOT a "completely "done for you" system" as they tell you this. While they do provide done for you components of the system, such as sales funnels and email templates, there is work to be done. If you think you're just going to buy into the system, sit back and earn money, you are sadly mistaken. All of the actual promotion, going out and advertising the system and capturing leads, this is all work that you have to do.
2) This is Is NOT a "small investment"
They lead you to believe that a small investment is going to give you the ability to earn $1250, $3300, and even the $5500 or more in commissions over and over again. However, this is far from the truth. You will have to spend much more money than what you initially have to spend in order to make big commissions like this. But I will get into the real cost of this all soon, so just hold tight.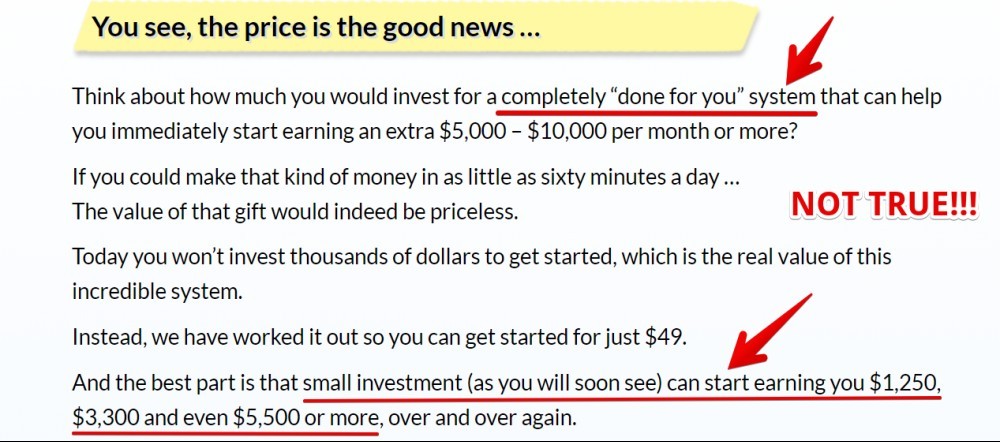 3) This Is NOT Time Sensitive
They tell you that you pretty much have to buy in right away because they are only accepting a limited number of people into their program, but this is just a marketing tactic that is no truth to it. They are just trying to get you to buy in as soon as possible without second-guessing your decision in the doing additional research.
As I said, MOBE has been around for quite some time and pay her definitely not shutting the doors to anyone. It will take all the money they can get and so will Chris and Susan from recruiting people in through their sales funnel.

The Real Cost of This
I mentioned that you will have to spend much more money than the initial price to actually make good money with MOBE… But what do I mean by this?
Well, MOBE has many different courses, or memberships, within the program. The $49 program that is 21 steps long that you will be buying in is just the beginning. This is basically an introductory course but you will not be able to make much money with it alone.
They tell you that you will be able to make over $10,000 in commissions per sale and you now know that you will be making money by selling MOBE to other people, so it makes sense that in order to make over $10,000 in commissions, you will have to sell a product of MOBE that costs over $10,000.
MOBE is called a high ticket opportunity for a reason. The products within it are extremely expensive but when you resell them you can earn high commissions. Below are the prices of the core products within the program. These are the products you're going to pretty much have to buy if you want to earn large commissions.

The catch to this all is that in order to make money promoting any of their products you first have to buy them yourself.
In a Nutshell
If you are new to this all then my review here might be getting a little bit confusing. But in a nutshell the program works like this:
Ultimate Retirement Breakthrough is a sales funnel for MOBE that was created by Chris and Susan. They are members of MOBE and are making money by recruiting other in, which is what the training at MOBE pushes members to do.
When you buy in at $49 you will be provided with the basic introductory course, which does provide good information in definitely does have value, but it does not give you what you need to be able to make large commissions. In order to earn large commissions you will have to buy the more expensive products that MOBE sells, which cost in the thousands of dollars range.
Than what you will do is promote MOBE in a similar way to what Chris and Susan are doing. You will promote the introductory product which is relatively cheap to get members to join. Then after they join they will be pushed into buying the more expensive products just as you were, because of course you have to if you want to make the commissions. When they purchase these more expensive products, this is what you earn the large commissions from their purchases.
Final Thoughts – Scam or Good Opportunity?
they don't tell you that its going to be super easy and they do provide an income disclaimer
Whether or not this is a scam depends on what your definition of a scam is. Many people would call this a scam but there are others out there who think this is a great opportunity for all. Personally I lean more towards the side of people calling it a scam. While I wouldn't call it a complete scam because you can make money with it, the program does sort of scam people in the way it lures people in and pushes them into very expensive up sells, all the while getting them to go out and promote it to more people.
That said, I will say that Chris and Susan promote the opportunity in a much more legitimate way than many other promotions I have seen. They do seem to mislead readers a bit, but at least they don't tell you that is going to be super easy and they do provide an income disclosure that shows most members of MOBE make less than $700 per year. However this statistic isn't the greatest because most members also quit early on and do not that much effort.
But anyway, join if you want… It is your money and you can do with it what you wish.
Something Else You Might Be Interested In
Something else you may be interested in since you are looking to make money online is the Wealthy Affiliate program. This is the program that I got started with back in 2015 and I currently make a living working online, which goes to show that it does work.
Wealthy Affiliate is also somewhat of an all-inclusive type of deal, they provide tools and training for people to make money online and on the plus side they are WAY more affordable than MOBE. But anyways, you can click the button below to read my review and learn more.
If you have any questions please please leave them below and I will get back to you as soon as I can 🙂