VIP Voice is one of many paid survey sites out there you can be rewarded for taking free surveys online. Is this place actually worth your time though? That is the real question and that's exactly what I'm going to answer today in my review.
In this review I'll be going over how VIP Voice works, rewards, the downside to this site, complaints. And more. You are going to want to read this before actually signing up.
What Is VIP Voice?
VIP Voice is a paid survey site that is run by The NPD Group. They offer your typical online surveys, which are run from 10 to 25 minutes generally, that you get paid for in points in these points can later be used to get rewards of real value.
Now you may be wondering why they are paying you to take surveys. The reason is because they are conducting market research. You may realize that under the VIP Voice logo it says "make an impact". You take a survey your opinion along with thousands of other people's opinion are used by companies so they can improve products and services, among other things. There are many companies out there that pay money for market research like this. So VIP Voice gets paid by companies and you get paid a small amount as an incentive to take surveys in the first place.
The surveys that they offer are typical. They can be in all sorts of various topics and as I said run about 10 to 25 minutes normally. This is the okay part of this paid survey site, but there is a major downside. The downside is how redeem points for rewards.
Rewards
The rewards is where they really screw you over here at VIP Voice in my opinion. Unlike most survey sites out there where you can earn a set number of points and then redeem this points for rewards such as gift cards, PayPal payments, etc., VIP Voice doesn't work like this.
At VIP Voice there are two main options that you can do with your points. You can go to BidLand or SweepLand.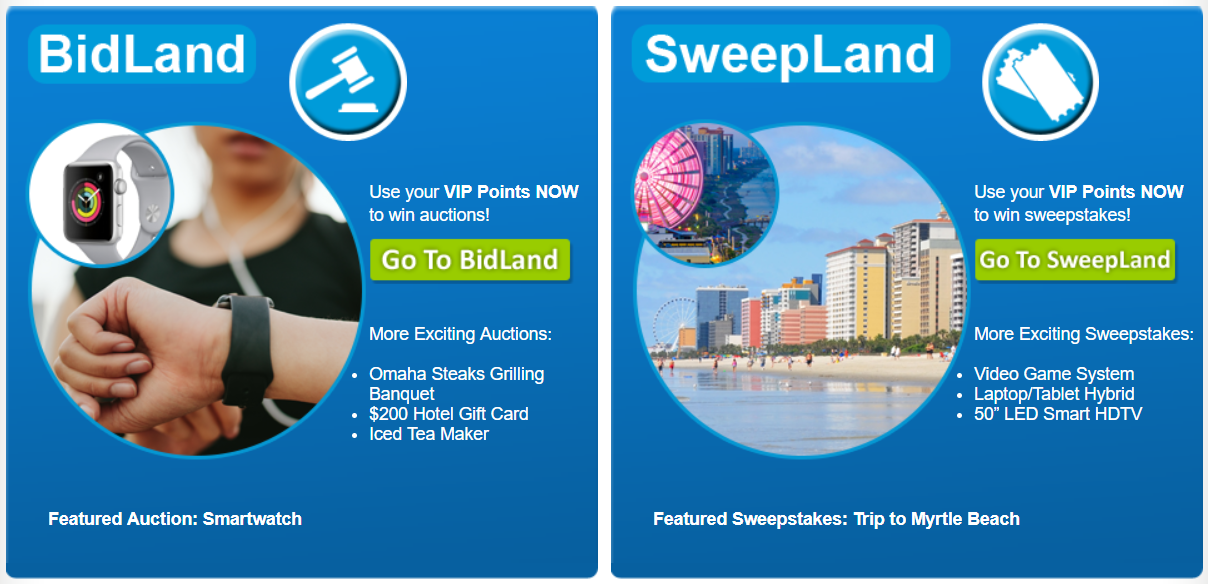 BidLand it's where you go to bed on different rewards, such as electronics, home products, and mostly gift cards. It sounds like it would be fun and all, I mean who doesn't like a bid war every now and again, but really it's a ripoff. VIP Voice those darn well what they're doing here.
With the bidding the prices of the different rewards often get inflated far beyond their real value, you're going to have to pay more than you should in points. Sure sometimes you might be able to win an auction for a rather low price but most of the time it seems that bids are higher than they should be.
VIP Voice makes users bid on their rewards for a reason, and I don't think the reason is for it to be fun. I think the reason is because they know people will be paying more for the rewards normally, which means that they will have to give out less rewards in total.
Below you can see a screenshot I took of some of the featured auctions as well as gift card auctions below that…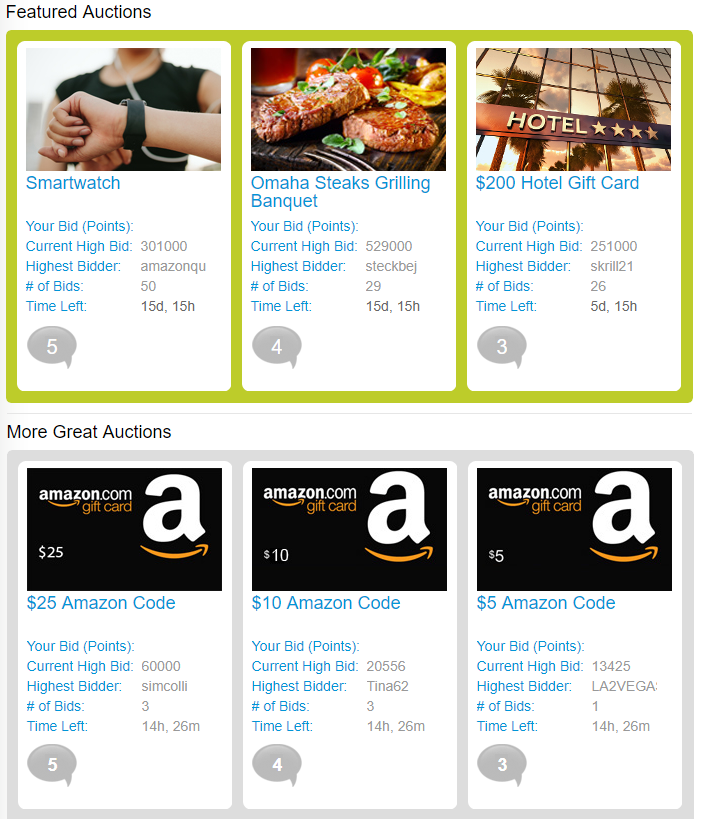 And when it comes to the SweepLand it's the same kind of deal. There are plenty of different contests for various prizes such as TVs, cash, gift cards, vacations, and more. The chances of you winning these things is very low though. I've never been a fan of sweepstakes because it's basically like the lottery and these things are nearly impossible to win sometimes, especially if you are entering in sweepstakes for one of the better prizes.
How Many Points Can You Earn Per Survey
Its all about earning points. You take surveys, you earn points, and you bid on different rewards or enter in sweepstakes contests. So how many points will you earn you are asking?
Well, this depends. At VIP Voice there are different levels, or tiers, of membership and the higher you are the more you will earn. There are five levels in in order to move up the levels you have to take more surveys. With each survey take you will earn what are called "VIP Participation Points" and "VIP Qualification Points". The participation points are points that you earn when you attempt to take a survey but are disqualified during the preliminary screening questions in the qualification points are when you actually complete a survey. I know it sounds like these two would be backwards but this is the way it is.
So at level I you will earn at least 25 VIP Participation Points and 50 VIP Qualification Points, which is hardly anything. But as you can see from the chart below you will build a move up the ladder rather quickly. By taking 20 surveys you will reach the top and be able to earn at least 200 VIP Participation Points and 550 VIP Qualification Points…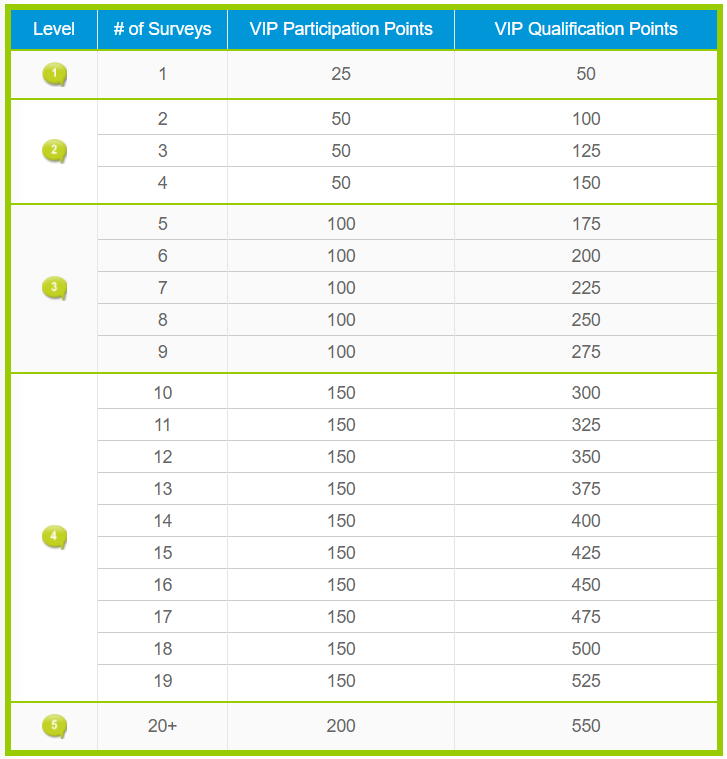 So how much are you really making? Well considering that as I'm writing this a $10 Amazon gift card has a highest bid being over 20,000 points, this means even at a level 20 you would have to take close to 40 surveys just to be able to get that $10 gift card.
Does this seem worth it to you? It sure as heck doesn't for me.
Complaints
I always go to SurveyPolice to look at other user reviews when looking into different survey sites. On this site anyone can go in review different sites in the often complain about everything they don't like.
For  VIP Voice the main complaint I came across was overwhelmingly about the reward system. People complain about exactly what I just went over… The bid system is ridiculous and drives prices of rewards up our than they should be in the sweepstakes contests are damn near impossible to win.

Conclusion on VIP Voice – Is It Worth Your Time
Will let me first answer the question of whether it's a scam or not. NO I didn't think that this place is a scam in any way. However this does not mean that I think it's working at time. I actually do not think it's even close to being worth the time you put in. Normal paid survey sites are bad enough but with the reward system that VIP Voice has in place things are even worse.
I would only recommend this site to people who are looking to waste their time and earn very little value for the time they put into it. There are better paid survey sites out there like Swagbucks and PaidViewPoint for example, but even they aren't all that great. Paid survey sites just don't pay much at all for your time in this is just the way it is.