There are a lot of people getting scammed out there by fake worksheet processor jobs and I'm hopefully going to put an end to at least some of the scamming. Scam worksheet processor jobs lure people in with the hopes of making easy money from home… and lots of it. You need to be careful when it comes to finding work in the online world. Scammers prey upon those looking to make money by sucking them into "make money online" opportunities that don't make you any money and only make the scammers rich.
In this short post I'm going to be showing a few things you need to be aware of, some examples of worksheet processor job scams, the reality of these jobs and more.
Worksheet Processor Job Misinformation
So I performed a search for "worksheet processor jobs" in Google just now and the first 3 results that came up were scams. This goes to show how cautious you really have to be. Google does a decent job at keeping scams out of results (better than Bing) but they still cannot control what comes up most of the time.
This means it is up to you to know what to look for, to stay smart and to avoid these blood sucking scams.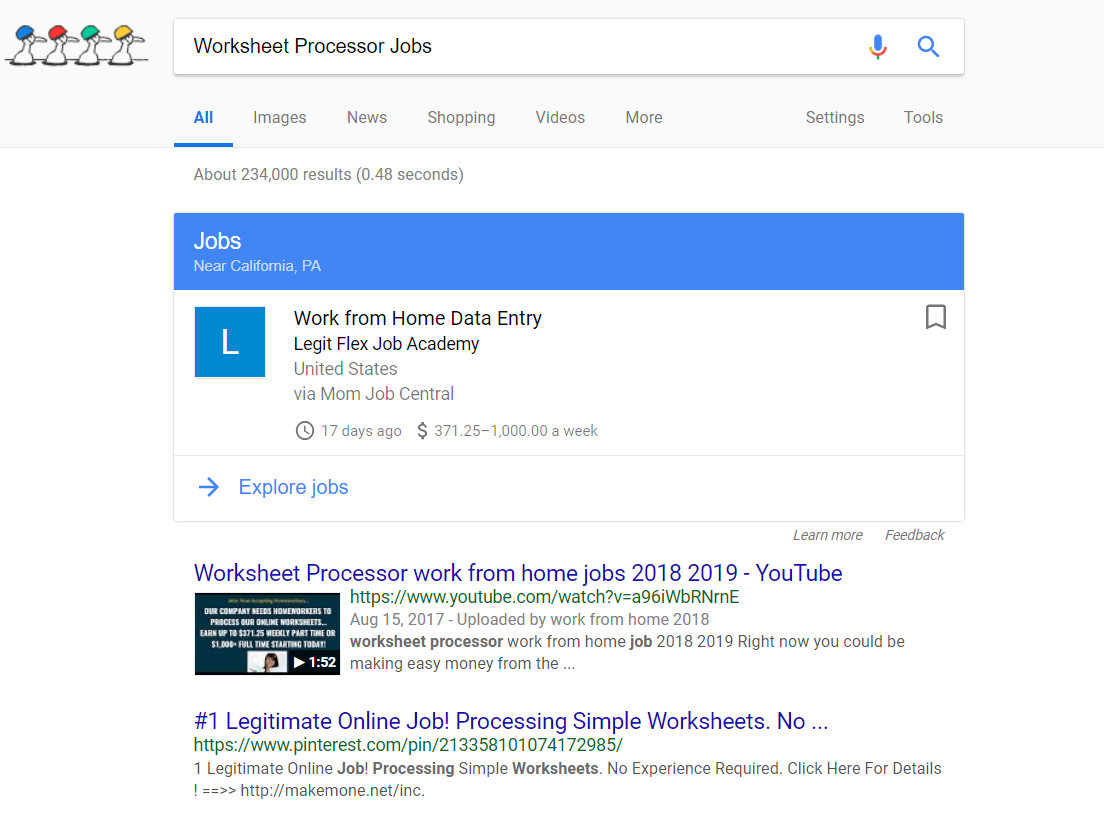 Scam Worksheet Processor Job Examples…
The very first result that came up on Google that you can see above is a work from home data entry job from "Legit Flex Job Academy". What's funny about this to me is that I actually reviewed Legit Flex Job Academy a while back.
They advertise their work from home opportunity as a job that pays good for filling out simple worksheets…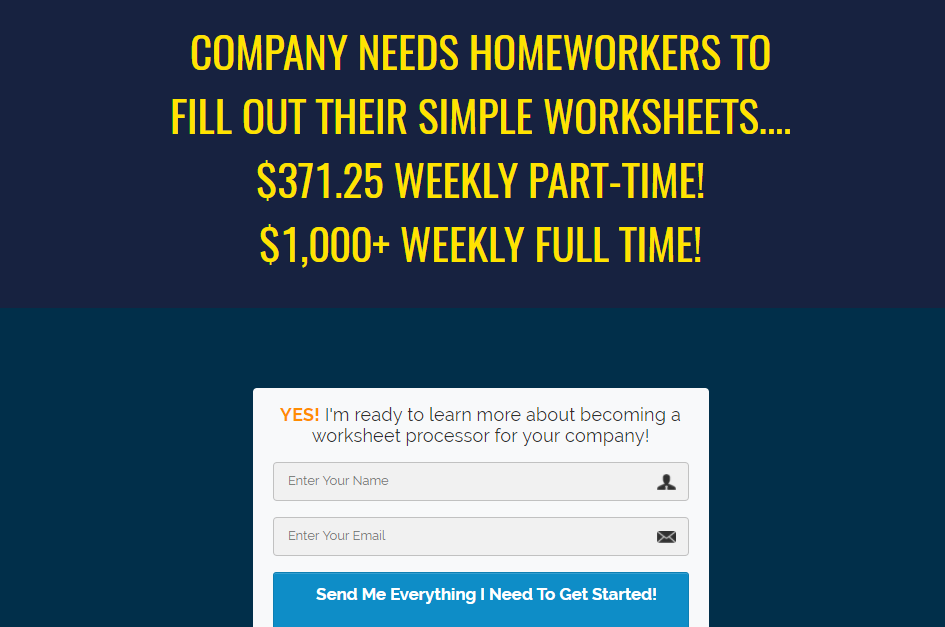 You would think that this would be a data entry job right? Filling out simple worksheets is what they tell you and in the Google results it even mentioned data entry.
However… .this place has nothing to do with data entry or filling out worksheets. When I reviewed this a while back I found out that its just some mediocre training on how to make money selling on Ebay, which is so far from what they tell you. On top of that you also have to pay for it which makes no sense if this really were a data entry job.
Another Legit Flex Job Scam
Apparently this same site is promoting another worksheet processing scam now that is called Federal Account Recovery. This scam makes you think that you are processing worksheets to help people recover lost funds. The fund recovery business is legitimate but this is another fake opportunity that will scam you.
What happens here is you supposedly will make money processing these worksheets but first you have to pay to submit them. This money is then stolen and you don't earn a dime.
Other Scams
Another worksheet processing scam I came across on Youtube. I took a screenshot of the advertisement on the video as you can see here…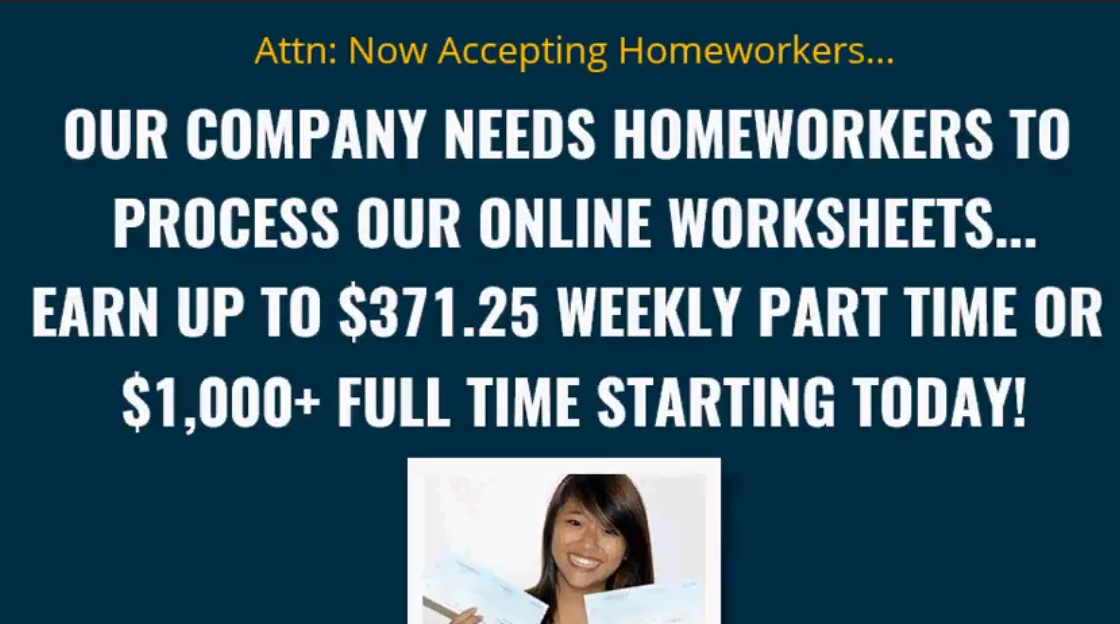 This scam claimed that people were making over $2,000 per week processing worksheets. I know it says "$1,000+" above but in the video the spokesperson claimed more than that.
Of course the information given was vary vague so there was really no way to know what the job actually was. And of course this opportunity was being promoted as an unlimited income opportunity where you could process as many worksheets as you want, which makes no sense.
Tips To Avoid Worksheet Processing Scams
Tip #1 – Avoid "Worksheet Processing"
I don't know of any legitimate opportunities that advertise their jobs as "worksheet processing". From what I see all of these opportunities are scams that are made to sound very easy to lure people in.
If you know of any legit opportunities that use this term then please let me know but as of now I don't see any.
If you go to Indeed.com and search for "worksheet processing jobs" you are not going to find any that match this search term. The closest thing you are going to find is data entry.
Tip #2 – Look Into The Company
Look into the company that you are supposedly going to be getting paid by. If its a scam opportunity then there is likely going to be a lack of information about the company behind it all. If the company website is very vague and doesn't really give you much info, I would be suspicious.
Tip #3 – Never Pay for a Job
As I mentioned above, the one worksheet processing job that Legit Flex Job Academy is promoting as I'm writing this is called Federal Account Recovery. This scam job makes you pay to process your worksheets before you ever get paid. This is how they scam you.
Legitimate jobs wouldn't make you do strange things like this so be wary if you see an opportunity that does.
Tip #4 – Read Reviews
Search around Google for reviews on a particular job before diving into it. I know Google isn't perfect and you have to be careful what you click on, but they do provide access to good information too. So search around. Look for reviews that don't seem like they have a hidden agenda.
Conclusion on Worksheet Processing Jobs
This seems to be a newer type of scam opportunity that is growing in size and scamming more and more people. As far as I know there aren't any legitimate opportunities like this. Sure there are opportunities where you will be processing worksheets but there aren't any that I know of where this is the only thing you do and they advertise as such.
All of the worksheet processing jobs that I've come across make little sense, contain very vague information that leaves you wondering, come off as a super easy way to make money online, and pretty much look like a scam from every way you look at them.
Something else you might want to take a look at is how I make money online. You can read a guide I wrote on how it all works and how others can get started Here.
Questions, comments or concerns? Leave them below in the comment section and I'll get back to you soon 🙂