Is Thrive Themes a scam that you should avoid using or can you trust this place and should you be using it?
Well the short answer is that NO, Thrive Themes is not a scam. I have actually been using Thrive Themes for a couple of years now and I'm finally getting around to writing this review. I have tested out most of what they have to offer and have a lot of experience with it. This website that you are on right now is actually running on one of the Thrive Themes.
---
Thrive Themes Review
Thrive Themes is a service that provides conversion focused WordPress themes and plug-ins. They provide a variety of different themes and plug-ins which I will be going over each of in detail. The main focus with what they provide is on optimizing conversions. It's not about getting more traffic to your website it's all about making better use of the traffic that you already get to your website.
The company was started by a guy named Shane Melaugh who works as the CEO. What's really nice to see is that Shane is very active publicly and often sends out emails, video tutorials, and keeps members updated with what is going on with Thrive Themes.
Overall, over the past couple years I have been very pleased with Thrive Themes and what they provide. There have been a few hiccups here and there but using the themes and plug-ins for my websites has really helped boost conversions and if you are someone that isn't happy with the conversions you are currently getting on your WP site then Thrive Themes might be something really worth considering.
If you want to jump ahead to any part of this review you can do so here:
---
A Look at The Products

As I said, they provide a variety of different plug-ins and themes. I'll first be going over the different plug-ins…
Plugins
Thrive Architect:
Thrive Architect is probably their "main product" if you want to call it that. And what this is, is a drag-and-drop visual editor that makes creating beautiful looking pages very easy. It can take a little while to get used to using but once you get used to it is very nice.
With the editor you can easily create buttons, columns, icons, opt in forms, styled lists, content reveal sections, and in abundance of other page elements just by dragging them anywhere on the page. What is also nice is that once you have various elements on a page you can drag them around and move their positions to wherever you want to.
They also have pre-made templates that you can use based on what type of page you are looking to create, such as a webinar page, a sales page, a homepage, etc. This is really nice because when you first start using it they're going to be so many options you won't know what to do. This will give you nice template to start with and then you can edit as you go along to make it yours.
So in the screenshot below I chose a template landing page for a video course which you are able to edit any part of, and as you can see over on the left can drag any of these elements onto your page to add it where you please.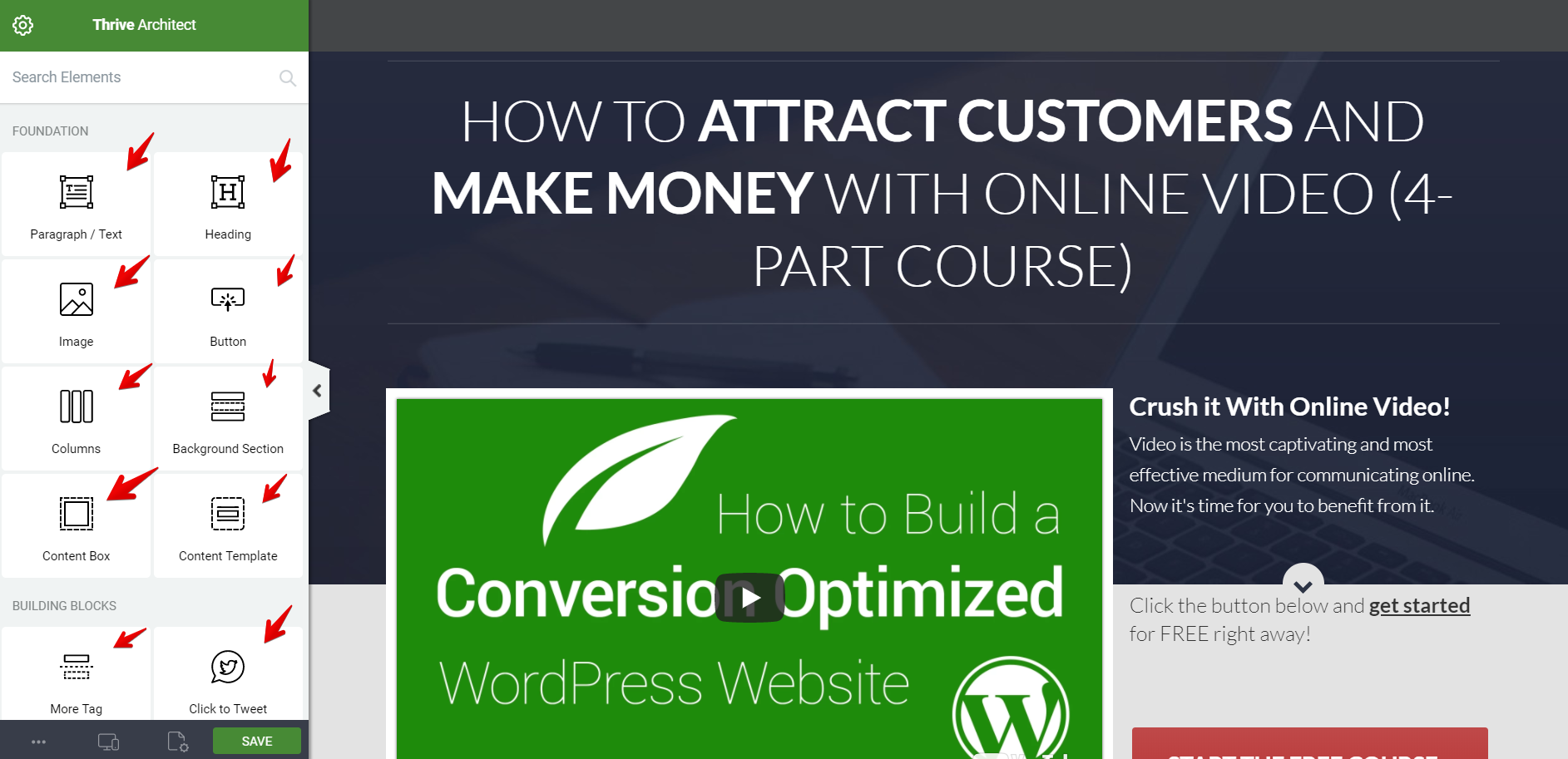 Thrive Leads:
This has probably been my biggest help when it comes to increase conversions. Thrive Leads is there a list building plug-in. What it allows you to do is create sign up forms and integrate them with different autoresponder services such as Aweber (which is what I use), GetResponse, and pretty much all the other big ones out there.
When you are creating sign-up forms you will be using the same Thrive Architect drag-and-drop editor as above. And they also provide different templates for different types of sign-up forms to make it easier on you.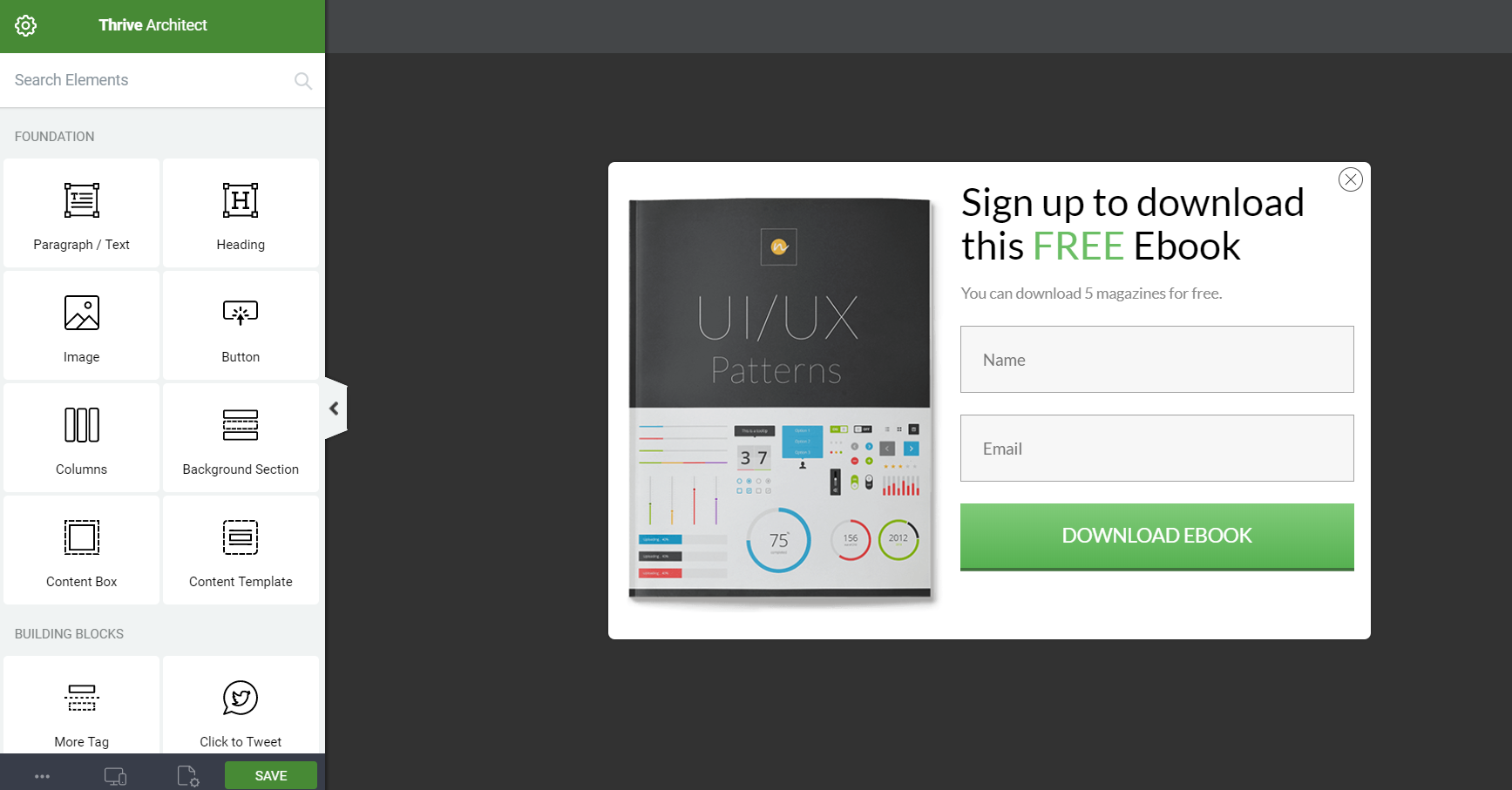 You will be able to make sign-up forms that slide into your page, pop up when the person is about to exit, you can make ribbons at the top of your page or bottom, you can insert sign-up forms anywhere inside a page and more.
If what is really awesome about Thrive Leads is that you can use different sign-up forms on different areas of your site. You can set it up so that when sign-up form will appear when someone is visiting a page within a certain category while another sign-up form will appear in a different category. This is particularly great if you have a very broad site and not a narrow niche site.
And what I have found to be very effective for increasing conversions here is the A/B testing feature. What you can do is test different optin forms against each other to see which performs best and you can set it up so that the better performing form will automatically keep running while the one with worse performance is eliminated.
Thrive Ultimatum:
This is a scarcity plug-in. What it does is provides various different types of countdown timers that are proven to boost conversions. And again when you are using this you will be using the same drag-and-drop editor to create your different countdown timers.
So if you are selling a product or maybe you are giving away a free course on something, you can add these custom countdown timers to show visitors that they better take action soon. You can set them up so that they start and end on certain times dates or you can do what is called an "evergreen campaign". Evergreen campaigns are pretty awesome because you can make it so that a countdown timer starts with every individual visitor and if they leave that page to come back at a different time the timer will pick up where it left off. I'm not exactly sure how this works, because they say that they do not use simple IP address tracking, but anyways all and knows that it works because I have used this myself plenty of times. Even if the same user goes back to your site on a different device it will still pick up where it left off.
There are many different ways you can use this Evergreen campaign feature with Ultimatum.
Thrive Optimize:
This is a plug-in that allows you to perform split testing, or A/B testing, for pages that you created with Thrive Architect. So let's say you just created a sales page and want to test it against a different sales page. You could create an entirely different sales page and test the two against each other or what you could do is easily duplicate your current sales page with the click of a button, change a few things around, and then test them against each other.
So just like how you could run the A/B tests with Thrive Leads you can use this plug-in to do it with entire pages.
Running split tests is probably one of the easiest things that anyone can do to increase conversions on their website, yet many people/businesses aren't doing it. You can read this article I found to see how incredible split testing can be. But of course you will need a decent amount of website traffic for this to be effective.
Anyways… back to the review…You will be able to test your pages against each other based on different conversion goals such as optin form submissions, page visits, or revenue generation. When you choose to test two pages against each other this plug-in will automatically distribute an even amount of traffic to both pages. You will be able to go into the background of your website and view all the statistics of how well the different pages are performing with this plug-in.
Thrive Headline Optimizer:
This Headline Optimizer plug-in performs a simple job but can have a pretty big impact on conversions. All it does is helps you optimize your page/post headlines. You use it to test out different headlines and see which one is the most effective.
Headlines may not seem like that big of a deal to you, and they never seem like much of a deal to me at first either, but they should be taken seriously. They are the first thing that your visitor will see and can have a big impact on whether or not a visitor sticks around to read what you have or leaves.
So basically what you will be doing here is creating a bunch of different variations of your headline and running them against each other to see which performs the best. You will be able to set it up so that the best-performing headline is automatically selected as the winner and becomes the official headline of your page/post.
Thrive Ovation:
Here's a plug-in that makes it easy to put testimonials on different pages/posts on your site. With this plan you're able to capture testimonials from users, manage them in the back end of your site, and even import them from social media.
Testimonials are often something that is overlooked when it comes to many sales pages but they can be pretty effective. They are a great way to show social proof and proved to readers that what they are looking at really is as good as it seems.
Thrive Clever Widgets:
Thrive Clever Widgets is a plug-in that allows you to optimize the widgets you have on your website. With this you are able to set up the widgets so that they only show on relevant pages/posts, which is similar to what I talked about with Thrive Leads where you can set it up so that certain sign-up pages appear on certain categories of your site.
So if you have a website that is about dogs, cats, and unicorns, you can set it up so that dog related widgets only appear on the dog pages of your site, cat related widgets only appear on the cat pages of your site, and unicorn related widgets only appear on the unicorn pages of your site. This plug-in is all about displaying relevant widgets on relevant pages which as you can imagine can definitely improve conversions, no matter what type of conversions you are seeking.
Thrive Quiz Builder:
This is one of the more recent additions to their list of available plug-ins. With the quiz builder you are able to build fun quizzes that lure people in and send them in different directions. You are able to set up quizzes where the answer of each question will lead to a different result.
Quizzes are proven to be an effective way to grab people's attention and get them to interact on the website. And of course besides this they are also good at directing people to pages/posts on your site that they might like based on the answers they have provided.
You will also be able to look at the statistics of these quizzes and see how many people are giving certain answers. This allows you to better get to know your visitor base so that you can provide more helpful information which in turn will lead to better conversions.
Thrive Comments:
There really isn't much to this plug-in but it is nice, much nicer than the normal comment sections on WP websites. What this does is allows you to make the comment section of your website much more engaging. Visitors will be able to share comments on social media as well as up-vote comments.
This will hopefully lead to more visitor engagement which can actually have a positive impact on your SEO.
Themes
I'm not going to go into detail on all of the different themes that they offer but I'll give you a basic overview.
As I am writing this they have 10 different themes that you can choose from. They all differ a bit with how they look and their focus but provide much of the same features. As you can see below here are three different theme examples, two of them having more of a magazine type look while the one on the bottom being more of a blog type theme…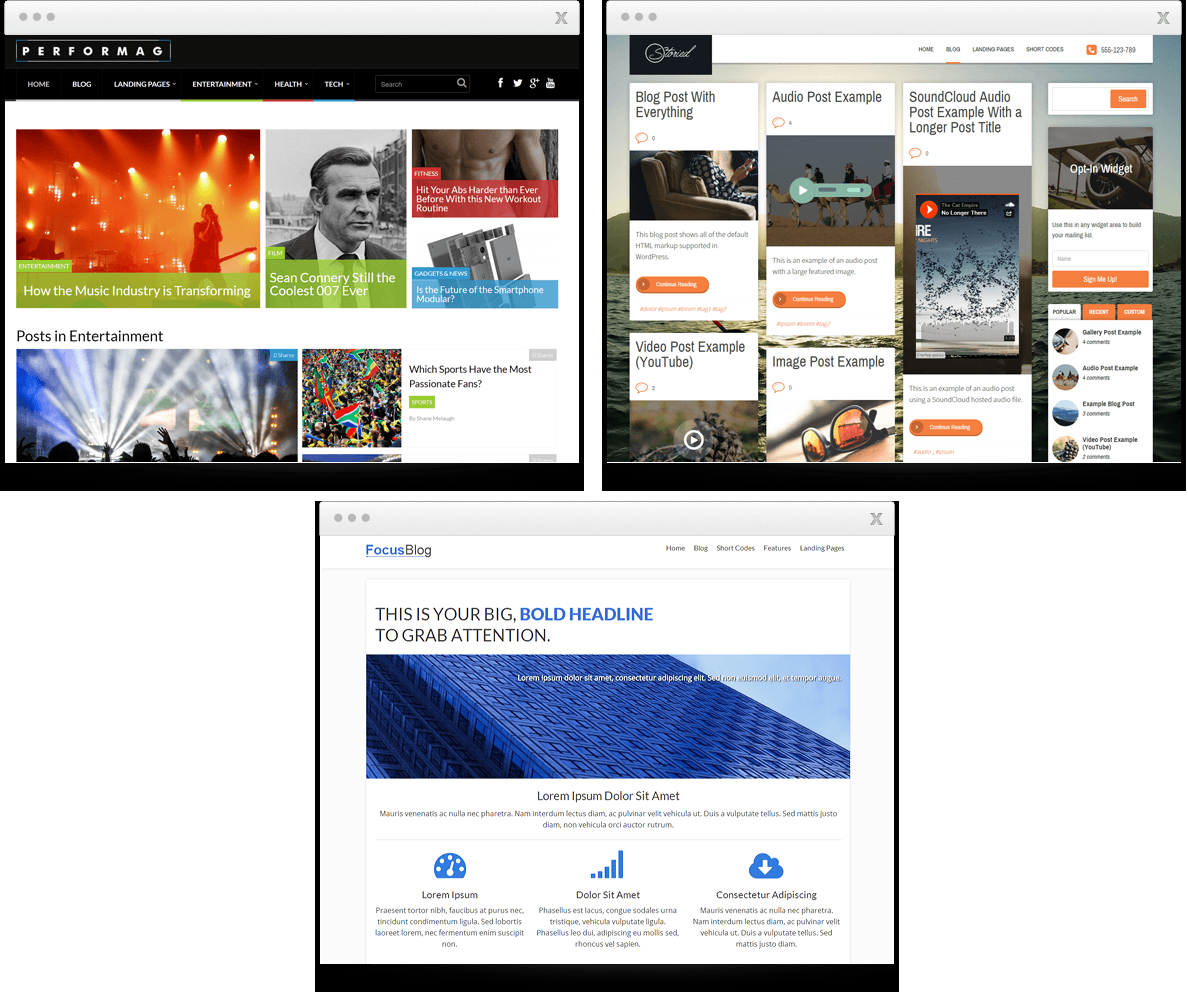 Some of the benefits to having a Thrive Theme rather than many of the other WP themes out there include…
Fast loading
Have landing page templates
Fully mobile responsive
Build in features so that you don't need as many plugins (for ex: social media sharing buttons)
Training & support (tutorials, etc)
Personally I use both the themes and the plug-ins provided by Thrive Themes, but you do not have to do this. You can still use all of the thrive plug-ins with other WP themes if you would want to.
---
Training at Thrive University
Thrive Themes also has what they call Thrive University where they provide training on various aspects of online business. Much of the training they provide uses the Thrive Themes products, but they also provide training on things like creating E courses to build your email list, using the art of persuasion to get people to opt in, launching products successfully, etc.
Most of the training that is provided is free for everyone but some of it is exclusive for paying members. The training is broken down into different lessons and most of it contains video tutorials to make into simple as possible. As an example of some of the training here is a screenshot I took of three different courses they are offering right now… And this is three of many.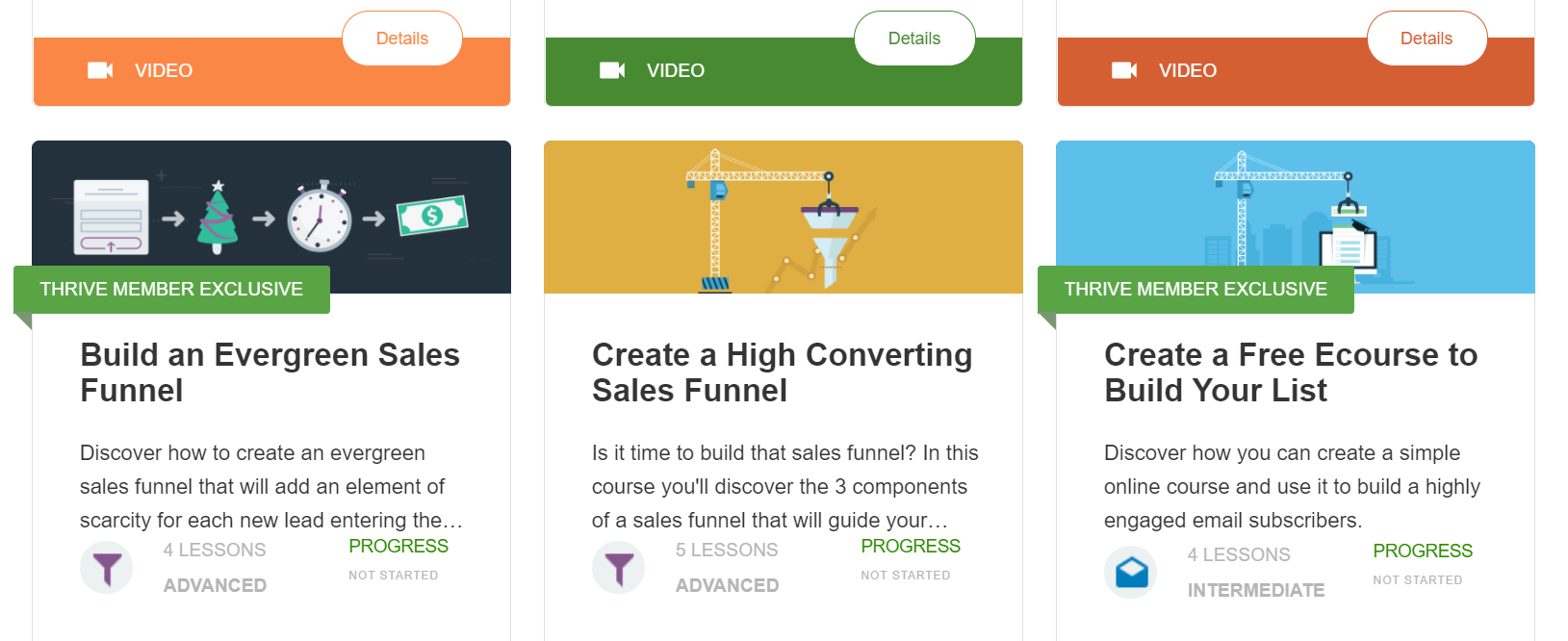 ---
Is The Support Any Good?
Okay so what about the support… Is it any good? If you have been the victim of bad support in the past then you know how big of a roadblock this can be. If you have little to no technical experience like I do, then having good support is a must.
Luckily I can say based on my own experience that Thrive Themes provides excellent support to members and to people who pay a one time fee to purchase their various products, which I will go more over in a bit.
They have a support forum that you are able to go into where you can ask any question on any of the different products, or just as a general question. I have used their support service many times over the past couple years and have never had a problem with it. If you are like me you are sure to run into a few problems here and there and having support that you know is able to help you out is comforting.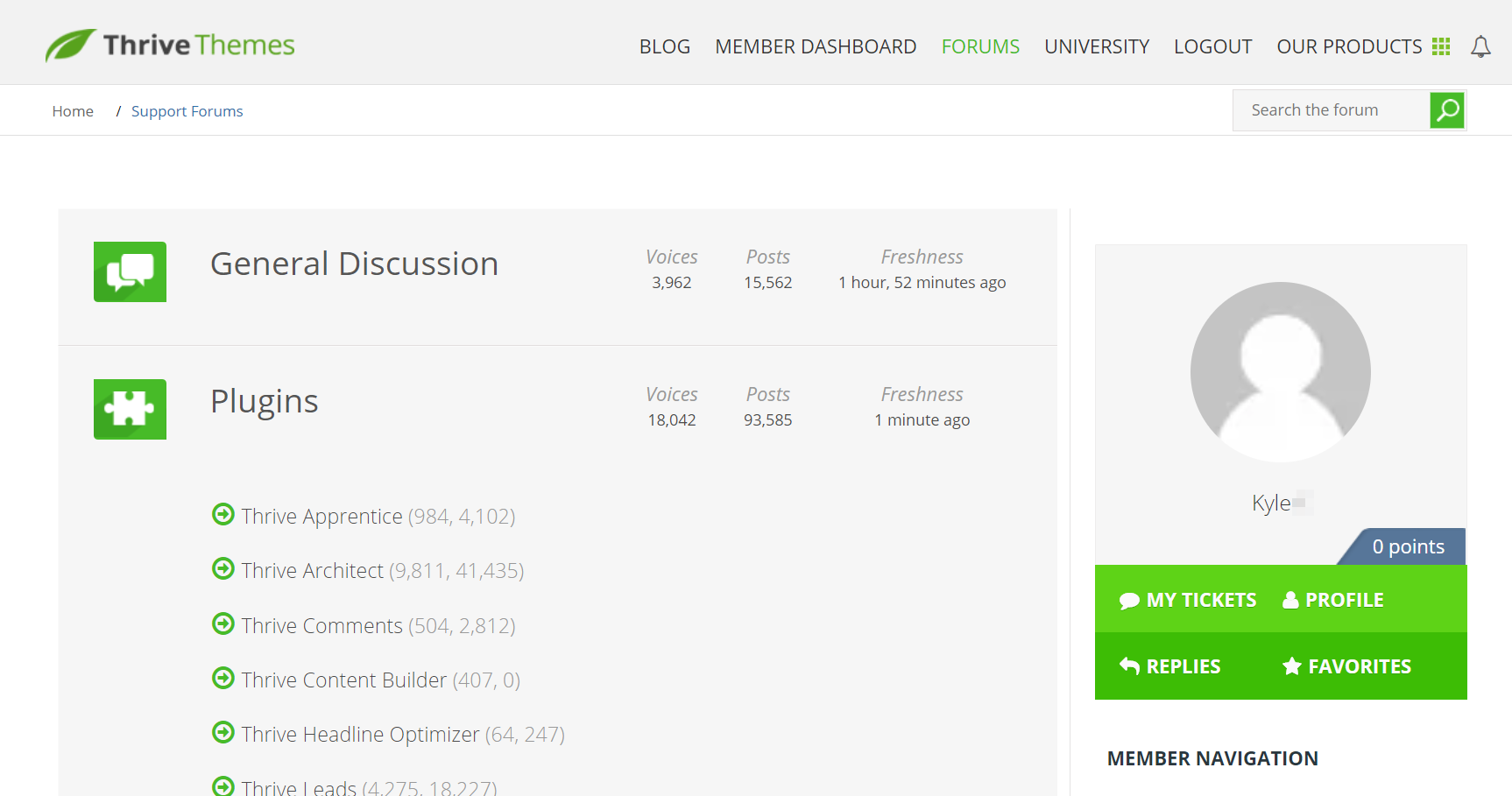 And what is really nice is that you can actually have the support staff go into your website and fix problems for you if you would like. What you would do in this situation is enter temporary login details in a safe form inside the support area, explain the problem in as much detail as possible, and someone on the support staff will do the fixing.
Of course you do not have to do this but it is nice if you are in a rush or just do not feel like dealing with whatever problem it is.
---
What Are The Prices Looking Like?
And now onto the prices, which everyone needs to know before even thinking about buying.
The price will vary a lot depending on what you want to buy. What you can do is purchase any of the plug-ins or themes individually or you can purchase a yearly membership which will give you access to everything.
If you purchase different plug-ins or themes individually the prices will vary depending on the product. So let's take Thrive Architect for example. There are three different purchase options if you want to buy this plug-in individually. These include…
For 1 site = $67
For 5 sites = $97
For 15 sites = $147
And if you want to purchase a Thrive Membership then you will pay what equals out to $19 per month, but you will pay annually which will be $228. This will give you unlimited use of all their plug-ins and themes on up to 25 different websites, which is probably plenty for most people reading this. But then they also have their Agency Membership which equals out to $49 per month and gives you use to all their plug-ins and themes on up to 50 of your own websites and your clients websites.
I personally have the Thrive Membership for $19 per month because I have no need for anything more.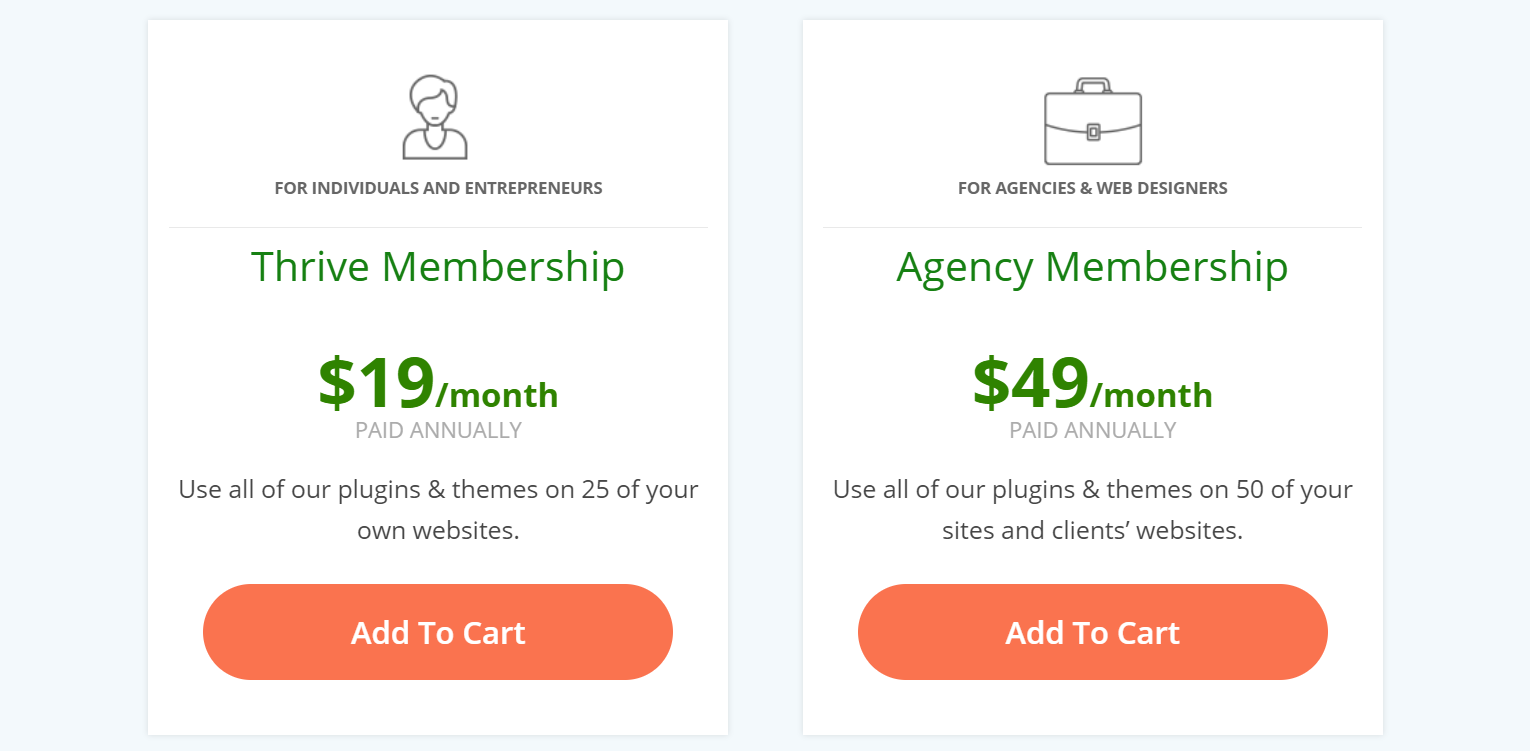 Also, when you are a member you will get unlimited support. When you purchase one of their plug-ins or themes with a one time payment you will only get access to one year of support, which is another big benefit of being a member.
---
Conclusion on Thrive Themes – Is It Worth The Price?
There is no doubt that Thrive Themes works as intended. The whole purpose of all of their products is to increase conversions and they do a very good job at this. If you are using a free WP theme or something that is very basic without any plug-ins that are focused on optimization then I can pretty much guarantee that you will see a big increase in conversions just by using Thrive Themes products alone. Like I said, I've been a member for a couple years now and there has never been a time where I have even thought about canceling my membership.
Not only do all of their products perform great, but they are always coming out with new plug-ins/themes and keeping them updated.
The Thrive Membership is definitely going to give you the most bang for your buck but this gives you access to everything so if you have no interest in using much of the products then it might not be a good choice for you. If you are looking to start out small and just test one thing out then I would go with Thrive Architect, which is sort of their main product and is the drag-and-drop visual editor. Thrive Leads would definitely be my second choice and I have seen some pretty good leaps in conversions using this plug-in.
[thrive_link color='blue' link='https://thrivethemes.com/affiliates/ref.php?id=6904′ target='_self' size='medium' align='aligncenter']Get Thrive Themes Here[/thrive_link]
Here is a great tutorial video that I found where Shane (CEO of Thrive Themes) goes over how to build page with Thrive Architect from scratch. Its around 25 minutes long but you can just take a quick look to see for yourself how it all works…