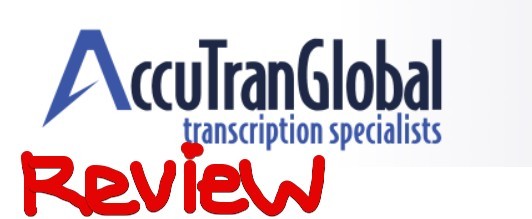 If you are looking for a work from home job in transcription then Accutran Global is one of the choices that you have. However, there are many options for aspiring transcriptionists and you are by no means limited to just a few. So is Accutran Global a good choice or not?
In this review I'll be going over what Accutran Global jobs are like. I'll cover things such as how the job works, how much you can make, pay bonuses, payment method, what you need to for the job, complaints and more.
Accutran Global Job Review
Accutran Global is a transcription service provider that was founded back in 2002. They have been around for a while and have a good reputation, which is a very good sign.
They employ transcriptionists from both the US and Canada, which makes sense since they are a Canadian company. As far as I know they also allow transcriptionists to work for them outside of the US or Canada as long as they half a US or Canadian bank account.
Overall Accutran Global jobs are good… People seem to like them. However, if you are a beginner just looking to get started in transcription then this might not be the best choice as I will go over.
How The Job Works
Since you are reading this review I am guessing that you already know how transcription jobs work. But if you don't then pretty much all you need to know is that transcription consists of listening to audio files and typing what you hear into a computer, which is what you call transcribing.
As a transcriptionist for Accutran Global you will be alerted of when there are files available that you can transcribe. You will then have a time frame to complete the transcription which most people won't have any problem with.
While many transcription companies allow their transcriptionists to work at their own leisure, whenever they want, this place is a bit different. On their website they state that there is a work schedule from 4 AM to 2 PM and from 4:30 PM to 7:30 PM which is when you have to be available at some point. The amount of files available for transcribing during these periods peaks during certain times so there is not always a consistent amount of workflow.
Most people applying here are probably doing so for general transcription, but if you have competency with accents, legal terminology, or medical terminology then they may have you work on special projects in which you will be able to make more than normal.
How Much Can You Make?
The big question that everyone wants answered… How much money can you make?
Beginners will get paid per word or per audio minute. The amount will range between $0.004 per word to $0.0055 per word. For projects with longer turnaround times you will be paid $0.40 per audio minute.
Now you may be thinking that this is incredibly low pay but if you compare it to some other recognized transcription companies, such as Quicktate, it is right in the ballpark. Quicktate for example will pay you anywhere between$0.0025 and $0.005 per word typed.
Bonuses
One of the nice things about this place is that they do give pay bonuses if you are transcribing poor quality audio, audio that has speakers with heavy accents, audio recordings with lots of technical terminology, and so on. From what I have read the bonuses are 20%, which is a nice little pay increase.
Getting Paid
You Will get paid on the 15th of each month from the work done the previous month. Payments will be made via direct deposit into US or Canadian bank accounts, which of course is why mention you need a US or Canadian bank account in the beginning.
What You Need For The Job
To get a job here there is no experience required, however it is preferred and if you do have experience it'll be much easier to get a job. The reason is because during the application process you will have to take their audio/questionnaire tests and pass them. Experience or not, if you pass them you make the cut.
On their website they also list that you must type at least 70 words per minute and you will take a transcription test to prove that you can do this. This is a good thing because if they were to let slower typers try to work here they would just end up wasting their time because it would take them much too long for it to be worth it.
From what I have heard other sites like Scribie, Transcribeme and Quicktate are easier to get jobs with, making them good for gaining experience before moving on to places like this.
Equipment
As far as equipment goes, you will need a reliable PC (less than 4 years old), and Internet, and a foot pedal is recommended.
On your computer you will be given transcription software to download.
Foot pedals are not required but they are recommended in will definitely make the job easier. What they do is allow you to pause, rewind, and fast-forward audio with your foot so that you can keep your hands typing and put your feet to good use. They definitely make a big difference and if you are serious about a job in transcription then you're going to want to purchase one sooner rather than later.
Room to Grow
Some transcription jobs offer you no room to grow. Once you get the job you are stuck making the same pay and there is just no room for improvement. Fortunately at Accutran Global that is not the case.
Once you show your ability as a transcriber they may offer you positions in…
Scoping
Review
Editing
Proofreading
I'm not going to get into all these different positions but basically they are all part of "quality assurance" to make sure the transcribed audio is done accurately. These jobs include tasks such as reading over and checking for errors among many other things.
Complaints
Limited Opportunity
When you work here there is no guarantee to how much you will be able to work. You are limited to when you are able to work and even within those time frames you don't really know what to expect. Overall this job opportunity is definitely best looked at as a way to make supplemental income. It is nothing that you should be trying to rely on is a substantial means of income, at least not at first.
What you could do is get the job and test out the waters for yourself. See how much work there is available when you are able to work and go from there.
Not-So-Flexible Schedule
This is a big downside to this company. They do not offer the flexibility that many of the other transcription companies do. You have strict hours that you have to be able to work within and this kind of defeats the purpose of getting a transcription job in the first place for many people, since a lot of people are looking into this as a flexible way to work from home around their current schedule.
Low Pay
Of course there is always the complaint about low pay, but this is in a complaint for everyone. The amount that you will make per hour largely depends on how fast you can get the work done. If you are a slow typer or you just aren't good at transcribing audio files for one way or another, then you might not end up making very much for the time you put in.
However, those who are fast at typing and to have a little bit of experience should easily be able to make over $10/hr when they are working.
Might Not Be a Good Start For Beginners
This isn't so much of a complaint but I am including in this section because I'm sure some beginners will complain about it being too difficult to get a job here.
If you are a newbie looking to just get started then you might find it rather difficult passing the tests that are required to become a transcriber here. This is why, as I mentioned above, you might want to look into places like Transcribeme, Scribie, and Quicktate to get started and gain some experience.
Final Thoughts – Good Opportunity?
There is nothing wrong with working for Accutran Global. They are a legitimate transcription company and for many people they are exactly what they were looking for in a job. If you are looking for a transcription job that allows you to work from home and you don't mind working the hours listed, and of course you think you can pass the tests that they will give you, then go for it.
Transcription is a big industry and there is some great opportunity out there. Many people work as transcriptionists full time and really like it.
PS: – If you want some guidance in getting started with transcription then I highly recommend checking out this free 7 day eCourse. In this course you will learn how to do the work and how to get hired for good transcription position so that you can get paid the amount you deserve.
Please feel free to leave any questions, comments, or concerns below and I'll get back to you as soon as I can 🙂