American Online Jobs poses as a online job board that you can make $700 to $1600 weekly with. But is this really true? The answer is no! This place is not a legitimate donline job site. It is a scam.
There seems to be more and more of these fake job boards popping up online so you have to be careful what you get involved with. In this review I will be going over why this place is a scam and how it will be making money off of you.
*Update: Please read until the end. I recently updated this review after coming across some additional information.
American Online Jobs Review
When you first landed on the website, AmericanOnlineJobs.com, you are presented with a list of prescreening questions that you have to fill out to make sure you qualify. After filling those out you will be able to "apply". At this point you have no idea what you are really applying to. All you know is that it is some online job in that you are required to have a computer or smart phone with Internet access.
After Applying…
Step 1: Create an Account With Survey Club
After applying you will be directed to create an account with Survey Club. What is Survey Club? It is a paid survey website where you can make small amounts of money online and also get paid to refer others to create accounts. The purpose of you signing up for this site seems to be so that you can make money referring others.
It's kind of strange that they make it seem like you are "applying" to become a member here. This survey site will take all the members they can get. You do not have to apply… You just go there and create your free account. Anyone can do it.
Step 2: Sign Up For Online Flex Job
The second step of the process is to apply for work at Online Flex Job…
This place claims to provide flexible "processing jobs" for big companies all over the world. Apparently all you do is create a processing profile, pick your jobs, and start working. There is really no information given on what exactly these processing jobs are. At this point you have no idea what type of information or data you will be processing. This is very strange and definitely a red flag.
What is also a red flag is that there have been a number of worksheet processing scams going around the Internet lately and this seems to resemble one at a first glance.

What is also very strange is that this place claims to work with Fortune 500 companies and says that they help over 840,000 employees get "flex jobs" on a yearly basis… However there is no real information on this company or proof of any of it. You would think that a company that does this much business would be fairly well known and recognized. But this place is an absolute ghost.
Another major red flag.
And when you go to apply for the job it is also worth pointing out that the testimonial videos alongside the page seems to be completely fake. I think just about anyone can pick up on this.
Fake testimonials are something that I see all the time when looking into potential scams. If these testimonial videos are likely made by paid actors that people can hire online on sites like Fiverr.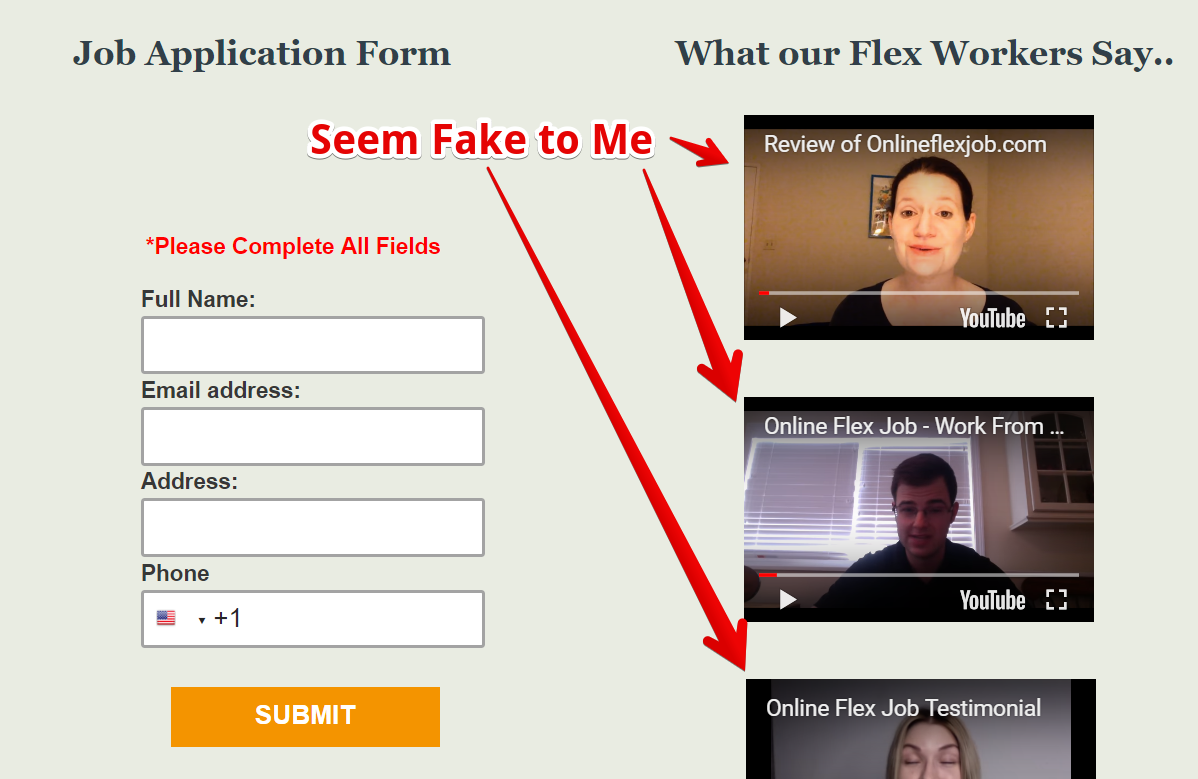 Okay… At this point everything about Online Flex Job seems like a scam. But if it is a scam what is the purpose? How do they plan on scamming people? They have to try to take your money somehow right?
While after you submit your application you will find out.
After submitting your application they tell you that you will need to download antivirus software because you will be handling sensitive data for customers. This is where they scam you. They claim that they will reimburse you for this antivirus software inside the training center but this makes absolutely no sense. Why not just make it free in the first place rather than having to go through the extra steps of reimbursement?
Step 3
In the last step of the process is to create your account in the members area and get access to the training. I tried doing this it was supposed to receive an email but still have not gone yet, so I just gave up on it… It's a scam anyhow but I was just curious on what the members area will look like.
The claim that you will get access to training as well as a website. The purpose is you to learn how do promote your website and get others to join these programs so that you can make money off them.
Its All Fake
This whole place was set up to scam people. The creators are making money when they get people to sign up for these paid survey sites and also when they get people to buy into that antivirus software. That is the purpose of the site… They do not care if you make money or not. If they did they would not provide such misleading and deceptive information to sucker you into applying.
The Online Flex Jobs part of this scam reminds me very much of Legit Flex Job, which is one that I reviewed a while back. They both claim to provide "flex jobs" and both require you to download some antivirus software before you can move forward.
Update: 
It appears that I jumped the gun a bit too fast with this review. I have learned that American Online Jobs does provide some training to help people make money online. The focus of the training is on "referral marketing" which is when you refer people to some offer and get paid for doing so. Basically what American Online Jobs is teaching is how to make money referring other people to paid survey sites, just as they did in the beginning, which I already went over.
The method of advertising that you are taught is free advertising on Facebook, which consists of posting ads in Facebook groups. There is some good training/tips provided on how to do this without getting banned, which will happen if you just go about it carelessly.
Conclusion on American Online Jobs – Avoid
American Online Jobs presents their opportunity as a good way to make $700-$1600 per week online, but being able to make this much from the referral marketing that is taught is far from being realistic anytime in the near future. Furthermore… I still don't get why the heck they have you download the antivirus software and I see this as a scam. There is absolutely no need for anyone to go out and download this software.
You should be able to make a bit of money by referring others to join the paid survey websites such as Survey Club, however the overall message being given out by this program is very misleading. This is not a job opportunity and do not expect to make anywhere even close to $00-$1600 per week.