If you are looking to work at home and think a virtual call center position might be something you like then you may want to consider Arise work at home jobs. Its always important though to do a little extra research before diving in. You need to know if its worth your time, if its a scam, what the job could potentially be like, etc..
In this review I'll be going over what jobs at Arise are like, how it all works, what other people think, complaints and more.
Arise Review
Arise is a platform that connects large companies, such as Fortune 500 companies, that are in need of customer service to work at home customer service providers. When I say "Arise work at home jobs" I'm not actually saying that the jobs are provided by Arise. Arise just provides the platform and allows people to connect.
Overall what I see with Arise is good. They provide a good service and there are many happy work-from-home customer service providers that are happy with it.
The opportunity that Arise brings to the table is something that a lot of people are looking for. As a virtual call center rep you have the ability to work whenever you want to some extent and of course you get to do all of that from home. When I say "to some extent" you will see what I mean soon.
The 2 Types of Work From Home Paths
Well the 2 paths that I'm referring to here both lead to virtual call center jobs but what they entail differs.
If you are starting out you can do 1 of 2 things: you can either set up your own virtual call center business or you can work for someone else's virtual call center business on the Arise platform. I would suggest starting out working for someone else just to see if its really something you want to do before going all out and setting up your own company, but its up to you.
If you do choose to start your own Arise business you will have to go through the process and paperwork of getting your business licensed. If you choose to work for another call center then you get hired by them like any other business. They might vary in their hiring process. On the Arise platform you will be able to view a list of the different call centers that are using the platform so you can choose one you think fits best.
Need Training Before You Can Start
In order to use the Arise platform to provide call center service, you first need training. This training is provided by Arise and will cost you from $99 – $250 and will take from 28 days to 8 weeks.
The training is all done online so this is nice. And yes… you will have to pay for it yourself.
Work Hours… What to Know
Technically you can work whatever hours you want to work. The Arise platform provides servicing intervals that are 30 minutes long. So what you have to do within the platform is pick the half-hour intervals that you want to work for certain companies.
However, its not realistic to think that you can just work whenever you want to. The amount of open intervals available will depend on the demand for customer service that the various companies have at specific times and the intervals are also one a first-come first- serve basis. So another call center might claim intervals for a certain company's work time before yours.
Also, if you work for a call center and do not own one then this will be different. You might just get told what hours to work. This all depends on who you work for. If you own your own call center then you are free to choose but if not then you might be free to choose what intervals that call center has picked up or you might not.
Something else worth noting is that if you have a good reputation then some companies might give you first pick at what time intervals you want.
Getting Paid
You will not be getting paid from Arise. Arise just provides the platform. You will either be getting paid directly from the clients using the Arise platform or from the call center you are working for, it depends on what you are doing.
So payment amounts and frequency have nothing to do with Arise.
What Other People Are Saying
When I review an opportunity like this I like to form my own opinion of it first but its also important to take a look at other people's reviews and see what they are saying. Sites like Glassdoor, Indeed and others are good ways to find independent employee reviews like this.
At Glassdoor the reviews are pretty solid. Generally speaking people like the work. With over 100 reviews it has a rating of 4.4/5 which is pretty darn good. Now not all of these reviews are from virtual call center reps. Some are from people actually working for the platform providing tech support and such. But still, the reviews are definitely good overall.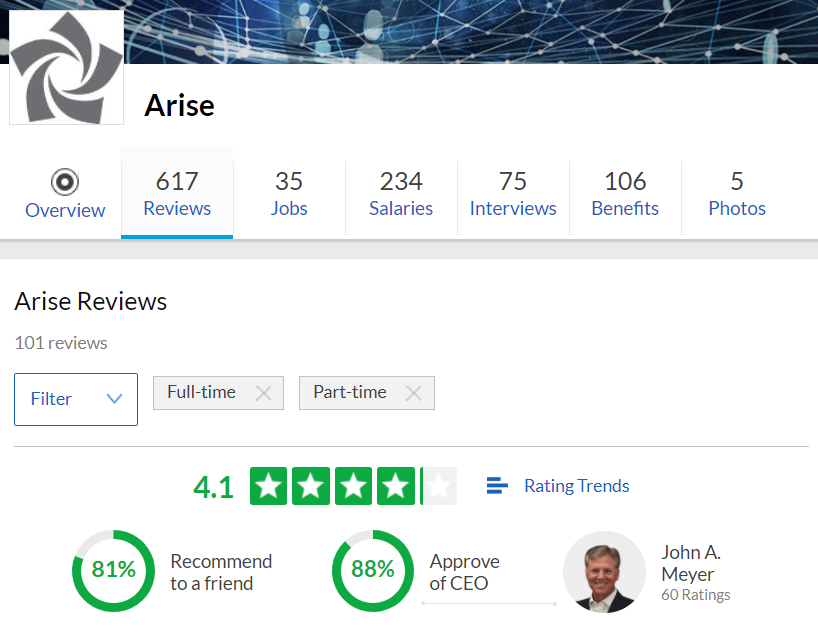 On Indeed they have over 200 reviews with a 3.6/5 rating which isn't as good but isn't too bad either.
Complaints
However there are complaints. There are always complaints. Below are some of the more common complaints I've come across that you should be aware of before pursing a job though Arise.
Hard to Get Hours
As I mentioned, hours are distributed on a first come first serve basis. It can be difficult to get hours at times.
Have to Pay for Training
You will have to pay the $99 – $250 for the training.
Rude Clients
There aren't too many complaints about this but I think its worth mentioning. Some clients are just plain rude. They only tell you what you do wrong and offer no compliments. Some people complain about feeling unappreciated.
Final Thoughts – Good Opportunity?
Based on the research I've done and the many "employee" reviews that I've read through, it seems that the job can vary a good bit based on what client you are working for. With all jobs you will be doing the same basic thing, which is providing customer service, but some clients are just more pleasant and enjoyable than others. The same goes for if you are working for another call center using the Arise platform.
There are people that absolutely love working through the Arise platform and others that don't. If you are planning on giving this a try I would definitely suggest working for another call center company on Arise before you go out and set up your own. This will save you time and money if you find out its not something that is a good fit for you.
Anyways… I hope you enjoyed this review. If you have anything to add you can leave a comment below.
And on another note, since you are looking to work from home you might be interested in taking a look at how I make a living online. I've been working online since 2015 and wrote a guide for making money online that you can read. I go over what exactly I do, how it works, and how others can do the same. You can read it here.