There is more than one way to buy LiteCoins online but in this post I'll be going over how I buy LiteCoin and what I consider to be the easiest, safest, and most straightforward way to do so.
When it comes to cryptocurrencies you can never be too careful. Much of what goes on in this industry seems to be completely unregulated and this often times means that you cannot trust many places. This new industry is kind of like the wild west. There are lots of scams capitalizing on the boom in popularity and they can be hard to spot at times. In this post I'll show you how you can buy LiteCoin the safe way.
But first… Why Buy LiteCoin?
LiteCoin was created by the X-Google engineer Charles Lee in 2011. It is claimed to have fixed many of the problems facing Bitcoin which many people believe will ultimately lead to bitcoin's demise.
LiteCoin is also a decentralized cryptocurrency that can be used for safe peer to peer transactions, just like bitcoin. One of the most promising characteristics of LiteCoin that lead many to believe it will beat out Bitcoin in the long run is its run-time. The transaction time for LiteCoin is 4x faster than that of Bitcoin, which is a pretty big deal.
There are many people on both sides of the fence here. Some will tell you to stay away from buying LiteCoin and others are all for it. Personally I am for it but I would say to not put all your eggs in one basket. My cryptocurrency portfolio consists of multiple different cryptocurrencies, including LiteCoin.
Easiest Way To Buy Online
I use CoinBase to buy LiteCoin as well as Ethereum and Bitcoin. Why? Well because CoinBase is simple, secure, and you can get your LiteCoin instantly upon payment. Its also worth saying that they are based in San Francisco California, which is good because the laws of the United States governing them are much more strict than many other countries.
In a way you can think of CoinBase as a bank. They sell and buy cryptocurrencies. Most people use them to purchase but if you wanted to you can sell back to them. They basically hoard a stockpile of cryptocurrencies and buy/sell at market price, which is nice. They also provide a secure online wallet that is good for short term storage.
I just wrote a post on CoinBase and whether they are a safe place or not. One thing that I talked about that is great is that they have an insurance policy to protect their customers from losing money in cases of hacking/security breaches.
How to Buy
The first thing you would have to do would be create an account at CoinBase. This is simple and your account will have 2-factor authentication for an extra layer of security.
After that you will have to add a method of payment on file. Your choices are either Debit/credit card or your bank account. Most people go with credit/debit card but hooking up your bank account will actually give you less of a fee.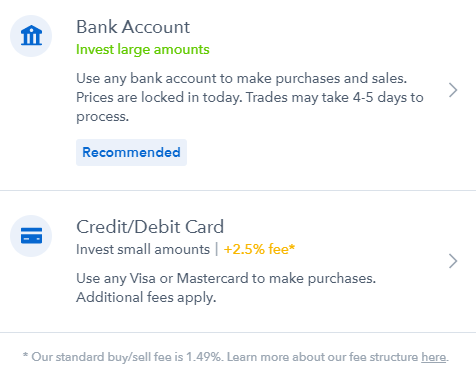 After your payment method is verified and everything you are good to go and can now buy LiteCoin. As I mentioned, it is sold at market price so you don't have to worry about some individual ripping you off like many do in P2P (peer to peer) marketplaces.
If you buy with a credit/debit card your LiteCoin will be available instantly in your wallet but if you buy with your bank account it will take around 5 days to come through.
Once it is in your wallet you will be able to do with it whatever you choose. It is yours. You can hold onto it there; you can trade it; you can send it offline for safe storage (which I suggest if you are going to be holding onto it for a long time), etc.
My Experience With CoinBase
As with any company no matter how good they are, there are people that complain and leave bad reviews. Most of the bad reviews I have come across for this place come from a lack of customer service. Fortunately I have never had any problems where I have had to deal with their support team so I cannot speak on this.
I can imagine it being true though. In this day & age lack of customer service is becoming the new norm.
But anyways… hopefully you won't have any problems or have to deal with them.
Conclusion on Buying LiteCoin Online
There is more than one way to go about buying LiteCoin but doing so through CoinBase is what I consider to be the best way and this is how I buy it.
LiteCoin is potentially a great investment. Of course no one really knows but I think it is worth investing in at least to some extent. Just remember, don't put all your eggs in one basket.
If you have any comments or questions leave them below in the comment section 🙂
And if you have a better way to buy LiteCoin please let me know.