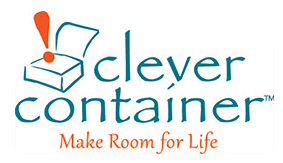 Clever Container offers what can potentially be a lucrative business opportunity. But is it worth your time? Or is this another mlm scam that is going to lead you on and on with little reward?
If you are looking into the Clever Container consultant opportunity then I highly suggest you read this post. I will be going over a few things that people in this business won't tell you, and for good reason.
Clever Container Overview
Clever Container is a mlm company that sells organizational/ storage type items like containers, bags, racks, etc. Their products seem to be good quality to me and I don't really see any problem with them. But the products aren't what I want to focus on here. Instead I will be taking a look at the business opportunity that they offer.
This is what you call a direct sales business. They rely on independent consultants to do all the marketing and selling of their products. Anyone can join in on this opportunity and make money by selling such. Additionally you will also be able to make money by recruiting in other consultants, which is the mlm (multi-level marketing) part of it all.
As a consultant it will be your job to host parties in which you will display their products with the hopes of taking orders. Some people like hosting parties but this is something that is a turnoff for many.
Cost to Join
In order to join as a consultant you are going to have to purchase a Starter Kit for $49. This kit is designed to help give your personal Clever Container business a kick start and includes products and business materials.
$49 is a very reasonable price for a starter kit compared to many other mlm's that I have reviewed.
How You Make Money
You can make money in 2 main ways: by selling Clever Container products directly, and by recruiting in other consultants and earning money from their efforts.
Direct Sales
When you start out you will be able to make 20% commissions on the sales that you make. As you move forward you will be able to increase this percentage to 25% after selling $1,000 of products.
Recruitment
Recruitment is where you can really make a lot of money. If you look at big earners in mlm businesses like this they always have massive downlines and recruitment is their priority.
At Clever Container there are 2 ways you can earn off of recruitment of other consultants.
First there are the Team Building Bonuses. You can earn these commission bonuses from the sales that people in your downline make up to 3 levels deep. The people that you personally recruit in are your level 1, the people that they recruit are your level 2, and so on.
Then there are the Leadership Bonuses. You can earn 4 generations deep with these. And basically there are commission bonuses that you earn from people in your downline's own downline. You are earning from other people's teams here.
If you look below you can see a screenshot I took of the compensation plan and the Team Building Bonuses are in green, the Leadership Bonuses are in red.
Another important thing to note about this comp plan is that there are 9 ranks and that you need to move up the ranks to unlock the whole comp plan. In order to move up the ranks you need to increase your personal sales volume (PV) slightly but mainly you need to work on increasing your Team Volume (TV), which means you need to recruit more.
The Reality Of This Business
The reality here is that not many people are going to make money with this compensation plan. It is set up so that recruitment of other consultants is a big part of how you make money. Because of this the income distribution will be very uneven, with those at the top ranks with the large downlines making all the money while those at the bottom struggle.
And there will always be many more people at the bottom than at the top, which means the overwhelming majority will not make good money. This is the reality with just about any mlm out there. I just reviewed Nature's Sunshine and Mannatech the other day and it is the same thing here.
Conclusion on Clever Container – Should You Become a Consultant?
Only you have the answer to this question. Clever Container is a legitimate business opportunity and not a scam in any way. The only "scammy" part about it all is the fact that it is a mlm and that mlm's have very high failure rates due to their compensation plans.
But if you like Clever Container's products, think you would like hosting parties, and think you have what it takes to recruit people into this business left and right… then go for it. Just have realistic expectations. Statistics don't lie and statistics show that most people fail miserably in these businesses.
Something else that you might want to look into if you are looking for a work-from-home job is how I make money online. I make a living online and I enjoy what I do. Here is the program that got me started and got me to where I currently am, making $5k + per month.
==> My no. 1 recommended program here
Questions, comments, concerns? Leave them below in the comment section and I'll get back to you soon 🙂