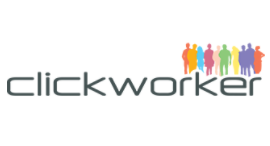 Welcome to my review of ClickWorker.com.
If you are looking to make a little extra cash doing rather simple tasks online then ClickWorker is one of the options available. But is this place any good? Are they legit? Or is ClickWorker.com a scam that is just going to be a waste of your precious time? In this review I'll be going over what you need to know before you make a decision of whether or not to join.
ClickWorker.com Review
ClickWorker is a platform that provides services for big companies that are looking for help with online work. They contract ClickWorker and ClickWorker then breaks down these jobs into small tasks and has freelance independent contractors, like you and I, do them.
So companies hire them and they "hire" individuals to complete the tasks they lay out. These tasks are short and usually pretty simple. They can range from all types of things and are largely dependent on the client.
How It Works
After you sign up you will have to fill out your profile. This includes going over skills that you have. It is important to do a good job here because they will use this information to provide you with relevant job offers.
After completing your profile you should take the skill assessments they provide you with. These assess the skills that you have so that they know how good you are at certain things. Some jobs will require you to pass certain assessments so if you want the best chance of getting decent jobs you better do this.
You will be able to pick and choose what jobs, or tasks, you want to complete. There is no requirement for how much you have to work or when you have to work. There will be a list of jobs you are qualified for and its a first come first serve kind of deal so if you see something you like then you shouldn't wait long.
There can be all sorts of jobs listed in a variety of different categories. Some of the jobs that are common include website testing, website research tasks, proof reading, data tagging, and so on. These jobs will all be what you call micro-tasks, which means they will take long. The jobs are broken down from bigger tasks into small ones and allows many people to work on individual parts of it.
When you are working on a task you will have a limited amount of time to complete it. There will be a timer that counts down and if you don't finish it in time then you don't get credit.
After completing the job you will get paid in your account at ClickWorker. Some jobs you complete will be reviewed and it might take a bit before you actually get credited.
The payment options are either PayPal or direct deposit. You can get paid with Paypal once a week after you have €5 or you can get paid direct deposit to your bank once a month if you have €10
How Much Can You Make?
The reality here is that you will not make much at all. You are looking at makings less than a dollar per task and this can be frustrating. The tasks do range a good bit in how much they pay however.
There are a lot of complaints about the low income that you can make on this site. One review I read that I thought was pretty funny was that ClickWorker is a…"Nice way to earn some extra beer money when you have nothing better to do".
This seems to be the common opinion of ClickWorker… it barely pays anything for your time. Some other people describe it as a good way to make $1, but that's it.
Complaints
When looking into a work at home job place like this I like to form my own opinion of them but I think its also important to read reviews from people who have worked there. From reading a bunch of review on Indeed and Glassdoor, which they have a low rating for, here are some of the more common complaints that you need to be aware of.
Of course the extremely low pay is one of the top complaints but I already mentioned that so here are a few other ones…
Lack of Customer Service
From what I hear the customer service is horrible and borderline nonexistent. People complain about not being able to get through to them and when they do they only get an automated email that doesn't help at all.
Monotonous Work
Boring is the perfect word to describe the jobs you get at this place. Most of them are tasks that you could probably train a monkey to do…. which might not be such a bad idea.
Job Not as Listed
I read more than one complaint about jobs not being what they were listed as, or being misleading in how they were listed. On person's review I read said that he went to do a website performance task and ended up having to go to an adult site (porn site), which he thought they should have mentioned beforehand.
Lack of Jobs
There are a good bit of complaints about there being an overall lack of jobs available. A lot of this will depend on your skills and assessment scores but you shouldn't really expect much. Its not like you should expect to be able to work on tasks for hours straight or anything like that.
Conclusion on ClickWorker.com – Scam or Worth Your Time?
Well ClickWorker is definitely not a scam. They do provide legitimate work and you can make money. That said, its not that great of an opportunity if you are looking to make any substantial amount of money by any means. This is best looked at as a simple way to earn a little extra spending money, nothing more.
If you are looking to make a decent income this is definitely not for you. In fact I would probably say that paid survey sites like Swagbucks and PaidViewPoint are possibly better, which is saying a lot considering how low these sites pay.
If you are looking for a better opportunity to make money online on your own schedule then I highly suggest checking out this program. Not only can you make money on your own time with this but you can make a lot. I ahave been a member since 2015 and make a living with it.
==> Program I'm Talking About Here
Questions, concerns? Leave them below in the comment section and I'll get back to you soon ?