There are a few work at home scams by Crystal Croft circulating the internet that I want to touch on here so that I can hopefully save a few people from falling victim to them. Home Wealth Health Network and Online Income are 2 of the programs in particular that I came across, but I'm sure there are more out there.
I am very familiar with these types of program and in this review I'll be going over what you really need to know about them. And if you were thinking about buying into them then you are going to want to take a minute to read this over first.
What These Scams Tell You
All of the scams that are supposedly created by Crystal Croft are the same thing. They are what you call link posting scams.
They tell you that you can make easy money posting links for big companies from home, which there is some truth to, but they really mislead you about it and the bottom line is that these programs do not work.
If you buy into one of these you will get some training, a website, and "customer records" for where to post links. None of this will work out good because the training is horrible, the website is the same cookie cutter website they give to everyone, and the whole system is based on spamming links everywhere, which just doesn't work out.
Why You Can't Trust These Places
These scams have been around for a while and tell you the same bunch of lies every time. Some of these include…
Fake News
They tell you that these programs have been featured on the news but this is not true. They even place the logos of CNN, USA Today, Fox News, etc on the sales page to try to make it look more legit. But these programs have never been on any news site.
And the news broadcast that they play on the sales page was taken from an actual broadcast but has nothing to do with these programs as well.
Sometimes they even create entire fake news sites just to promote these scams. Such as this one below. It is a fake CNN site that claims Bill O'Reilly found some amazing way to make money online and that is why he got fired from Fox News. This is a completely fake story and the site is not even CNN, it is fake…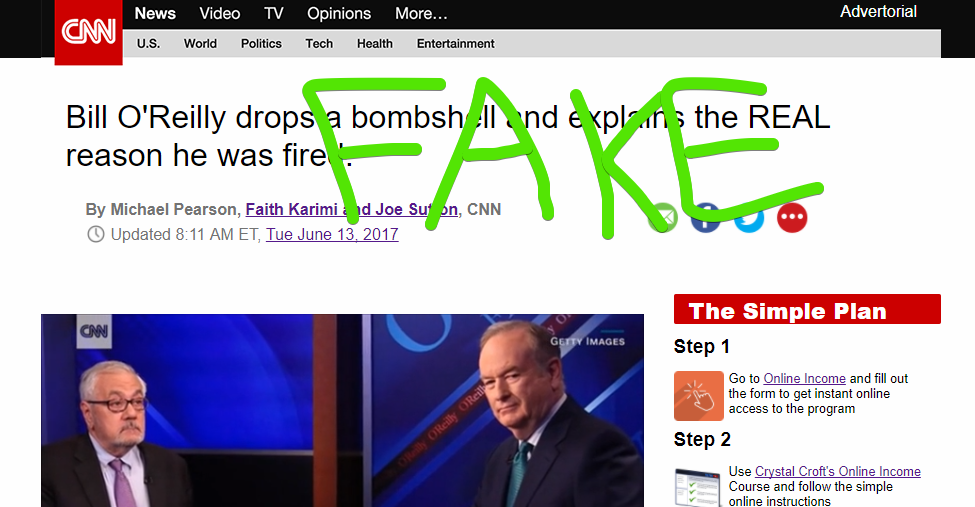 Limited Positions
They also tell you that there are limited positions in your area but this is just a ploy to trick people into signing up faster. This is a lie. These programs will take all the buyers they can get. There are not limited positions.
Crystal Croft is Fake
The lady that supposedly created these scams is actually just a fictitious person used to promote them. This lady does not exist. I mean… there are people with this name but the particular Crystal Croft associated with this program is made up.
In the sales pages for this program they often switch up the picture of here, which is a stock photo, but leave the background story the same…
Conclusion on the Crystal Croft Scams – BEWARE
These scam prey on people that are desperate to make money online. They say exactly what everyone wants to hear…. which is that there is an extremely easy way to make tons of money online. It is very enticing but unfortunately an opportunity like this does not exist.
There are ways to make good money online but everything takes work. A good rule of thumb to go by is that if a program sounds too good to be true then it probably is. These scam programs definitely sound too good to be true and that is because they aren't true.
And these work at home scams by Crystal Croft aren't the only ones. There are many more duplicate scams out there that tell you the same thing. I have reviewed many of them including Xtreme Home Paycheck, Entrepreneur Jobs Club, Home Internet Income, Accelerated Income, and more.
When it comes to making money online there are a lot more scams and programs out there that are wastes of time than legit good opportunities that I can recommend. However if someone was holding a gun to my head and asked: what is the best program out there? This is it. I have been a member since 2015 and it took me from nothing at all to making a living online.
==> Recommended program I'm talking about here
Questions or comments? Leave them below and I'll get back to you ?