DollarClix claims that you can earn some pretty easy money online by just taking surveys, completing tasks, and even by referring other people to join… but is it really as easy as it seems…or will DollarClix scam you in one way or another?
When it comes to making money online I understand how important it is to do a little extra research on opportunities that come up. There are a lot of scams out there that either steal your money or are just a massive waste of your time. In this review of DollarClix I'll be going over how this place works, how much money you can make, and ultimately whether or not I think its worth the time you have to put into it.
DollarClix Review
DollarClix is what you call a GPT website, or "get paid to" site because you get paid to do things. The things you get paid to do include take surveys, click on adds, complete simple offers, and refer others to join.
This site is a mix between a PTC site and a survey site. They get paid for advertising on the site and to get members to click on ads and they get paid for the market research they perform via the paid surveys.
The Different Ways to Make Money
There are a lot of ways offered to earn money on this site. If you go to the Earn Points tab in the main menu you will see that their are daily surveys, paid surveys, videos to watch, DollarClix offers and more.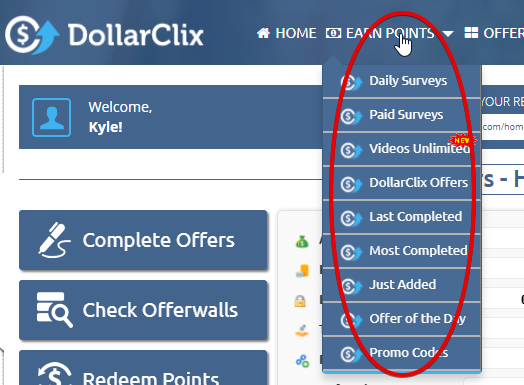 The daily surveys and paid surveys are essentially the same thing… they are both paid surveys that you will earn money with by sharing your opinion. These are nothing special. They are your typical paid surveys that you will find on a multitude of other paid surveys sites. When I was looking through some I saw that they offer surveys from SaySoRewards and Peanut Labs, which are two popular market research companies that many other sites host surveys for.
The DollarClix offers are offers that pay you to promote this opportunity. You can earn points for sharing DollarClix on social media, posting earnings, things like that.
When you go to Offer Walls you will find a bunch more earning opportunities. There are many different things included here. Its basically just a bunch of ways to earn jumbled all together. You have PTC offers, paid surveys (again), offers where you can earn for signing up for things and lots more.

Lastly there is the referral program. The referral program that DollarClix is pretty nice compared to other similar sites and they really try to push members to go out and get others to join. You will earn 20% of the people's earnings that you directly refer into DollarClix. On top of that you will earn 10% of the earnings from the people that they refer in. So its a 2-tier affiliate program.
They also have an elite referral program where you can make more for referrals. They charge $5 per month for this and it gives you the ability to earn 15% on level 1 and 10% on level 2.
Honestly though I really wouldn't recommend buying into the elite program. I just don't see it being worth the money.
How Much Money Can You Make?
The answer is not much at all.
As I mentioned, the surveys that are offered on the site are your typical paid surveys. These will range in how much they pay but just to give you a number I would say anywhere from $0.50 – $2.00 per survey.
The PTC offers are something else that you will barely earn a thing with. Usually you will earn less than 1 cent by clicking on PTC ads.
Complaints
Surprisingly I didn't find all that many complaints on this site…. but then again I wasn't able to even find many member reviews.
On the site TrustPilot, which is a site where anyone can go to review a website or opportunity like this, DollarClix has a 4/5 rating with 9 reviews. That is pretty good from what I have seen from other similar sites. Its nothing great but its not horrible.
But anyways… besides the complaints I was able to find from other people some complaints that I have are that there isn't much earning potential and that the site is cluttered. What I mean by the site being cluttered is that it just seems to have a bunch of different ways to earn all thrown together in a big pile.
Conclusion on DollarClix – Good Opportunity?
First off… no DollarClix won't scam you. You can really make money with this site…  the downside being that you won't make much money with this site, which is the same for every GPT site or paid survey site out there.
If you are like sites like this that pay you in a multitude of different ways then Swagbucks would probably be my number 1 choice. But again… you just won't make much money with any of these types of opportunities.
I get that its nice to be able to complete offers and take surveys at anytime you want to, but there are still better ways to earn. If you are looking to make money online on your own time then I would suggest this program. I've been a member since 2015 and make a heck of a lot more money with it than I ever could on a site like DollarClix.
Questions, comments, or concerns? Leave them  below in the comment section and I'll get back to you 🙂